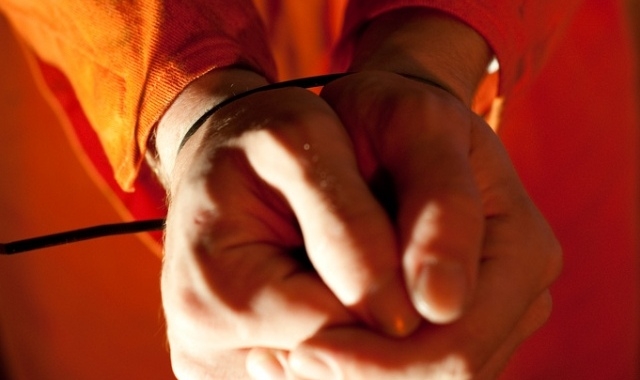 After defying the federal courts for years over the deplorable conditions in their state prisons, California officials seem to be moving closer to offering an age-old American solution: they are planning to throw a lot of money at the problem and hope it goes away. There are two new financial proposals now in play. One is new and forward-looking. The other is old and tired. One could very well work to ease the state's prison crisis. The other is based on the very premise that created the problem to begin with.
The federal courts, including the United States Supreme Court, have consistently ordered California to ease unconstitutional overcrowding in state penitentiaries by, among other things, granting early release to thousands of prisoners. State officials have implemented some of the reforms demanded of them by the judiciary. But California has refused to release most of those inmates—sending them instead to county jails (where they are often released early anyway) or simply stalling for time by trying to re-litigate the same Eighth Amendment issues they've already lost at every appellate level.
Tired of losing in court, and knowing that the federal judges presiding over this long-running case are poised to consider contempt sanctions against him, Gov. Jerry Brown last week proposed to spend $315 million this year and over $400 million more in each of the next two years to house approximately 10,000 inmates—the ones whose release from prison has been deemed necessary by the courts—in private prisons or county jails. Just one day later, after a factually meager debate, the State Assembly approved $315 million for such "alternative housing" for the inmates.
In the meantime, another group of California lawmakers, in the state senate, have offered their own solution. They propose to spend a similar amount of money ($200 million per year for two years) in the form of incentive grants to counties to expand their rehabilitation, drug and mental health treatment programs. The proposal is based upon the success of California's "Probation Performance Incentive Funding Program," a 2009 measure that awards counties that reduce the recidivism rate of probationers within their jurisdiction. According to a 2012 report by the Pew Center:
In the first year of implementation, the state probation failure rate—the number of probationers sent to state prison divided by the probation population—declined from 7.9 percent during the baseline years of 2006–2008 to 6.1 percent in 2010, a 23 percent reduction in revocations. The California Department of Finance estimated that because of this reduction 6,182 fewer probationers entered state prison in 2010, generating state savings of $179 million.
Inimai Chettiar, director of the Justice Program at the Brennan Center for Justice, told me Tuesday that financial incentives like this proposed one make sense in both the short- and long-term. "These types of performance-based funding structures can usher in a new wave of criminal justice decision-making that can move us away from a mass incarceration model. California's 2009 program is among the most successful in the nation and can serve as a model for California and the rest of the nation."
So let's recap. In a state already drowning in expenses associated with its vast penal system, Plan A is the governor's proposal to spend more money on prisons without doing anything to reduce the number of total inmates in the system. Plan B, meanwhile, is specifically designed to reduce that population by means of incentives that already have been proven to work in the context of probation. Plan A represents yet another obvious government gift to the private prison lobby. Plan B represents a market-based approach that rewards local officials who are creatively working to reduce the size of the footprint the state's prisons have upon California's budget.
This should be a no-brainer. But nothing about the way California has handled this constitutional crisis has been easy. Instead of accepting the truth of what the federal courts have told them—that there is indisputable evidence that state inmates are being housed in unconstitutional conditions—state lawmakers instead have blamed judges for delivering the bad news. "There is bipartisan frustration with the federal judges that (sic) are imposing this order and being irresponsible in forcing this state to have to spend" millions to address this crisis,' Assemblyman Al Muratsuchi told The Los Angeles Times last week.
And now there is bipartisan discord over the Governor's plan to expand the state's prison industry. "Temporarily expanding California's prison capacity is neither sustainable nor fiscally responsible," Senate President Pro Tem Darrell Steinberg, a proponent of "Plan B," told the governor last week in a letter obtained by The Los Angeles Times. He's exactly right. If state lawmakers aren't going to release those inmates the way the federal courts have ordered—the deadline now is December 31—the least those politicians can do is use this crisis as an opportunity to bring meaningful reform to this grim area of public policy. It's time for a new idea. And time to stop trying to ease the costs of prison by spending more on prisons.