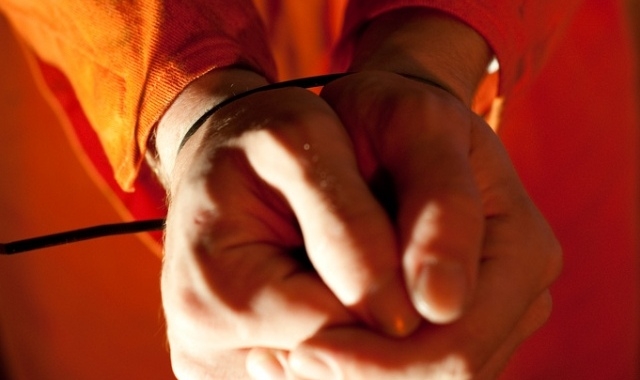 After defy­ing the federal courts for years over the deplor­able condi­tions in their state pris­ons, Cali­for­nia offi­cials seem to be moving closer to offer­ing an age-old Amer­ican solu­tion: they are plan­ning to throw a lot of money at the prob­lem and hope it goes away. There are two new finan­cial propos­als now in play. One is new and forward-look­ing. The other is old and tired. One could very well work to ease the state's prison crisis. The other is based on the very premise that created the prob­lem to begin with.
The federal courts, includ­ing the United States Supreme Court, have consist­ently ordered Cali­for­nia to ease uncon­sti­tu­tional over­crowding in state penit­en­tiar­ies by, among other things, grant­ing early release to thou­sands of pris­on­ers. State offi­cials have imple­men­ted some of the reforms deman­ded of them by the judi­ciary. But Cali­for­nia has refused to release most of those inmates—send­ing them instead to county jails (where they are often released early anyway) or simply stalling for time by trying to re-litig­ate the same Eighth Amend­ment issues they've already lost at every appel­late level.
Tired of losing in court, and know­ing that the federal judges presid­ing over this long-running case are poised to consider contempt sanc­tions against him, Gov. Jerry Brown last week proposed to spend $315 million this year and over $400 million more in each of the next two years to house approx­im­ately 10,000 inmates—the ones whose release from prison has been deemed neces­sary by the courts—in private pris­ons or county jails. Just one day later, after a factu­ally meager debate, the State Assembly approved $315 million for such "altern­at­ive hous­ing" for the inmates.
In the mean­time, another group of Cali­for­nia lawmakers, in the state senate, have offered their own solu­tion. They propose to spend a similar amount of money ($200 million per year for two years) in the form of incent­ive grants to counties to expand their rehab­il­it­a­tion, drug and mental health treat­ment programs. The proposal is based upon the success of Cali­for­ni­a's "Proba­tion Perform­ance Incent­ive Fund­ing Program," a 2009 meas­ure that awards counties that reduce the recidiv­ism rate of proba­tion­ers within their juris­dic­tion. Accord­ing to a 2012 report by the Pew Center:
In the first year of imple­ment­a­tion, the state proba­tion fail­ure rate—the number of proba­tion­ers sent to state prison divided by the proba­tion popu­la­tion—­de­clined from 7.9 percent during the baseline years of 2006–2008 to 6.1 percent in 2010, a 23 percent reduc­tion in revoc­a­tions. The Cali­for­nia Depart­ment of Finance estim­ated that because of this reduc­tion 6,182 fewer proba­tion­ers entered state prison in 2010, gener­at­ing state savings of $179 million.
Inimai Chet­tiar, director of the Justice Program at the Bren­nan Center for Justice, told me Tues­day that finan­cial incent­ives like this proposed one make sense in both the short- and long-term. "These types of perform­ance-based fund­ing struc­tures can usher in a new wave of crim­inal justice decision-making that can move us away from a mass incar­cer­a­tion model. Cali­for­ni­a's 2009 program is among the most success­ful in the nation and can serve as a model for Cali­for­nia and the rest of the nation."
So let's recap. In a state already drown­ing in expenses asso­ci­ated with its vast penal system, Plan A is the governor's proposal to spend more money on pris­ons without doing anything to reduce the number of total inmates in the system. Plan B, mean­while, is specific­ally designed to reduce that popu­la­tion by means of incent­ives that already have been proven to work in the context of proba­tion. Plan A repres­ents yet another obvi­ous govern­ment gift to the private prison lobby. Plan B repres­ents a market-based approach that rewards local offi­cials who are creat­ively work­ing to reduce the size of the foot­print the state's pris­ons have upon Cali­for­ni­a's budget.
This should be a no-brainer. But noth­ing about the way Cali­for­nia has handled this consti­tu­tional crisis has been easy. Instead of accept­ing the truth of what the federal courts have told them—that there is indis­put­able evid­ence that state inmates are being housed in uncon­sti­tu­tional condi­tion­s—state lawmakers instead have blamed judges for deliv­er­ing the bad news. "There is bipar­tisan frus­tra­tion with the federal judges that (sic) are impos­ing this order and being irre­spons­ible in forcing this state to have to spend" millions to address this crisis,' Assembly­man Al Murat­su­chi told The Los Angeles Times last week.
And now there is bipar­tisan discord over the Governor's plan to expand the state's prison industry. "Tempor­ar­ily expand­ing Cali­for­ni­a's prison capa­city is neither sustain­able nor fisc­ally respons­ible," Senate Pres­id­ent Pro Tem Darrell Stein­berg, a proponent of "Plan B," told the governor last week in a letter obtained by The Los Angeles Times. He's exactly right. If state lawmakers aren't going to release those inmates the way the federal courts have ordered—the dead­line now is Decem­ber 31—the least those politi­cians can do is use this crisis as an oppor­tun­ity to bring mean­ing­ful reform to this grim area of public policy. It's time for a new idea. And time to stop trying to ease the costs of prison by spend­ing more on pris­ons.