Cross-posted on The Atlantic
The 2016 campaign is already underway, with nearly two dozen candidates vying to be the next president. Americans may have no idea who they will vote for next year, but they are likely confident that when they show up at the polls, their votes will count. And for the vast majority, of course, they will.
But with rapidly aging voting technology, the risk of machines failing is greater than it has been in many years. In a close election, the performance of that old equipment will come under a microscope. Fifteen years after a national election trauma in Florida that was caused in significant measure by obsolete voting equipment—including hanging chads and butterfly ballots—it may be hard for many Americans to believe that the U.S. could face such a crisis again. But unless the right precautions are taken today and in the coming months and years, there is a significant risk that the story on Election Day will be less about who won or lost, and more about how voting systems failed.
The looming crisis in America's voting technology was first brought to national attention last year by President Obama's bipartisan Presidential Commission on Election Administration (PCEA), which offered a stern warning about the "widespread wearing out of voting machines purchased a decade ago." Over the past 10 months, the Brennan Center, where we work, surveyed more than 100 specialists familiar with voting technology, including machine vendors, independent technology experts, and election officials in all 50 states, to study how widespread this looming crisis really was.
We found bad news and good. First, the bad: The problem of aging voting technology reaches nearly every corner of the United States. Unlike voting machines used in past eras, today's systems were not designed to last for decades. In part this is due to the pace of technological change. No one expects a laptop to last 10 years. And although today's machines debuted at the beginning of this century, many were designed and engineered in the 1990s.
Even worse, while many jurisdictions acknowledge that their machines need to be replaced, they haven't sorted out who should pay for it. Counties often argue the states should pay, while many states argue this has always been a local responsibility. In many cases, both hold out hope that they can get some federal support, but that seems very unlikely. "Some jurisdictions seem to be saying we're just going to wait until another catastrophe and then maybe Congress will pay for it," Tammy Patrick, a senior adviser with the Bipartisan Policy Center, told us. "This is not a good plan."
On the other hand, the PCEA's report spurred conversations, and in many cases, spending on new equipment. Several counties and states will have new machines before the 2016 election, and some counties are even developing their own voting systems, which offer the hope of technology that is designed around the needs of voters.
Nevertheless, the crisis has not abated. In 2016, a majority of election jurisdictions will use machines that are approaching the end of their lifespans. That means that states and counties must develop contingency plans in case of machine failures—both to reduce the possibility of long lines, and ensure that all votes are counted. Looking beyond 2016, they must find money for new equipment. Today, far too many election jurisdictions don't know where the money for new machines will come from.
* * *
While it is impossible to say how long any particular machine will last, experts agree that for machines purchased since 2000, the expected lifespan for the core components of electronic voting machines is generally between 10 and 15 years. The majority of machines in use in the United States are perilously close to or exceed these estimates. In 43 states, the oldest machines will be at least 10 years old next November. In 14 states they will be more than 15 years old.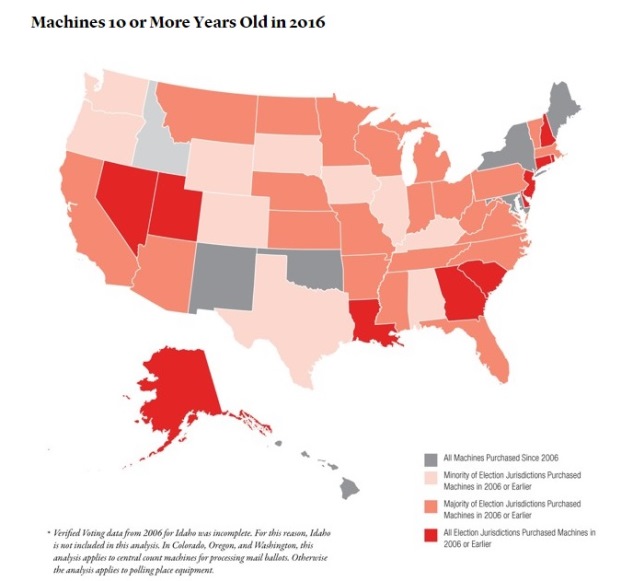 Election officials are increasingly vocal about the need for new equipment. But funders at the state and county level have not necessarily been responsive. Election jurisdictions in at least 31 states want to purchase and deploy new voting machines in the next five years. Officials from 22 states said they do not know where they would get the money to pay for new machines.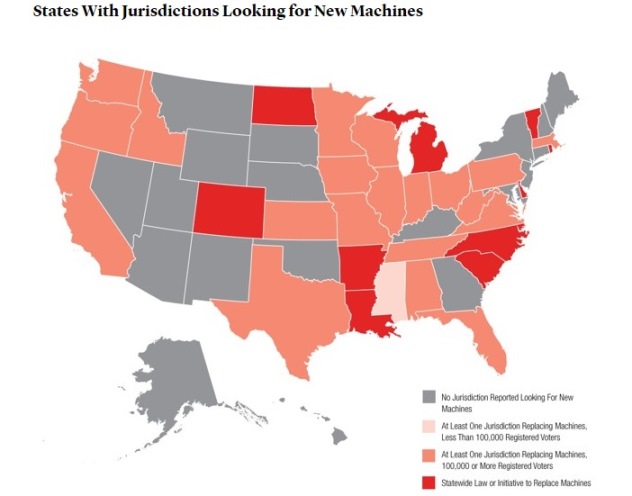 As machines age, problems will only grow worse as breakdowns become more common. "We know that a lot of machines were breaking in the 2012 election," noted Barbara Simons, an electronic voting expert and past president of the Association for Computing Machinery. "It's not that it's an impending crisis. The crisis is already here."
What can be done?
In the short term, jurisdictions with old machines (read: most of the country) that won't be replaced before November 2016 need to take measures to protect against breakdowns on Election Day.
In most of the country, voters use paper ballots that are later read by machines. In such locales, machines breakdowns can be a major headache, slowing things down, and creating long lines. But they don't stop voting entirely—people can still fill out a paper ballot. If the machines malfunction and there are concerns about an accurate count, election officials can go back to the ballots themselves.
The problem of faulty machines is much more serious in jurisdictions that use what are known as Direct Recording Electronic (DRE) machines. These are machines on which voters use interfaces (pushbutton, touchscreen, or dial) to record their votes. If a machine breaks down, voting is interrupted and voters must wait until a machine is repaired or replaced. Jurisdictions in 22 states use DRE machines.
A 2012 report by Common Cause, Verified Voting, and the Rutgers School of Law's Constitutional Litigation clinic recommended that election officials have extra machines and emergency paper ballots on hand to keep elections running in the event of a failure. The report noted that only three states—California, Indiana, and Ohio—required election officials to have contingency plans. Election officials in all jurisdictions, especially those using DREs, should develop contingency plans so voters are not waiting in line or questioning the accuracy of an election.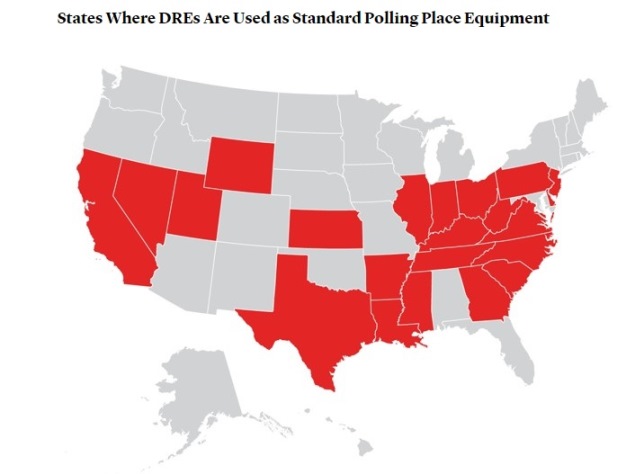 Election officials with older systems, in particular, should identify past failures and assume they may see more of them in 2016. Poll-worker training will be crucial in ensuring problems are dealt with appropriately. A recent National Science Foundation-funded report authored by the Center for Civic Design suggests creating checklists for the most important tasks, and emphasizing their importance during training, to help ensure key procedures are correctly followed.
* * *
While there is reason to be concerned about what could happen on Election Day in 2016, there is reason for optimism in the long term. Technology has changed dramatically in the last decade, offering the possibility of machines that are more reliable, more usable, and less expensive.
For example, although every election official prefers a different kind of machine, many indicated they would like to use systems that employ commercial-off-the-shelf (COTS) hardware—such as commercial printers, Android tablets, or iPads. Commercial tablets and printers are far cheaper than current voting machine components, and can be easily and cheaply replaced. Voting on a tablet would also make it easier to implement changes in election law at minimal cost. Tablets could provide the multiple ballot styles required by vote centers or "super precincts," giving voters more choices as to where they can vote, and could more easily accommodate early voting.
Although mainstream voting machine vendors are doing much to improve new offerings, it is election officials, working with vendors, academics, and voters, who have driven some of the most promising innovations. Their work offers the possibility of better and less expensive voting machines.
Los Angeles County—which will need new machines in the next few years—is ground zero for some of the most interesting innovations. It is the largest jurisdiction in the country, home to roughly 5 million registered voters who speak 12 languages. Elections in Los Angeles County require a Herculean effort. Each election, the county distributes its ballots and vote casting system to more than 4,800 polling places in an area twice the size of Rhode Island.
When Dean Logan, head of elections in Los Angeles County, looked at the voting systems on the market, he did not see a product that was a good fit. Instead of buying a vendor's product, the county decided to design its own system. "We wanted to design a system around the voter's experience, not around the limitations of the market and the current regulatory environment," Logan said.
Logan and his staff spent two years asking voters what they wanted in a voting system. The proposed design combines touch-screen technology with a human-readable and auditable paper ballot of record: Voters would use a touch screen ballot marking device to fill out a ballot, print it out, and then place it in a ballot box. The county intends to own the new system, which will free it from the expensive maintenance contracts that vendors often bundle with traditional voting systems.
"To a certain extent, we are designing for a voting experience that is not fully defined in the regulatory environment or elections code," Logan said. Officials in Los Angeles are considering new services, like an interactive sample ballot that voters can scan into a machine and start the process with their choices already pre-selected to expedite the voting experience. Most importantly, county officials hope to design a system that is flexible, so it can adapt easily to changes in election laws or procedures.
Currently, Logan is working with the design consulting firm IDEO to develop the specifications for an electronic-ballot marking device and associated components of a comprehensive, modernized voting system. Next, the county will move forward with a contract to manufacture the device. On the software side, Logan envisions the system relying on open-source software, which will be maintained in-house at the registrar's office. Fortunately, Logan's office has a robust IT department that maintains the county's existing vote tabulation system, and will maintain the county's next system.
Logan believes the project has the potential to change the voting equipment marketplace for the better. "The design approach we are taking should result in lower-cost voting systems and market expansion," he said. "I think it has the ability to move the regulatory environment and the market to a more competitive landscape that could allow jurisdictions to replace systems at a lower cost than in the past."
Logan plans to begin implementing the system in 2017, and achieve a complete turnover of equipment by the 2020 election cycle. Elections officials across the country told us they are watching this project closely, and are excited to see what Logan and his team develop.
* * *
While projects like the one in Los Angeles offer long term hope, they don't address the immediate crisis. Many jurisdictions can't wait for Los Angeles's system to be fully developed before buying new machines. And, in any event, no matter what the systems of the future, they will cost money to buy and maintain.
Unfortunately, many state and local policymakers—who never before had to provide significant funding for voting machines, and who have other competing needs to address—have not accepted the new reality.
Virginia provides perhaps the starkest recent example of how difficult it can be to convince policymakers they need to invest in new equipment. In December 2014, Governor Terry McAuliffe proposed that Virginia spend $28 million to replace aging voting machines. When McAuliffe, a Democrat, unveiled the proposal, GOP Representative Scott Rigell was by his side. Despite the bipartisan announcement, Virginia lawmakers stripped the funding for new machines from the budget. The spokesperson for Speaker William J. Howell said paying for new machines was a "local prerogative."
As states adopt different policies, there will be a division between those states that fund new systems and those that continue to use aging machines. Furthermore, within the states that will not provide money for new machines, only some counties will have the funds to purchase them. "In Virginia, you can already see what will happen if the state doesn't provide money for new machines," said Virginia Elections Commissioner Edgardo Cortes. "Loudon and Fairfax counties—two of the largest and wealthiest in the state—have bought new equipment. Smaller, poorer, and more rural counties around the state are going to have a tough time."
* * *
How much will replacing voting equipment cost? It could exceed $1 billion nationwide, according to our estimates. Many experts we spoke to doubted that Congress would supply those funds. Given how urgent the problem is, and how soon new money must be found, that probably means the burden of funding new equipment will fall in significant measure on states and counties.
In the long term, the country needs to adapt to a new reality, in which voting systems will be more flexible but less durable than in the past. There is much that can be done to reduce the costs associated with that future. Internet voting won't be ready for deployment until far-better security is developed, but there are other important steps that can be taken now. For larger jurisdictions that can handle the transition to systems that use more commercial-off-the-shelf devices—like tablet computers—there is the prospect of significantly lower purchase and maintenance costs.
Even if Congress does not supply states and localities with large amounts of money to buy new equipment in the short term, they have a very important role to play. In particular, Congress can use the Election Assistance Commission (EAC), the federal agency charged with serving as a resource of election administration to local officials around the country, to make grants to election officials and vendors to encourage more innovative voting systems. In addition to Los Angeles, such efforts are already under way in Travis County, Texas.
For a very small price, more initiatives like these could produce far better (and less expensive) machines. Similarly, adequate funding and oversight of the EAC—to ensure that it updates federal voting-system guidelines, provides guidance to smaller jurisdictions as they negotiate new contracts, and helps local election jurisdictions share and pool resources and information—can help drive down the long-term costs of using more complicated, less durable voting equipment.
Ultimately, to avoid a new technology crisis every decade, all levels of government—federal, state, and local—must develop sources of funding to support and regularly update America's voting infrastructure, just as they budget and plan to maintain (and periodically replace) other critical infrastructure, from roads and bridges to fire trucks and police cars. The good news is, unlike in 2000, there is a deep understanding of the challenge, and an infrastructure in place that should allow state and local officials to develop plans to deal with this problem in the short and long run.
(Photo: Thinkstock)