Voters and lawmakers of all polit­ical stripes support an end to extreme partisan gerry­man­der­ing. This wide­spread oppos­i­tion came to the fore in 2018 when large major­it­ies of engaged voters passed numer­ous import­ant anti-gerry­man­der­ing reforms in states as diverse as Utah, Color­ado, and Michigan. But bipar­tisan oppos­i­tion to polit­ical mapdraw­ing has deep roots.
For decades, lawmakers from both parties have condemned extreme partisan gerry­man­der­ing. Critiques from both sides of the aisle have focused on gerry­man­der­ing's funda­ment­ally anti­demo­cratic and divis­ive qual­it­ies.
"That's all we're asking for: an end to the anti­demo­cratic and un-Amer­ican prac­tice of gerry­man­der­ing congres­sional districts . . . The fact is gerry­man­der­ing has become a national scan­dal." – Pres­id­ent Ronald Reagan (R)

"We've got to end the prac­tice of draw­ing our congres­sional districts so that politi­cians can pick their voters, and not the other way around. Let a bipar­tisan group do it." – Pres­id­ent Barack Obama (D)

"We've been draw­ing lines for polit­ical reas­ons all the way back to 1812. But I think it's wrong. I think it leads to bad govern­ment." - Former House Speaker Newt Gingrich (R)

"Gerry­man­der­ing has completely broken our polit­ical system." – Former Cali­for­nia Governor Arnold Schwar­zeneg­ger (R)

"Amer­ican deserve better. Congres­sional repres­ent­a­tion should not be a polit­ical blood sport that protects incum­bents, disen­fran­chises legit­im­ate interests, and allows people to achieve with surgical reappoint­ment what they could­n't do honestly at the ballot box." – Congress­man Earl Blumenauer (D-OR)
Lawmakers backed up their words with action in 2017 when the Supreme Court last considered the issue, with lead­ing Repub­lic­ans and Demo­crats join­ing together to call on the Court to ban extreme gerry­man­der­ing. The late Senator John McCain and Senator Shel­don White­house filed a brief in support of the Demo­cratic voters chal­len­ging Wiscon­sin's map, call­ing partisan gerry­man­der­ing "a tool for power­ful interests to distort the demo­cratic process." Like­wise, dozens of current and former federal and state legis­lat­ors from both parties and several lead­ing Repub­lican governors signed force­ful briefs condemning the worst abuses of our redis­trict­ing system.
Public opin­ion polling over the last decade shows that the Amer­ican people feel simil­arly to their elec­ted repres­ent­at­ives. Polls from both 2017 and 2019 showed over 70 percent of voters from all parties agree the Supreme Court should place limits on gerry­man­der­ing. The 2019 poll also revealed that over 55 percent of all voters who have a partisan affil­i­ation have unfa­vor­able views of the prac­tice.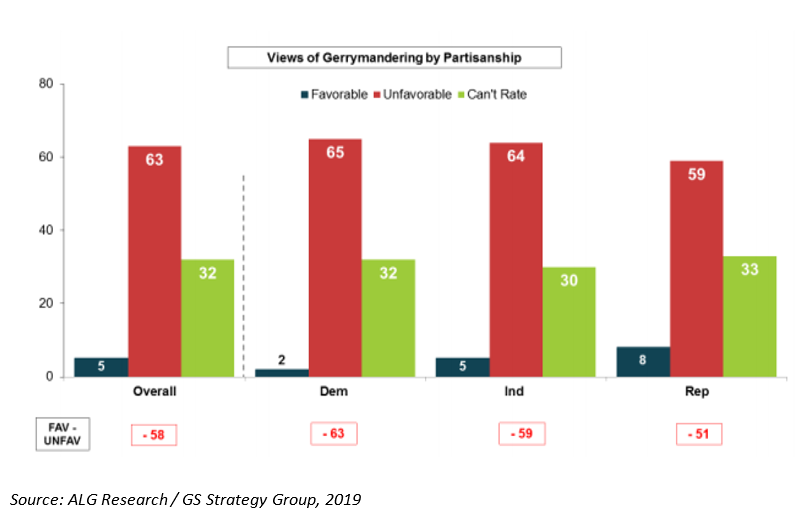 Opin­ion polls were backed up by citizen and legis­lat­ive action in 2018: five states across the coun­try passed redis­trict­ing reforms, three of which were adop­ted through citizen-led ballot initi­at­ives. All five initi­at­ives had bipar­tisan support, with over 60 percent Repub­lican support in four states. In Ohio, for example, the state's consti­tu­tional amend­ment banning partisan gerry­man­der­ing won 75 percent of the statewide vote, major­ity support in all 88 counties, and super­ma­jor­it­ies in each congres­sional district.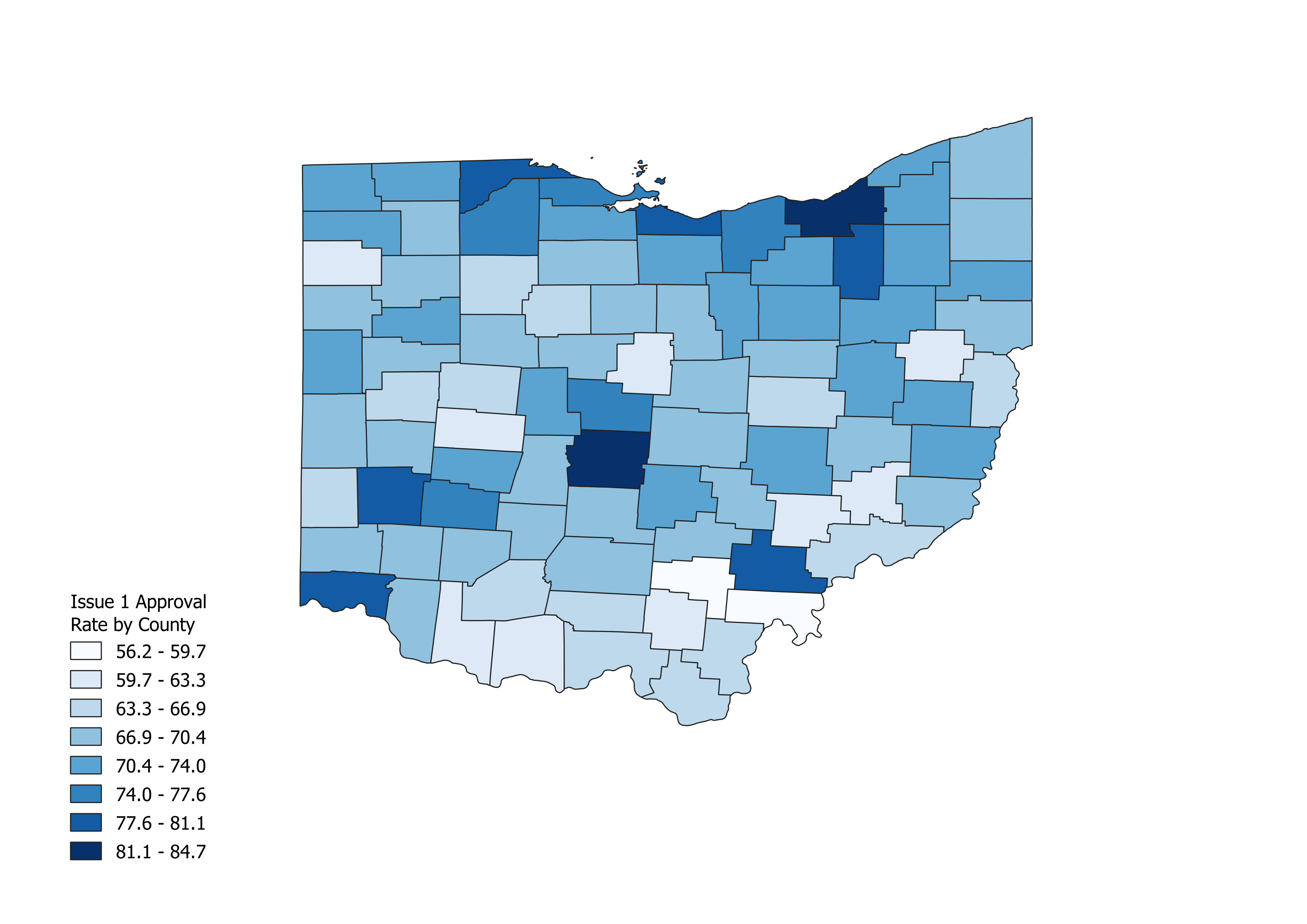 With major partisan gerry­man­der­ing cases before the Supreme Court and more
reform initi­at­ives
on the hori­zon, courts and legis­latures should take note of the broad, bipar­tisan support for real limits on gerry­man­der­ing.