Americans Are Transforming the Redistricting Process
In 2021, voting districts will be redrawn across the country. Grassroots organizations, advocacy groups, and state legislatures around the country are working to change the way it's done.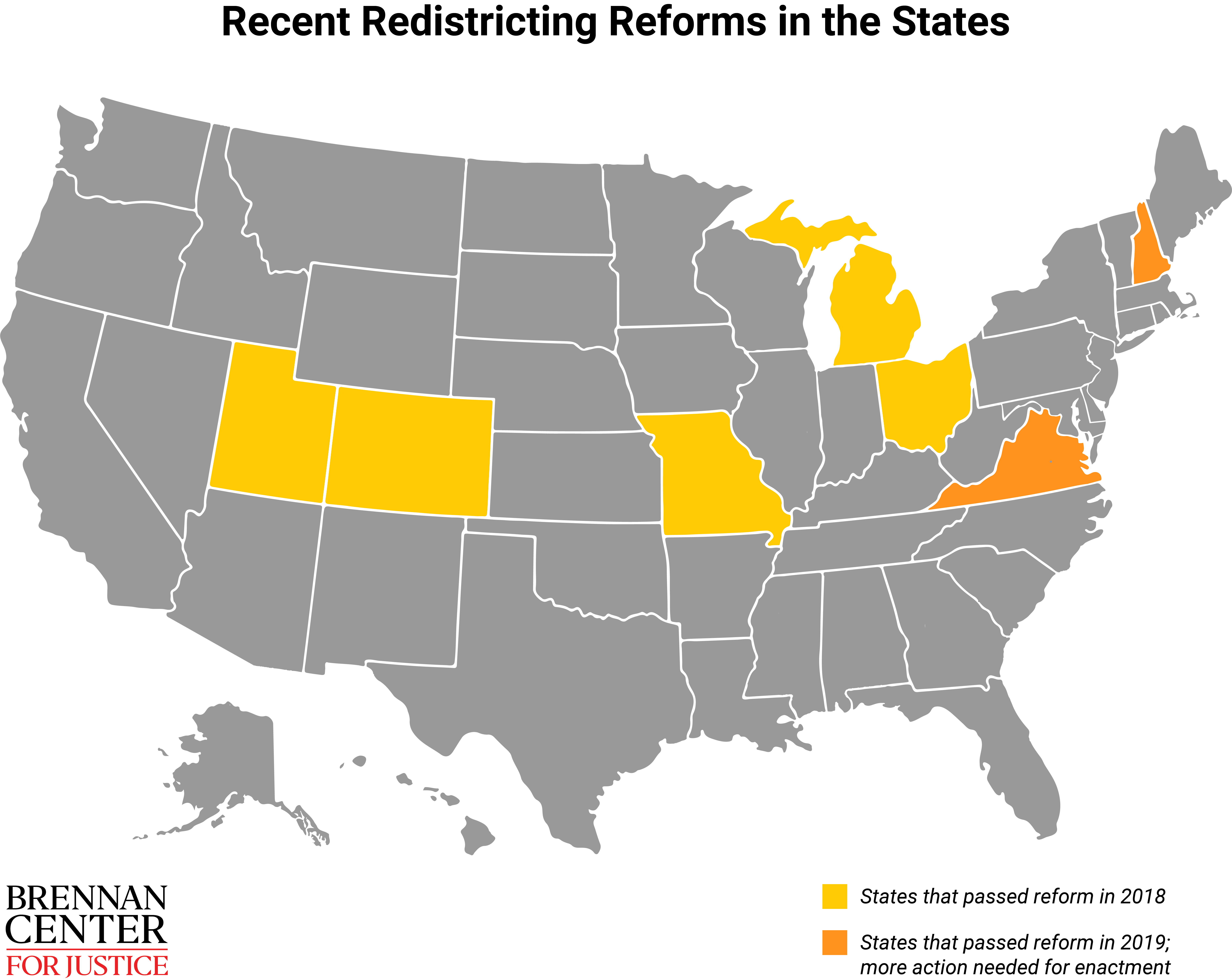 In 2018, voters in five states (Colorado, Michigan, Missouri, Ohio, and Utah) passed reforms by overwhelming bipartisan margins to make future mapdrawing fairer and more transparent. That momentum has carried forward into 2019 with redistricting reforms passing legislatures in both New Hampshire and Virginia. And active efforts are underway in other states around the country to improve the redistricting process ahead of the next round of mapdrawing in 2021.
Here's a round-up of some of the key efforts around the country.
In June, the New Hampshire legislature approved an act creating an advisory commission and strong mapdrawing rules, including protections for people of color and communities of interest, as well as a ban on partisan gerrymandering.
The bill passed the Senate unanimously and received bipartisan support in the House. On August 9, Governor Chris Sununu vetoed the bill, and on September 18, the House fell short of the votes needed to override the veto.
Learn more about the proposal here.
In February, the Virginia legislature approved a proposed constitutional amendment to create an advisory commission for congressional and state legislative lines. The amendment received unanimous support in the Virginia Senate and passed 83-15 in the House of Delegates. In order to get the amendment on the 2020 ballot, the General Assembly must pass an identical resolution during the next legislative session.
The amendment is supported by OneVirginia2021, a campaign to build momentum for a constitutional amendment to end gerrymandering in Virginia before voters in 2020.
Learn more about the proposal here.
Citizen and advocate coalitions are pursuing reforms to the redistricting process in Pennsylvania, where several legislative proposals are currently in play.
Governor Tom Wolf's Redistricting Reform Commission finished collecting public comment and will report its recommendations for best redistricting practices to the governor and legislature in August 2019.
In October 2018, Arkansas Attorney General Leslie Rutledge certified the ballot title for a proposal to revise the state's redistricting process, clearing the way for the petitioners to collect signatures. The proposed constitutional amendment would create a seven-member citizen commission to draw congressional and state legislative districts and prohibit drawing districts for partisan advantage or to harm the voting strength of minority groups.
Supporters will need to collect signatures from at least 15 counties totaling 10% of the number of votes cast in the next gubernatorial election to submit to the secretary of state for the initiative to appear on the 2020 ballot.
Legislators in New Jersey have gone back to the drawing board after withdrawing a proposed constitutional amendment to reform redistricting earlier in the session. Citizens and advocates alike opposed the original amendment and are encouraging the legislature to put in place strong safeguards against partisan gerrymandering in any future proposals.