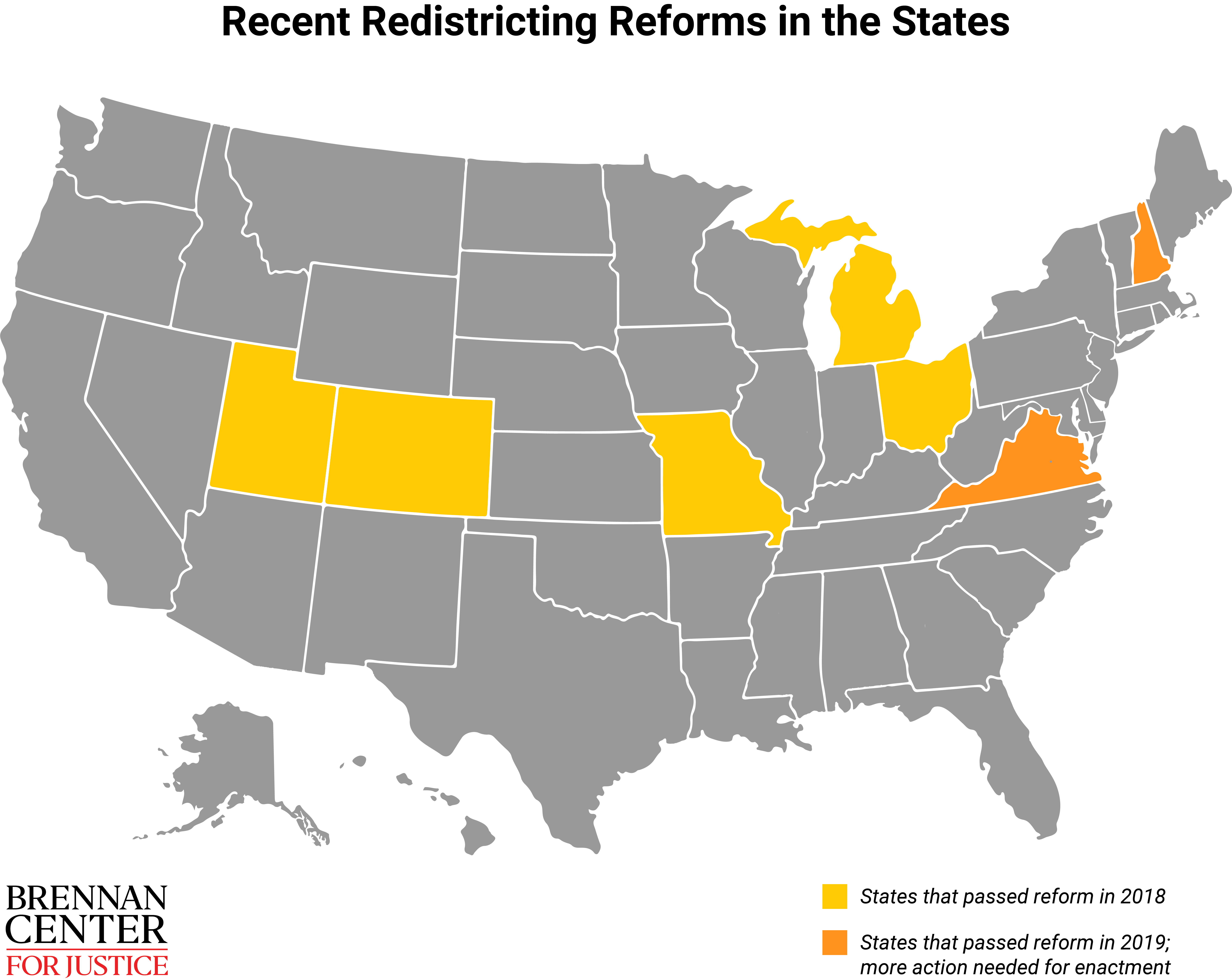 In 2018, voters in five states (Color­ado, Michigan, Missouri, Ohio, and Utah) passed reforms by over­whelm­ing bipar­tisan margins to make future mapdraw­ing fairer and more trans­par­ent. That momentum has carried forward into 2019 with redis­trict­ing reforms passing legis­latures in both New Hamp­shire and Virginia. And active efforts are under­way in other states around the coun­try to improve the redis­trict­ing process ahead of the next round of mapdraw­ing in 2021.
Here's a round-up of some of the key efforts around the coun­try.
New Hamp­shire
In June, the New Hamp­shire legis­lature approved  an act creat­ing an advis­ory commis­sion and strong map draw­ing rules, includ­ing protec­tions for people of color and communit­ies of interest, as well as a ban on partisan gerry­man­der­ing.
The bill passed the Senate unan­im­ously and received bipar­tisan support in the House. On August 9, Governor Chris Sununu vetoed the bill, and on Septem­ber 18, the House fell short of the votes needed to over­ride the veto.
Learn more about the proposal  here.
Virginia
In Febru­ary, the Virginia legis­lature  approved  a proposed consti­tu­tional amend­ment to create an advis­ory commis­sion for congres­sional and state legis­lat­ive lines. The amend­ment received unan­im­ous support in the Virginia Senate and passed 83–15 in the House of Deleg­ates. In order to get the amend­ment on the 2020 ballot, the General Assembly  must pass  an identical resol­u­tion during the next legis­lat­ive session.
The amend­ment is suppor­ted by  OneVir­gini­a2021, a campaign  to build momentum for a consti­tu­tional amend­ment to end gerry­man­der­ing in Virginia before voters in 2020.
Learn more about the proposal  here.
Pennsylvania
Citizen and advoc­ate coali­tions are pursu­ing reforms to the redis­trict­ing process in Pennsylvania, where several legis­lat­ive propos­als are currently in play.
Governor Tom Wolf's Redis­trict­ing Reform Commis­sion finished collect­ing public comment and will report its recom­mend­a­tions for best redis­trict­ing prac­tices to the governor and legis­lature in August 2019.
Arkan­sas
In Octo­ber 2018, Arkan­sas Attor­ney General Leslie Rutledge  certi­fied  the ballot title for a proposal to revise the state's redis­trict­ing process, clear­ing the way for the peti­tion­ers to collect signa­tures. The  proposed consti­tu­tional amend­ment  would create a seven-member citizen commis­sion to draw congres­sional and state legis­lat­ive districts and prohibit draw­ing districts for partisan advant­age or to harm the voting strength of minor­ity groups.
Support­ers will need to collect signa­tures from at least 15 counties total­ing 10% of the number of votes cast in the next gubernat­orial elec­tion to submit to the secret­ary of state for the initi­at­ive to appear on the 2020 ballot.
New Jersey
Legis­lat­ors in New Jersey have gone back to the draw­ing board after  with draw­ing  a proposed consti­tu­tional amend­ment to reform redis­trict­ing earlier in the session. Citizens and advoc­ates alike opposed the original amend­ment and are encour­aging the legis­lature to put in place strong safe­guards against partisan gerry­man­der­ing in any future propos­als.
Mary­land
In Novem­ber 2018, Governor Larry Hogan  convened  the  Emer­gency Commis­sion on Sixth Congres­sional District  to redraw the contested district before the 2020 elec­tion. After soli­cit­ing public comment and proposed maps from around the state, the nonpar­tisan commis­sion released a final report recom­mend­ing a new congres­sional plan.