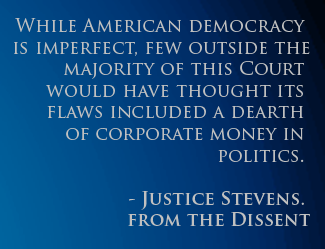 On Janu­ary 21, 2010, the U.S. Supreme Court issued its ruling in Citizens United v. Federal Elec­tion Commis­sion. In a 5–4 opin­ion writ­ten by Justice Kennedy, the Court broadly held that:
(1) no distinc­tion can be drawn between the First Amend­ment rights of indi­vidu­als and corpor­a­tions in the elect­oral context, and that
(2) "inde­pend­ent expendit­ures, includ­ing those made by corpor­a­tions, do not give rise to corrup­tion or the appear­ance of corrup­tion." Id. at 42.
Accord­ingly, the Court over­ruled Austin and part of McCon­nell, and inval­id­ated all state and federal laws prevent­ing corpor­a­tions from using general treas­ury funds for polit­ical spend­ing or other­wise regu­lat­ing corpor­ate inde­pend­ent elec­tion­eer­ing expendit­ures.
The Major­ity Opin­ion:
Justice Kennedy found that the Govern­ment has
"muffle[d] the voices that best repres­ent the most signi­fic­ant segments of the economy.' And 'the elect­or­ate [has been] deprived of inform­a­tion, know­ledge and opin­ion vital to its func­tion." (38)
The Dissent:
Justice Stevens penned a force­ful dissent:
"Essen­tially, five Justices were unhappy with the limited nature of the case before us, so they changed the case to give them­selves an oppor­tun­ity to change the law." (6)

"The Framers thus took it as a given that corpor­a­tions could be compre­hens­ively regu­lated in the service of the public welfare. Unlike our colleagues, they had little trouble distin­guish­ing corpor­a­tions from human beings, and when they consti­tu­tion­al­ized the right to free speech in the First Amend­ment, it was the free speech of indi­vidual Amer­ic­ans that they had in mind." (37)

"At bottom, the Court's opin­ion is thus a rejec­tion of the common sense of the Amer­ican people, who have recog­nized a need to prevent corpor­a­tions from under­min­ing self govern­ment since the found­ing, and who have fought against the distinct­ive corrupt­ing poten­tial of corpor­ate elec­tion­eer­ing since the days of Theodore Roosevelt. It is a strange time to repu­di­ate that common sense. While Amer­ican demo­cracy is imper­fect, few outside the major­ity of this Court would have thought its flaws included a dearth of corpor­ate money in polit­ics." (90)
---
The Bren­nan Center's Amicus Brief
On July 31, 2009, the Bren­nan Center for Justice – serving as coun­sel for itself, the Center for Inde­pend­ent Media, blog­ger Zack Exley, the Edit­or­ial Board of polit­ical blog Calit­ics.com, Laura McGann, editor of the Wash­ing­ton Inde­pend­ent, and New York tech­no­logy and art center Eyebeam – filed a supple­mental amicus curiae brief in Citizens United v. FEC. The brief urged the Supreme Court to preserve land­mark preced­ents that support limits on corpor­ate spend­ing in elec­tions. Both insti­tu­tions and indi­vidu­als who use new tech­no­lo­gies to comment on federal elec­tions joined the brief in an effort to address concerns raised by those seek­ing to over­turn the law regard­ing the impact that campaign finance rules have on journ­al­ists, blog­gers and other non-tradi­tional media.
Supple­mental Brief of the Bren­nan Center for Justice and New Media Journ­al­ists
Bren­nan Center Legal Director Burt Neuborne, with four former offi­cials from the Amer­ican Civil Liber­ties Union, also submit­ted a brief (here) that, along with the Bren­nan Center brief, was noted in the 8/29/2009 New York Times article cover­ing the case.
---
Back­ground on the Case
In the lead-up to the 2008 pres­id­en­tial elec­tion, Citizens United, a non-profit corpor­a­tion, produced a 90-minute docu­ment­ary entitled Hillary: The Movie. The film criti­cized Hillary Clin­ton at a time when she was the top contender in the Pres­id­en­tial Demo­cratic primary. Citizens United inten­ded to show the film by purchas­ing airtime to run the video using video-on-demand tech­no­logy.
Section 203 of the 2002 Bipar­tisan Campaign Reform Act (popularly known as "McCain-Fein­gold") prohib­its corpor­a­tions from using their general treas­ury funds to fund "elec­tion­eer­ing commu­nic­a­tions" in the 30 days before a primary and the 60 days before a general elec­tion. "Elec­tion­eer­ing commu­nic­a­tions" are defined as broad­cast advert­ise­ments that clearly identify a candid­ate for federal office and target a signi­fic­ant portion of the relev­ant elect­or­ate. Citizens United filed an as-applied chal­lenge against Section 203 seek­ing declar­at­ory and injunct­ive relief hold­ing that Hillary: The Movie could not be consti­tu­tion­ally clas­si­fied as an elec­tion­eer­ing commu­nic­a­tion.
On June 29, 2009, rather than issu­ing a decision in the case, the Supreme Court ordered addi­tional argu­ment and direc­ted parties to file supple­mental briefs address­ing the ques­tion of whether, to resolve this case, it is neces­sary to over­turn either or both Austin v. Michigan Cham­ber of Commerce, 494 U.S. 652 (1990), which upheld a regu­la­tion on corpor­ate treas­ury fund spend­ing in Michigan state elec­tions, and the part of McCon­nell v. Federal Elec­tion Commis­sion (FEC), 540 U.S. 93 (2003), which upheld the "elec­tion­eer­ing commu­nic­a­tions" section of BCRA, 2 U.S.C. § 441b.
---
Related Articles/Media Appear­ances by Bren­nan Center Staff
01/28/2010 "Schwarz: Public Finan­cing of Races: If It Can Make It There …", Fred­er­ick A.O. Schwarz Jr., Roll Call
01/22/2010, "Campaign finance ruling reflects Supreme Court's grow­ing auda­city", Michael Wald­man, Wash­ing­ton Post
01/21/2010, "Bigger Than Bush v. Gore", Michael Wald­man, New York Times
01/10/2010, "Giving corpor­a­tions an outsized voice in elec­tions", Monica Youn, L.A. Times
10/22/2009, "Share­hold­ers Should Hear About Polit­ical Spend­ing", Ciara Torres-Spel­liscy, Busi­nes­s­Week
09/28/2009, "Protect young voter­s—save campaign finance reform", Nate Frentz, Salon.com
09/08/2009, "McCain/Fein­gold Campaign Finance Law – In Trouble?", South­ern Cali­for­nia Public Radio
09/03/2009, "Keep My Invest­ments Out Of Polit­ics", Ciara Torres-Spel­liscy, Forbes
Related News and Analysis
12/03/2009, "Citizens United, Corpor­ate Person­hood and the Consti­tu­tion: CAC Releases Discus­sion Draft of New Report in Advance of Major Supreme Court Ruling", David Gans, Balkiniz­a­tion
11/07/2009, "Elec­tion Spend­ing: Reformers on Flood Watch", Sara Jerome, Nation­al­Journal.com
10/26/2009, "A World Without Rules", Eliza Newlin Carney, Nation­al­Journal.com
09/30/2009, "Campaign Finance Laws Under Siege", Robert Schle­singer, U.S. News and World Report
09/08/2009, "U.S. Supreme Court Eyes Decades of Campaign Finance Laws", Daphne Eviatar, Wash­ing­ton Inde­pend­ent
08/29/2009, "Supreme Court to Revisit 'Hil­lary' Docu­ment­ary", Adam Liptak, New York Times
03/22/2009, "Was Hillary Movie a Campaign Attack? High Court to Decide", Bart Jansen, CQ (Congres­sional Quarterly)
03/05/2009, "Docu­ment­ary on Clin­ton Tests Campaign Finance Law", Adam Liptak, New York Times
---
Case History of Citizens United in the U.S. Supreme Court
Novem­ber 14, 2008 – the U.S. Supreme Court agreed to hear Citizens United v. Federal Elec­tion Commis­sion.
Janu­ary 8, 2009 – Appel­lant's brief filed. Down­load here.
Febru­ary 17, 2009 – Appellee's brief filed. To down­load the brief, with Edwin S. Kneedler as coun­sel of record, go here.
March 17, 2009 – reply brief for the Appel­lant filed. Down­load here.
March 24, 2009 – the case was argued before the Court. Click here to down­load tran­script of the oral argu­ment.
The Court's order for rear­gu­ment and supple­mental brief­ing can be found here.
July 24, 2009 – Appellee's supple­mental brief filed. Down­load here.
July 24, 2009 – Appel­lant's supple­mental brief filed. Down­load here.
Janu­ary 21, 2010 – The Court issues a ruling and opin­ion. Down­load here.
---
Other Case Docu­ments
For an exhaust­ive data­base of court filings at both the appel­late and district levels, includ­ing access to the 40 other supple­mental amici briefs, please visit the Federal Elec­tion Commis­sion's Citizens United webpage.
---