Cross-posted from Data for Progress.
After Alex­an­dria Ocasio-Cortez won one of the the most surpris­ing primary upsets in decades, pundits scrambled to make sense of her win and what it meant for the future of the Demo­cratic Party. Sadly, however, hot takes travel halfway around the world before voter file analysis is avail­able. Using voter file data, we can analyze her victory in depth and in the context of other progress­ive over-performers: Suraj Patel and Adem Bunked­deko. The data suggest these impress­ive elect­oral perform­ances were propelled in large part by young voters. The elec­tion of Ocasio-Cortez shows that when young people engage, they have the power to make a real differ­ence. The prob­lem, though, is that some states, like New Hamp­shire for example, have passed legis­la­tion making it harder for students to parti­cip­ate and vote.
The Case of New York
New York State lags behind its peers in making it easier to access the ballot box: The state does not have auto­matic voter regis­tra­tion, Elec­tion Day regis­tra­tion, or even early voting. Voters want­ing to change their party affil­i­ation have to make that switch more than eight months before the elec­tion (no other state comes close). Primary elec­tions are sched­uled for late June, when many students are away for the summer or not plugged into their school communit­ies (where get-out-the-vote oper­a­tions are most robust). And unlike any other state in the coun­try, New York has differ­ent dates for local and federal primar­ies, which adds a further layer of confu­sion.
Despite those barri­ers, the data we analyzed show young people turned out for the Demo­cratic primary in New York's 14th district (span­ning neigh­bor­hoods in the Bronx and Queens) on June 26. It's likely that their support made the differ­ence in Ocasio-Cortez's double-digit triumph over the incum­bent, Rep. Joseph Crow­ley.
Ocasio-Cortez won nearly nine out of 10 elec­tion districts where the aver­age age of the voter was below 55, but she netted less than 40 percent of those where the aver­age voter was 55 or older. Younger voters still had relat­ively low turnout rates: Just 11 percent of active registered Demo­crats in the 14th under the age of 40 voted in the primary, compared to 15 percent of voters 40 and older. However, because their support for Ocasio-Cortez was so concen­trated, even this turnout rate likely had an impact on her victory.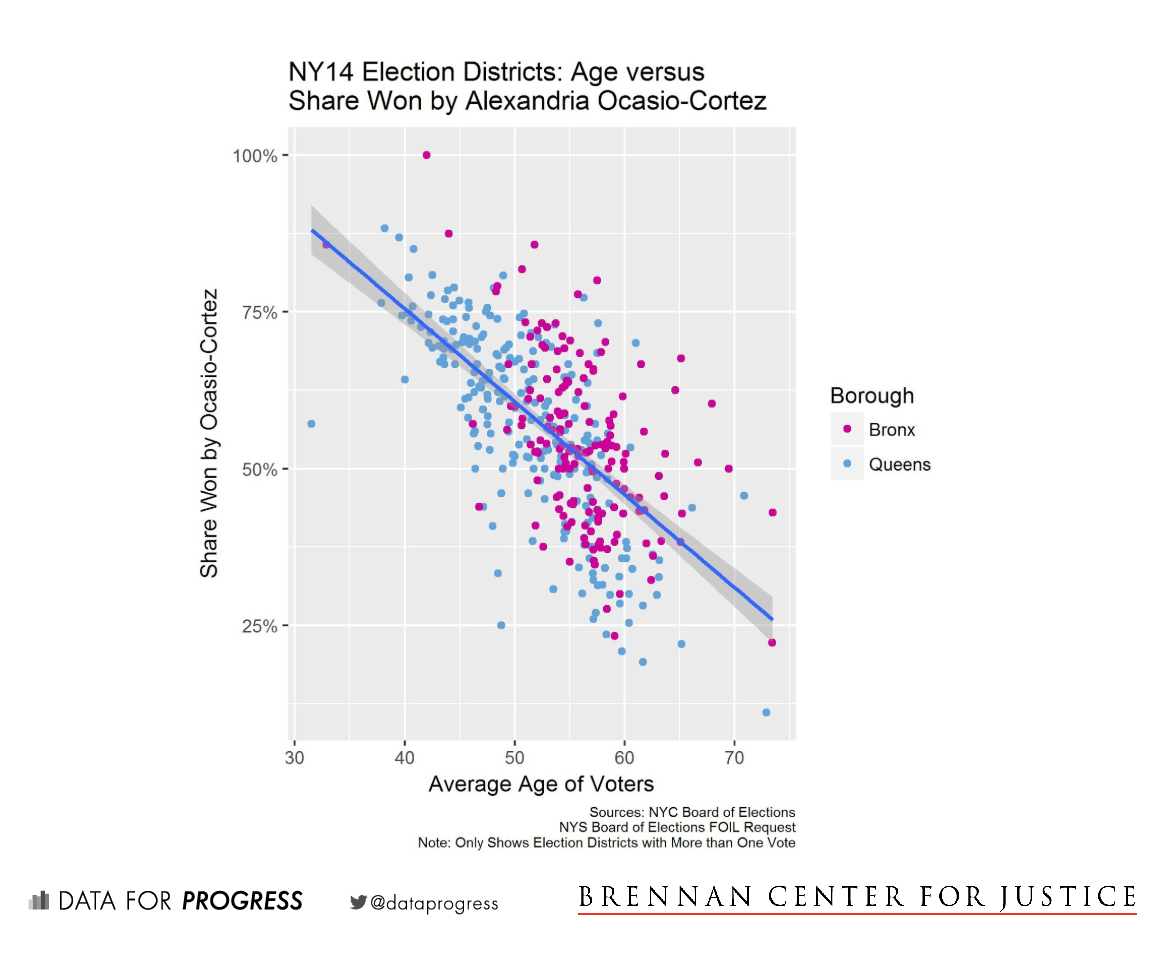 New York's 9th district, cover­ing much of cent­ral Brook­lyn, also had a primary elec­tion on June 26 in which younger voters roundly suppor­ted a chal­lenger to a long-time repres­ent­at­ive. Adem Bunked­deko, a 30-year-old native of Queens, chal­lenged Rep. Yvette Clarke, who has repres­en­ted the district since 2007. Although Bunked­deko lost to Clark, the margin was a slim four points (52 percent to 48 percent). Here again, his elect­oral strength was largely driven by younger voters, who suppor­ted him substan­tially more than older voters.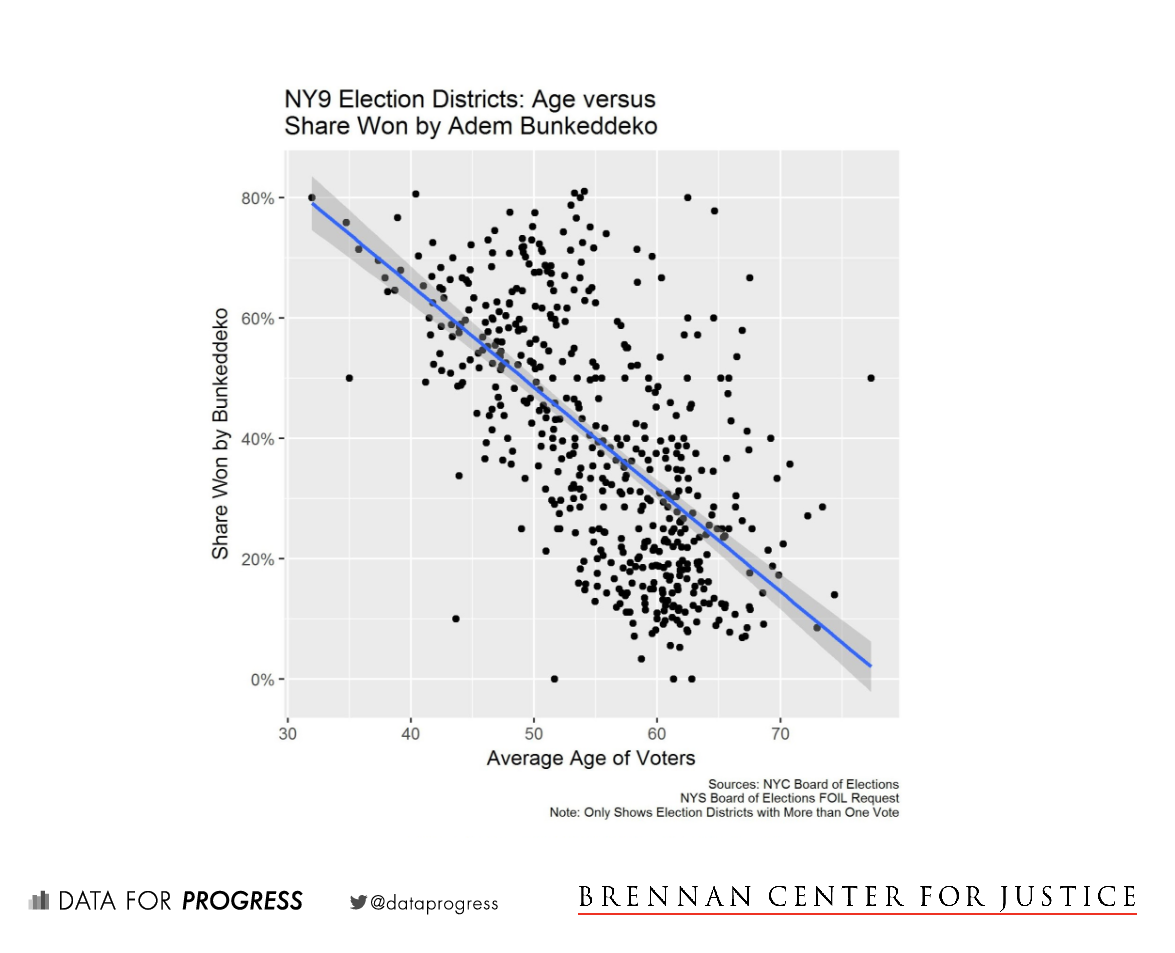 Despite their pref­er­ence for the chal­lenger candid­ate, younger voters didn't turn out in the 9th district the way they did in the 14th (where Ocasio-Cortez scored her win). In fact, just 8 percent of actively registered Demo­crats under 40 cast votes in the primary elec­tion. If they had matched the 10 percent turnout rate of their older neigh­bors (or main­tained their turnout numbers but registered more resid­ents), the primary result might have been differ­ent.
Suraj Patel simil­arly chal­lenged incum­bent Demo­crat Rep. Caro­lyn Malo­ney in New York's 12th district. Patel, too, was widely suppor­ted by younger voters in a district that crosses three boroughs (Manhat­tan, Queens, and Brook­lyn). Patel won 55 percent of the elec­tion districts where the aver­age voter was under the age of 55. He won just four of the 280 elec­tion districts where the aver­age voter was 55 or older. Although turnout in the 12th was higher among young voters than in the 9th or the 14th (13 percent of registered Demo­crats under 40 cast a ballot), so too was the turnout rate among older voters in the district. In fact, the turnout gap between older and younger voters was highest here. Further­more, while younger voters suppor­ted Patel substan­tially more than their older neigh­bors, that support was not nearly as concen­trated as it was for Ocasio-Cortez.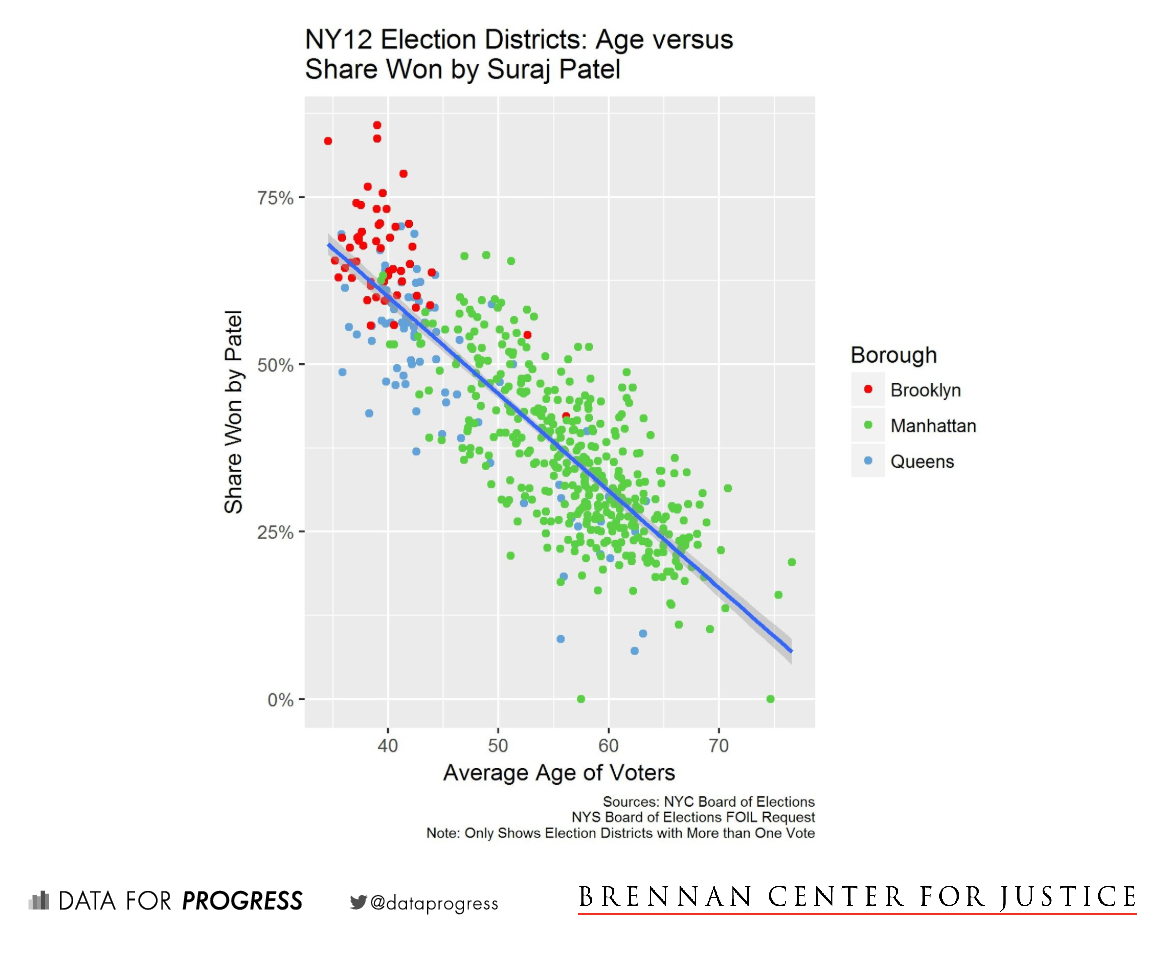 When we look at all three of these races together, the trends are appar­ent: Concen­trated support among young voters and relat­ively high turnout combined in the 14th to give Ocasio-Cortez her victory. Nearly eight of 10 votes cast in precincts where the aver­age voter age was under 40 were cast for her. Addi­tion­ally, she was the only chal­lenger in these three races to win a major­ity of votes in elec­tion districts where the aver­age age was between 40 and 64: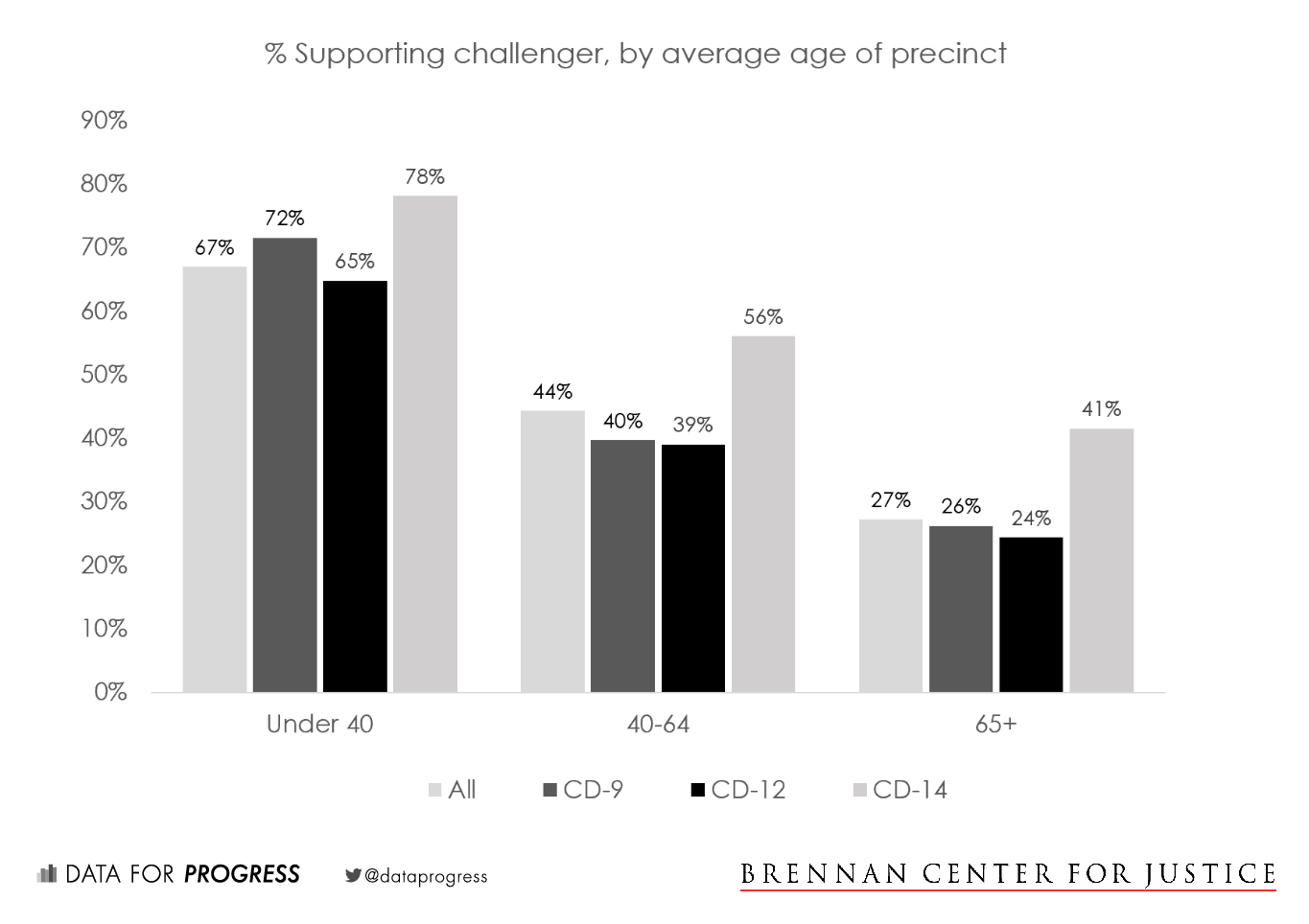 So what does this all tell us?

First (and maybe obvi­ously): Turnout matters. In this batch of three primar­ies, turnout was barely over 13 percent for all registered Demo­crats. Second, the turnout was even lower among younger voters. More than 14 percent of registered New York­ers over 39 turned out in these contests, compared to less than 11 percent of those under 40. This turnout dispar­ity is magni­fied by the equally prob­lem­atic regis­tra­tion dispar­ity: City­wide, a paltry 57 percent of New York­ers between 18 and 40 are registered to vote. More than three-quar­ters of New York­ers 40 and older are registered. If younger voters had registered and turned out at the same rate as their elders in these congres­sional districts, younger voters could have collect­ively cast some 25 thou­sand more votes in these three contests, poten­tially chan­ging the results of all the elec­tions.
Addi­tion­ally, just because some voters were able to turn out does not mean barri­ers to voting are incon­sequen­tial. We should be concerned whenever indi­vidu­als' access to the ballot box is impeded regard­less of any elect­oral outcomes.
Of course, we can't know how many votes went uncast by young New York­ers thanks to struc­tural imped­i­ments and how many went uncast because of polit­ical disen­gage­ment. We do know, though, that restrict­ive voting laws can heav­ily impact younger voters.
Research shows that voting is a developed habit — each time a voter parti­cip­ates makes them more likely to parti­cip­ate in the next elec­tion. A robust demo­cracy depends on getting young voters to estab­lish cast­ing a ballot as an import­ant part of their involve­ment with their community. Some­times, their parti­cip­a­tion will contrib­ute to decis­ive elect­oral victor­ies, and other times it won't. But regard­less of any elect­oral impact, young voters — in New York and around the coun­try — deserve free, fair, and access­ible elec­tions just like other citizens.
(Photo: Mark Dill­man/Wiki­me­dia Commons)