Districts drawn by lawmakers in trifecta states — states under unified one-party control — are nearly four times less likely to be toss-ups than districts drawn by courts, commis­sions, and legis­latures under split control, a new Bren­nan Center analysis finds. It provides the latest evid­ence that if Demo­crats succeed in flip­ping 23 seats in the midterms to capture the House, it will be thanks in part to fairer maps drawn by courts and commis­sions.
The 435 House seats each fall into one of seven categor­ies, depend­ing on the process used to draw them. We found:
Two hundred twenty-three U.S. House seats were drawn by a state legis­lature and governor of a single party. (Seven seats are at-large, so they're not included here.) Only 2.2 percent of those seats were rated by Sabato's Crys­tal Ball as toss-ups, as of Octo­ber 18.
By contrast, over 8 percent of seats drawn by legis­latures under split-control, courts, and all types of commis­sions were rated by Sabato's Crys­tal Ball as toss-ups.
Put differ­ently, courts, commis­sions, and split-control legis­latures drew 17 out of 22 ultra-close seats. If legis­latures in trifecta states had drawn compet­it­ive seats at the same rate, at least 13 more congres­sional seats would be in play.
Broadly, we found that districts drawn by courts or commis­sions composed of polit­ical appointees were most likely to draw toss-up districts. Districts drawn by legis­latures in states controlled entirely by Repub­lic­ans were least likely to draw toss-ups.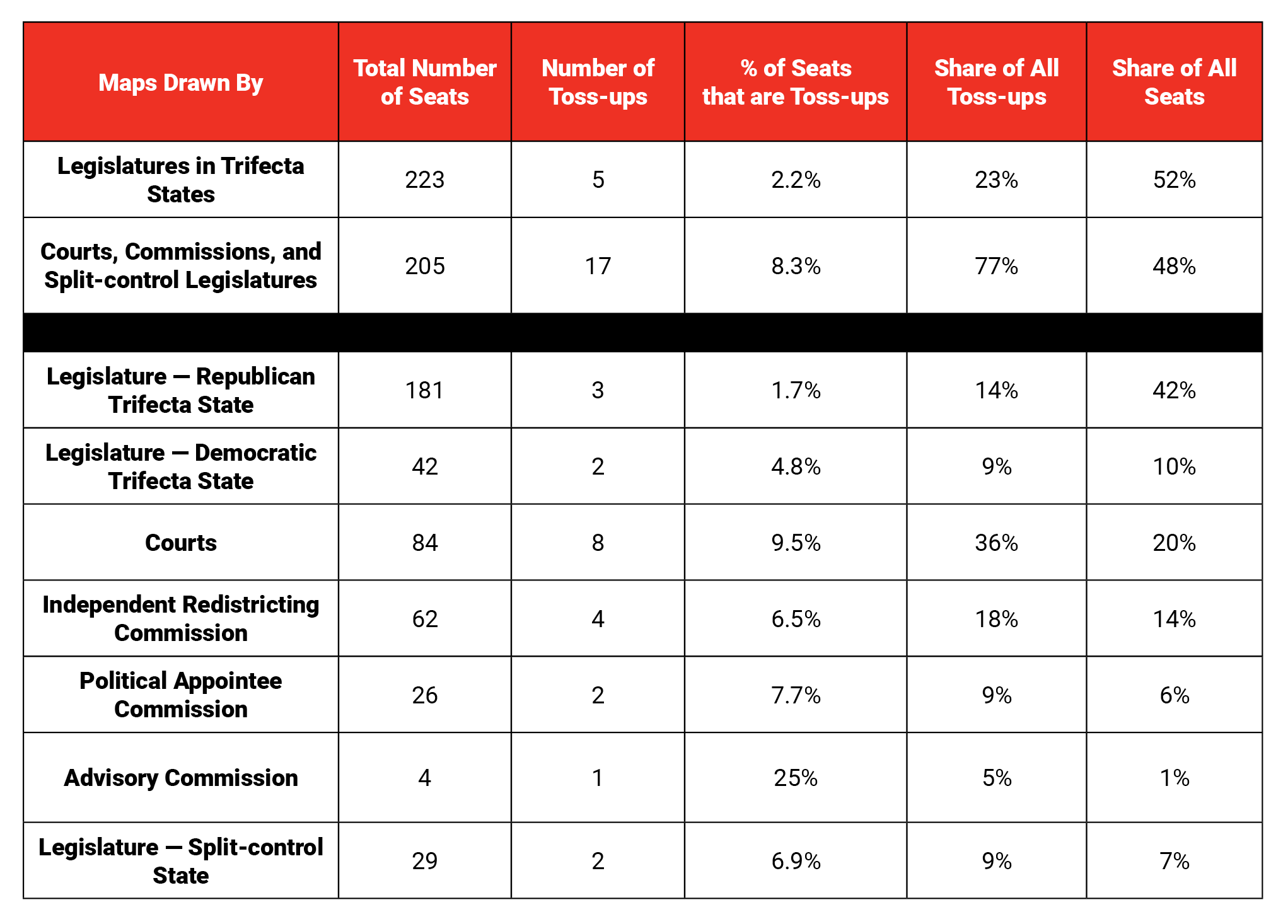 Because one district was incor­rectly categor­ized, these numbers have been revised slightly since public­a­tion.
(Image: BCJ/Getty/Shut­ter­stock)