Next week, 29 states will hold elec­tions for posi­tions on their highest courts. These courts exer­cise tremend­ous power over Amer­ican life and issue crucial decisions on matters ranging from public educa­tion fund­ing to repro­duct­ive rights. But state high courts badly fail to reflect the diversity of the communit­ies they serve — and it's unlikely this will change this year.
Accord­ing to a Bren­nan Center analysis, during this elec­tion cycle, only 11.9 percent of candid­ates running in state supreme court elec­tions are people of color, and only 36.5 percent of candid­ates are female. Just 4.8 percent are women of color.
The prob­lem goes beyond this year's crop of candid­ates. In 2016, people of color were nearly 39 percent of the U.S. popu­la­tion but just 13 percent of state supreme court justices, accord­ing to Bren­nan Center data. And 24 state supreme courts did not have a single person of color on the bench. Simil­arly, 11 state high courts had only one or no female justices, and only 36 percent of all state supreme court justices were female.
Diversity is crucial for an effect­ive judi­ciary. It fosters better juris­pru­dence by bring­ing a broader set of perspect­ives into the judi­cial decision-making process. A diverse bench also promotes public confid­ence in the objectiv­ity and fair­ness of the judi­cial system.
State supreme court diversity has lagged behind over­all diversity in the United States for a host of reas­ons, ranging from inad­equate law school pipelines to fundrais­ing hurdles. But our research also suggests another crit­ical factor: state supreme court elec­tions do not draw a diverse set of candid­ates, and white candid­ates have higher success rates in these elec­tions than people of color. In all, 22 states use contested state supreme court elec­tions to fill seats on the bench. Future analyses will exam­ine these dynam­ics in appoint­ive systems.
State supreme court elec­tions do not draw a diverse set of candid­ates
Few people of color run for state supreme courts — and these figures have remained stag­nant over time. Over the past 18 years, the percent­age of candid­ates of color has stag­nated while the diversity of the U.S. popu­la­tion has increased substan­tially. Notably, the percent­age of candid­ates who are people of color this cycle is the same as it was in the 2001–02 cycle. And there was no elec­tion cycle in which more than 12.9 percent of candid­ates were people of color. In contrast, people of color made up 30.9 percent of the general popu­la­tion in 2000, and that percent­age has increased ever since.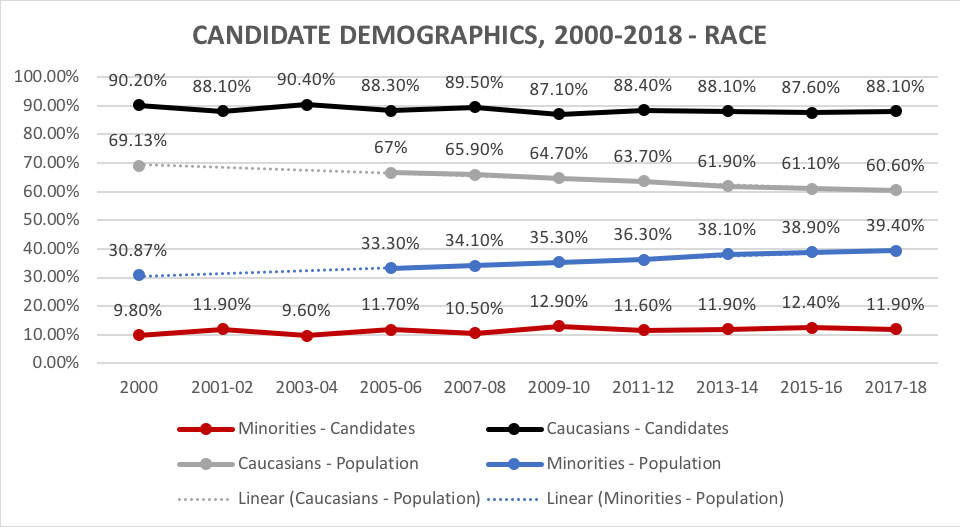 Estim­ates from the United States Census Bureau, Amer­ican Fact­Finder – Annual Estim­ates of the Resid­ent Popu­la­tion by Sex, Age, Race Alone or in Combin­a­tion, and Hispanic Origin for the United States and States; ACS Demo­graphic and Hous­ing Estim­ates, 2014 Amer­ican Community Survey 1-Year Estim­ates. Estim­ates for the years 2001–2004 were not avail­able: the dotted lines merely connect the 2000 and the 2005–6 data points, but do not contain data for 2001–2004.
The percent­age of female state supreme court candid­ates has grown modestly but notably in the past 18 years. This cycle, 36.5 percent of candid­ates are female — the highest percent­age of any cycle since our data began in 2000. But that still falls far short of the share of women in the over­all popu­la­tion.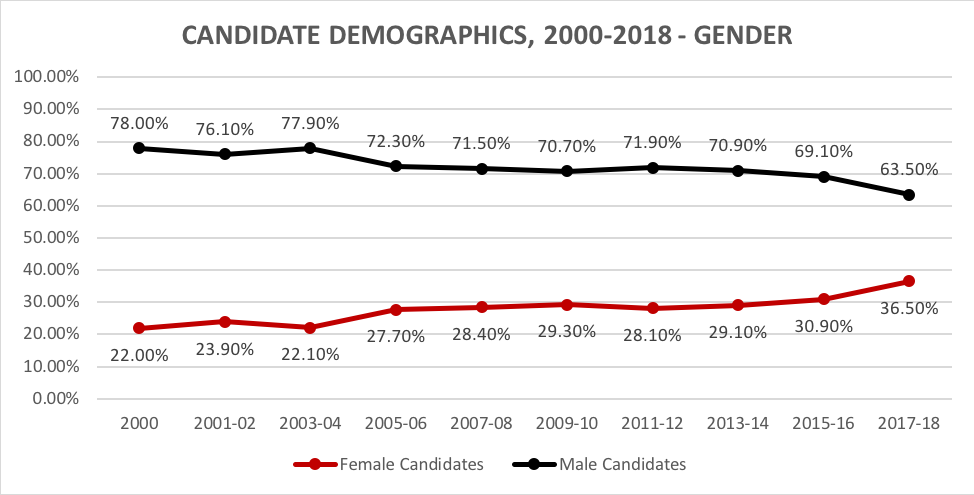 When people of color run for state supreme courts, they win less often than white candid­ates do
When non-incum­bent minor­ity candid­ates run for state supreme court — either as chal­lengers to incum­bents or as candid­ates for open seats — they have lower success rates than white candid­ates.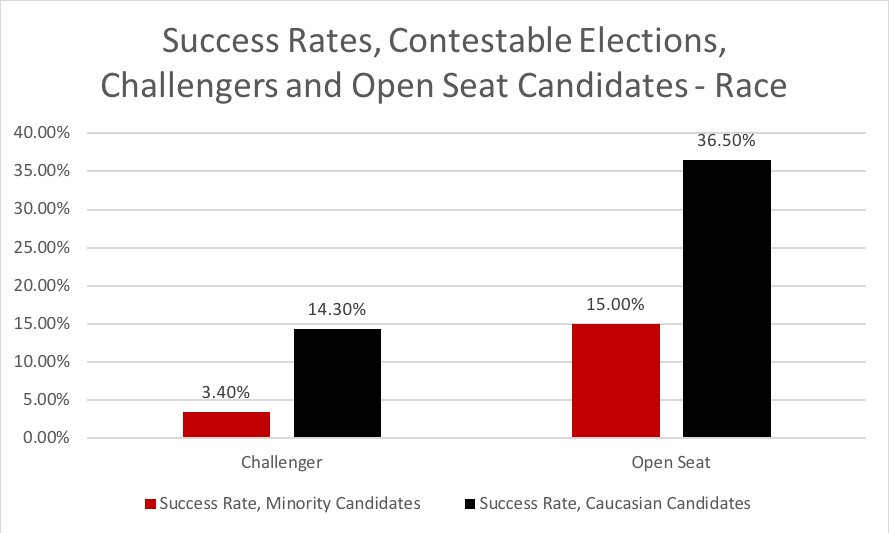 This dispar­ity is even starker for women of color. Since our data began in 2000, a woman of color has never won a state supreme court elec­tion as a non-incum­bent. During that period, only 20 out of 589 (or 3.4 percent) of total iden­ti­fi­able chal­lengers or open seat candid­ates were women of color. Strik­ingly, all 20 lost their respect­ive judi­cial races.
Minor­ity Women

Won

Lost

Chal­lenger

0.0%

(0)

100.0%

(16)

Open Seat

0.0%

(0)

100.0%

(4)
When minor­ity candid­ates reach the bench, through elec­tions or interim appoint­ments, they also lose more frequently than white incum­bents.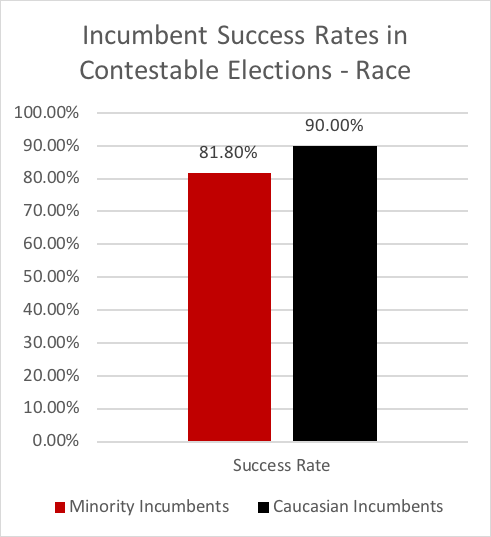 Notably, the incum­bent advant­age diverges across demo­graphic groups. Minor­ity men have by far the weak­est incum­bent advant­age in contest­able elec­tions.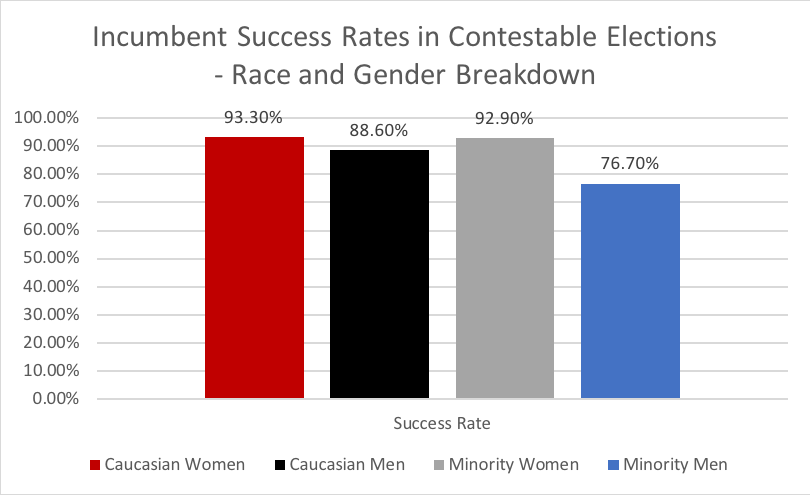 What should states do to address the lack of diversity on state supreme courts?
The strik­ing lack of diversity in state supreme courts under­scores the import­ance of dismant­ling hurdles to achiev­ing and main­tain­ing diverse state benches — and of build­ing better pipelines to the bench. One key step for states with judi­cial elec­tions is to adopt public finan­cing, which evid­ence suggests can reduce barri­ers to entry to the polit­ical process for candid­ates of color. For states that use appoint­ments, which the Bren­nan Center recom­mends for state supreme courts in lieu of elec­tions, the Bren­nan Center has developed recom­mend­a­tions about how these systems can promote a diverse bench.
For resources on how to promote judi­cial diversity, see the Bren­nan Center resource page.
(Image: Shut­ter­stock.com)