Amidst national attention to improving our voting systems, the movement to restore voting rights to citizens with past felony convictions saw strong progress throughout the spring and summer of 2018. From executive action to provide the right to vote to people on parole in New York, to the launch of a massive ground campaign to push for passage of Amendment 4 in Florida, voting rights restoration stayed squarely in the headlines. Below, this newsletter offers updates from several states.
If you would like to learn more about – or become involved in – the Brennan Center's work supporting voting rights restoration throughout the country, please email Makeda Yohannes, Research and Program Associate, at makeda.yohannes@nyu.edu.
The Final Push for Amendment 4 in Florida
Nearly 1.4 million people in Florida are permanently excluded from voting because of a past conviction. But thanks to a grassroots campaign that collected nearly 800,000 signatures from across the state, a constitutional amendment on the ballot tomorrow could change that. The Brennan Center has been working with the Second Chances Florida campaign to help pass Amendment 4, the Voting Restoration Amendment. And with less than a month until Election Day, we are contributing a final push. On October 18, employees and partners of the Brennan Center took part in a volunteer phone-banking session to speak directly to voters about the importance of this measure. That night, volunteers made approximately 13,000 calls and spoke with about 600 voters about Amendment 4.
Current law in Florida makes anyone convicted of a felony permanently ineligible to vote, even after the completion of their full sentence. There is a difficult process in place for individuals to petition for their eligibility to vote to be restored, which a federal judge recently determined is arbitrary. Very few states have systems this severe, and no state has more citizens who have fully repaid their debt to society, but are nonetheless ineligible to vote.
Amendment 4 would return the eligibility to vote to people—excluding those convicted of murder or felony sexual offenses—who have completed their full sentence, including probation, parole, fines, and restitution. In essence, it will provide a second chance to those who have paid their debt in full, which will benefit everyone in Florida. Amendment 4 does even more than create a more inclusive democracy—restoring people's eligibility to vote is a powerful way to welcome them back to their communities and foster healthy and successful reentry. It's both the right thing to do and sound criminal justice policy.
If 60% percent of voters support Amendment 4 in November, nearly 1.4 million Floridians will become eligible to participate fully in democracy. This is a high bar, but Floridians from all walks of life believe in second chances, and it shows through the powerful grassroots movement that got this issue on the ballot in 2018 and the strong bipartisan support reflected in polls with just a few weeks to go until Election Day. Still, support has to turn into votes, and with thirteen amendments on the ballot this fall, voters need to remain focused on the importance of Amendment 4.
Anyone interested in pitching in to get out the vote for those who can't in Florida can do so at https://secondchancesfl.org/get-involved/.
Voter Restoration Efforts in New York Following Executive Order 181
On April 18, 2018, New York's Governor, Andrew Cuomo, announced that he would begin using his pardon power to restore voting rights to individuals on parole. Prior to this announcement, New York was one of only a handful of states that allowed people on probation to vote but disenfranchised those on parole. Executive Order 181 helps remedy this injustice by requiring the Department of Corrections and Community Supervision to send Governor Cuomo a list of individuals currently on parole each month. After reviewing the list sent to him, the Governor then restores the right to vote to everyone in the community successfully completing the terms of their parole. In May, Governor Cuomo restored voting rights to more than 24,000 people, and has restored rights to thousands more in the months since.
Still, much work needs to be done to ensure that people with felony convictions understand their rights. The Brennan Center has offered support to a group of organizations that have made it their priority to educate and register newly enfranchised individuals. Using data on pardoned individuals compiled by the Brennan Center, National Action Network ("NAN"), and Voices Of Community Activists and Leaders ("VOCAL-NY") collaborated with the New York Civic Engagement Table ("NYCET") to engage around 2,000 people through text message outreach and phone banking.
These organizations and others, such as the National Religious Campaign Against Torture ("NRCAT"), the New York Civil Liberties Union and Legal Aid Society, regularly visit either Rikers Island or parole offices in New York to provide justice-involved individuals, including those who have been pardoned, with the resources to register to vote. Additionally, VOCAL-NY, NRCAT and NAN have hosted or participated in a series of town hall events for the public. The purpose of the town halls is to provide a forum for pardoned individuals to obtain more information about their rights after receiving a pardon and to complete their voter registration in-person. In the month of October, these groups hosted a number of voter registration events in advance of the October 12th registration deadline, culminating in a town hall on October 10th on the Bronx Campus of the Metropolitan College of New York.
The Brennan Center and a number of the organizations listed above have also advocated for greater public education efforts by the government. On October 3, alongside colleagues from an array of interested organizations, the Brennan Center offered testimony to the New York City Council in support of legislation to ensure that city departments are educating people with convictions on their rights and providing them opportunities to register.
Louisiana Restores Voting to Some by Legislation, but Litigation Fails to Go Further
Louisiana has one of the country's highest rates of incarceration, and current state law strips the right to vote from anyone who is incarcerated, on parole, or on probation, disenfranchising over 65,000 Louisianans living in their communities. But that number will soon go down. On May 31, Governor John Bel Edwards signed a bill to restore the voting rights of anyone on probation or parole who has not been incarcerated in the last five years. Most formerly incarcerated people do not spend more than five years on parole or probation, so this law affects relatively few returning citizens. But the law also impacts the large number of citizens who are sentenced only to probation and never incarcerated. Once it goes into effect on March 1, 2019, those individuals need never lose their right to vote.
A recent lawsuit in Louisiana's courts sought to effect even more change for the thousands of people release from Louisiana prisons each year, including roughly 18,000 people in 2017 alone, the vast majority of them on parole. Local advocacy group Voice of the Experienced (VOTE) challenged on state constitutional grounds the ongoing disenfranchisement of citizens living in the community. VOTE pointed to Article I, section 10 of the state constitution, which allows that the right to vote "may be suspended while a person . . . is under an order of imprisonment for conviction of a felony." The problem is that state statutes define "under an order of imprisonment" to cover suspended sentences, probation, and parole, and therefore disenfranchise individuals after release from imprisonment. VOTE argued that these laws exceed the plain meaning of the constitution's limited exception to universal suffrage, and that because voting is a fundamental right, denials of the right "are not entitled to a presumption of constitutionality." The state, naturally, disagreed with this interpretation. In an effort to resolve the ambiguity, each side cited historical evidence that, they said, showed that their position was the one that was held by Louisianans at the constitutional convention in 1973 and voting to ratify the constitution in 1974.
So whose reading of text and history is right? The trial court ruled in the state's favor in 2017. But while the judge felt his hands were tied by the law, he agreed with the plaintiffs that the law is unfair, saying, "Twice a year I have to make a ruling I don't like. I don't like this ruling." The intermediate appeals court affirmed in April of this year, in a short opinion that restated the state's legal conclusion but did not seriously engage with either side's arguments.
On Tuesday, October 29, the Louisiana Supreme Court denied VOTE's petition for review, leaving the Court of Appeals decision in place and ending the lawsuit. But Chief Justice Bernette Johnson wrote a powerful dissenting opinion explaining that she would have granted the application and that she agreed with VOTE's arguments on the merits. Justice Johnson considered Louisiana-specific evidence, state felony disenfranchisement laws across the country, and policy arguments (including information from the Brennan Center) and concluded that "[t]here is no legitimate reason for disenfranchising these citizens." Despite this judicial loss, there is still the important bill signed by Governor Edwards. Thousands of Louisianans will be restored to the right to vote next year.
Featured Voice: An Interview with Victor Pate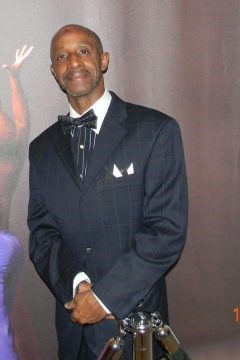 Victor Pate is the New York statewide organizer for the Campaign for Alternatives to Isolated Confinement, and an advocate for the restoration of voting rights for returning citizens.
Governor Andrew Cuomo announced last April that he would begin using his pardon power to restore voting rights to anyone living in the community and successfully completing the terms of their state parole. He issued an executive order to govern the process for granting those pardons. Beginning with a pardon of over 24,000 New Yorkers on parole in May, he has since restored voting rights to people released onto parole on a monthly basis.
This change in New York's law will remedy the widespread confusion that has been caused by the distinction between people on parole and those on probation. A 2006 Brennan Center survey found that over a third of New York's local boards of elections incorrectly responded that New Yorkers on probation are not eligible to vote, or did not know whether they were eligible. And nearly a third of boards illegally requested documentation from New Yorkers with past convictions who were seeking to register to vote. This misinformation exacerbates the impact of disenfranchisement by incorrectly convincing eligible citizens that they cannot vote.
Since Governor Cuomo's announcement that he would restore the right to vote to New Yorkers on parole, Mr. Pate has been involved in the efforts to register these newly-pardoned New Yorkers described above. He also advocates for codification of the Governor's policy by the state legislature.
Could you tell us a bit about yourself, and how you became involved with efforts to restore voting rights?
I am formerly incarcerated and been involved in Criminal Justice Reform for about fifteen years, currently as the New York statewide organizer for the Campaign for Alternatives to Isolated Confinement. I was contacted through one of my colleagues from The National Action Network and asked to be a part of the campaign.
Why is the right to vote important to you?
To be able to have a voice in the decisions about laws and policies that affect me is what people died and bled for, so I have an obligation to take part in that process.
How do you see the issue of rights restoration fitting in with our society's treatment of people with past convictions, generally?
If we are to truly be a society where people's past mistakes do not define them, forgiveness, second chances and the opportunity to take part in civic engagement should be extended with full reintegration and should not stop at the right to vote.
What strategies are most useful in advocacy efforts around voting rights restoration?
Community education and information, legislative outreach for support, and the participation by those who are directly affected.
What do you see as the most challenging aspect of the advocacy efforts to change New York's disenfranchisement policy?
Changing the mind-set of people.
How do you keep yourself engaged, despite setbacks?
Staying connected and engaged with the Criminal Justice Reform campaigns and people doing the work addressing the issues.
In what ways can people both in and out of the state support your work?
Speaking out on the issue, supporting efforts to draw attention to the cause, educating their communities and legislators, and empowering the Directly Affected to become advocates for the relevant issue.
How do you talk to about voting rights with people who may be initially inclined to oppose your views on restoration?
Short history on the Civil Rights struggle and those who sacrificed so much to make the possibility of a stake and voice in the Human Rights of participation in the political process.
Promise to Vote with Jhody and the Love Vote
An organization called The Love Vote offers another way to show your support for the Florida voting restoration campaign: promising to exercise your right to vote in honor of someone who cannot. The Love Vote is a platform for the 50 million Americans who cannot vote (due to youth, citizenship, or disenfranchisement). They share their stories and move others to vote in recognition of the fact that so many cannot. Ozo Aduba, star of Orange is the New Black, recently directed a video for The Love Vote about Jhody, a woman who would regain her eligibility to vote if Amendment 4 passed in Florida. Check out the video here and then promise Jhody that you'll vote in tomorrow's election.