2016 could be a blockbuster year for redistricting reform. Significant efforts have been launched in at least ten states, the most in recent memory. A ballot initiative creating an independent redistricting commission is set to go before South Dakota voters in November, and a petition drive for a commission is well underway in Illinois. Building on reform efforts from last year, Colorado may also have a ballot initiative this fall, and legislatures in Maryland and Ohio could address redistricting in 2016. New proposals also have been put forward in Florida, Georgia, New Hampshire, Utah, and Virginia.
There are many reasons for this groundswell of redistricting reform, but one of them seems to be a growing recognition and acceptance among elected officials and the American people that improving the redistricting process is a critical part of fixing our democracy. Even President Obama called attention to the problem of partisan gerrymandering in his State of the Union address. "We've got to end the practice of drawing our congressional districts so that politicians can pick their voters and not the other way around," he said. This momentum comes not a moment too soon. With the 2020 Census quickly approaching, time is beginning to run short for states to implement new systems before the next round of redistricting.
As the year progresses, the Brennan Center will continue to monitor these proposals, as well as others that are introduced.
2016 Ballot Initiatives
Illinois
The non-profit Independent Maps is leading the push in Illinois and has already collected more than 483,000 signatures to petition for a ballot initiative, far more than the 290,000 required. Their goal is to collect 600,000 signatures by the May deadline to ensure the petition survives any challenges questioning the validity of the petition's signatures.
Independent Maps' proposal would amend the state constitution to create an 11-member non-partisan, independent redistricting commission to draw state legislative districts. Seven commissioners would be randomly selected from a pool of applicants compiled by an independent review panel. Leaders of the state legislature would select the final four commissioners from the remaining pool of applicants based on their contribution to the commission's demographic and geographic diversity. At least three of the commissioners must not be affiliated with any of the major political parties.
Seven of the 11 commissioners would have to approve a final redistricting plan, including at least two Democrats, two Republicans, and three independents. This approval mechanism is similar to the one in California, and is designed to force mapdrawers to collaborate and compromise.
The initiative also includes several new rules for drawing district lines, including protections for racial and language minorities, political subdivisions, and communities of shared social or economic interests. It would also prohibit the commission from drawing districts to favor a particular political party, group, or person.
Independent Maps has drawn a broad base of support. Groups endorsing the reform amendment include the Latino Policy Forum, several city and county Chambers of Commerce, the League of Women Voters of Illinois, the Illinois Libertarian Party, as well as community and neighborhood organizations like SOUL (Southsiders Organized for Unity and Liberation), Young Leaders Alliance, Grace Haitian Alliance Church, and A Knock at Midnight.
The movement is not without opposition, however. Illinois House Speaker Michael Madigan (D-Chicago), who is also state Democratic Party chair, has staunchly opposed Independent Maps. He successfully sued to block a redistricting amendment in 2014 and has expressed his concerns that independent commissions can harm minority representation. These points have been echoed by a political committee, People's Map, which opposes the amendment. The group has backing from the Chicago Teachers Union, the Service Employees Union International Healthcare, and several local minority civic organizations.
South Dakota
The South Dakota Farmers Union mounted a successful petition drive to get a constitutional amendment on the 2016 ballot. They collected more than 43,000 signatures, well over the threshold of 28,000 they needed to get the ballot measure approved. After verifying the signatures at the end of December, Secretary of State Shantel Krebs (R) certified the amendment for the general election.
The proposal would create a nine-member independent commission. The commissioners would be selected from a pool of 30 applicants by the State Board of Elections, with no more than three of the commissioners from the same political party. To be eligible, applicants must not have held public office for three years before the redistricting cycle and commissioners are barred from running for office three years following redistricting.
A simple majority of commissioners is required to approve a final redistricting plan.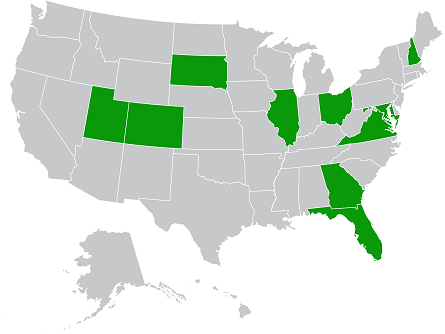 Continuing Efforts from 2015
Maryland
A bipartisan commission on redistricting created by Gov. Larry Hogan (R) called for sweeping reform late last year. Noting that Maryland is one of most gerrymandered states in the country, the panel recommended creating a nine-member independent redistricting commission composed of three Democrats, three Republicans, and three independents. Hogan is expected to press the legislature for redistricting reform this year, a goal supported by civic groups like Common Cause and the League of Women Voters, but many Democrats in the General Assembly have expressed reluctance to change the system that is currently in place.
Colorado
Although the language has not been finalized, a ballot proposal filed in December would create a12-member bipartisan redistricting commission. Eight members would be appointed by the leadership of the state legislature, and those eight would then select four additional commissioners who must not be affiliated with any political party. Registered lobbyists, current members of Congress, and current state legislators would be prohibited from serving on the commission. At least eight commissioners would have to approve a final redistricting map for it to go into effect. If the commission is unable to settle on a district plan, the responsibility would shift to the Colorado Supreme Court.
The proposal also includes new mapdrawing criteria that advocates say would eliminate political influence and partisan gerrymandering. But opponents of the measure claim that it would hurt minorities because it prevents districts from being drawn to bolster the voting strength of racial minority groups. For the initiative to appear on the ballot in November, supporters must collect 98,000 signatures by August.
Ohio
Last November, Ohio voters overwhelmingly approved the formation of a seven-member bipartisan commission to handle state legislative redistricting. The members of the commission are the governor, the state auditor, the secretary of state, and four commissioners appointed by the state legislature.
Now, advocates and some legislators are lobbying to have the same commission handle congressional redistricting. Both Ohio Gov. John Kasich (R), who calls gerrymandering "the biggest problem we have," and Secretary of State Jon Husted (R), support redistricting reform. The Ohio Constitution Modernization Commission, which makes recommendations for amendments to the state legislature, also backs the calls for reform. The chair of the committee handling redistricting agrees that Ohio needs to change how congressional districts are drawn and has said he wants to move reform "as quickly as we can."
This support could help propel congressional redistricting proposals in the Ohio House and Senate. The resolutions are sponsored by a bipartisan group of lawmakers including Reps. Kathleen Clyde (D-Kent) and Michael Curtin (D-Marble Cliff), and Sens. Frank LaRose (R-Copely) and Tom Sawyer (D-Akron).
Despite all the forward momentum, one key lawmaker wants delay. House Speaker Cliff Rosenberger (R-Clarksville) first wants to see how the new commission handles state legislative redistricting, which will not happen until the next Census in 2020. That means a constitutional amendment, which must be approved by the voters, could not appear on the ballot until 2021 at the earliest, and likely would not take effect until the next congressional redistricting in 2030.
Other Reform Efforts
Florida
When Florida last attempted to draw state legislative lines in 2012, it touched off a battle that involved four trials, eight rulings from the Florida Supreme Court, and three special sessions of the legislature. The struggle only ended last week when the legislature finally capitulated to a court redrawing of all 40 districts in the state senate.
Not surprisingly, there are lawmakers who do not want to repeat the experience. State Sen. Arthenia Joyner (D-Tampa) has proposed a constitutional amendment that would create a 12-member independent commission consisting of four Democrats, four Republicans, and four independents chosen at random from a pool of applicants. A companion bill has been introduced in the House. However, amending the Florida constitution through the legislature is not easy. First, the measure must win support from 60 percent legislators in both houses, and then win approval of 60 percent of the voters.
Georgia
Three Democratic lawmakers from the Atlanta area have filed two bills on redistricting. One measure would establish a 14-member redistricting commission, with five members from each party and four independents. The second bill would create new protections for language and racial minorities and bar mapdrawers from drawing district lines to benefit a particular party.
New Hampshire
A bill pending in the House of Representatives would create a seven-member advisory redistricting commission and create new rules prohibiting mapdrawers from drawing district lines to advance the interests of any political party. The commission would not have final say over maps, however. Any district plan would have to win approval from both houses of the legislature.
Utah
Lawmakers in Utah introduced two redistricting bills to change how state legislative districts are drawn. One proposal would implement new rules to prevent mapdrawers from splitting political subdivisions between multiple districts. The other bill would create a seven-member advisory commission to draw non-binding maps and submit them to the legislature for consideration.
Virginia
A bipartisan group of lawmakers in Virginia sponsored a bill that would leave mapdrawing in the hands of the legislature, but set new rules for drawing districts. Under the new mapdrawing criteria, lines could not be drawn to favor or disfavor any political party, incumbent, or candidate, and should protect communities of interest and minority groups.
(Photo: Thinkstock)