Cross-posted from The Wash­ing­ton Post.
Demo­crats will pick up at least 26 seats and take a major­ity in the House of Repres­ent­at­ives if the prelim­in­ary results from Tues­day's midterm elec­tions hold. But partisan gerry­man­der­ing is still a major issue. Our analysis of one state's results shows that the party would almost certainly have won more if Repub­lic­ans hadn't delib­er­ately drawn districts to limit Demo­cratic chances.
North Caro­lin­a's congres­sional district lines are already the subject of federal litig­a­tion claim­ing that they give Repub­lic­ans a system­atic, uncon­sti­tu­tional advant­age in winning seats. Tues­day's results bear those claims out. Demo­crats won roughly 50 percent of the vote in North Caro­lina, their best perform­ance in almost a decade. But despite an extraordin­ary year, they netted just three of the state's 13 congres­sional seats — the same as in 2014 and 2016. That happened because a prom­ising Demo­cratic wave crashed against one of the coun­try's most extreme gerry­manders, a congres­sional map that Repub­lican legis­lat­ors brazenly stated on the record that they care­fully craf­ted "to give a partisan advant­age to 10 Repub­lic­ans and 3 Demo­crats."
To engin­eer this advant­age, the lead­ers of the Repub­lican caucus worked in secret with a consult­ant to pack likely Demo­crats into three super-blue districts. In each of these districts, Demo­crats would win by very large margins. The Repub­lican mapmakers then spread the rest of the state's Demo­crats more thinly across the remain­ing 10 districts, ensur­ing that Repub­lican candid­ates would win by small, but safe, margins. They made many of these districts safe for the GOP by giving each one just enough Repub­lican voters to win elec­tions in normal years.
With this scientific slicing and dicing of voters, it didn't matter if Demo­crats got 30 percent of the statewide vote or 50 percent, as they did this year. The figure below shows the share of the statewide vote at which the Demo­crats would be expec­ted to win each of the districts. They are guar­an­teed wins in three districts but then face a tremend­ously steep climb to win any addi­tional seats. In fact, they didn't stand a chance of pick­ing up a fourth seat unless they could net 52.5 percent of the statewide vote, some­thing they achieved only once since 2000, in the 2008 elec­tion.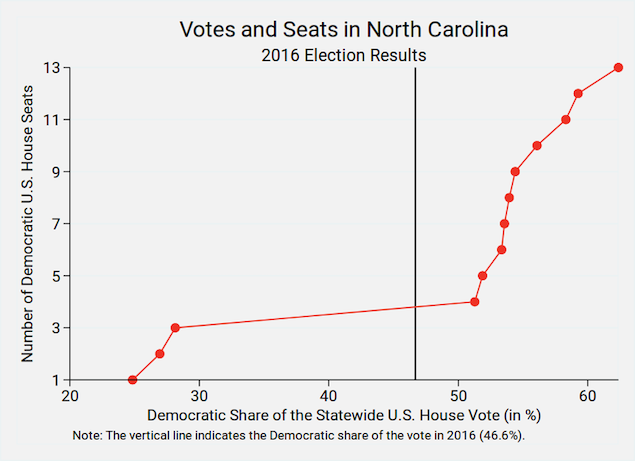 In 2016, the Repub­lic­ans' map handed 10 seats to the GOP despite a strong Demo­cratic year that saw Roy Cooper win the governor's mansion and Demo­crats sweep to other statewide wins.
At first, the 2018 midterms looked as though they could have been a more formid­able test to the gerry­mander, with as many as four Repub­lican-held districts in play head­ing into Elec­tion Day. In the end, however, the gerry­mander held.
Increased Demo­cratic votes were mostly wasted in the state's three reli­ably blue districts. Indeed, the Demo­crats' aver­age margin of victory in these three districts rose from 18 percent­age points in 2016 to an aston­ish­ing 23 points in 2018. Still, running up the vote in those districts didn't send any more Demo­crats from North Caro­lina to Congress. The Repub­lic­ans' pack­ing strategy worked just as they'd planned.
Mean­while, in the state's Repub­lican districts, Demo­crats were spread too thin for even a robust increase in support to help. All in all, Repub­lic­ans won their districts with an aver­age margin of six points, show­ing the Repub­lic­ans' crack­ing strategy also play­ing out as inten­ded. The map below shows the aver­age vote share won by Demo­crats in North Caro­lina districts in the past two congres­sional elec­tions.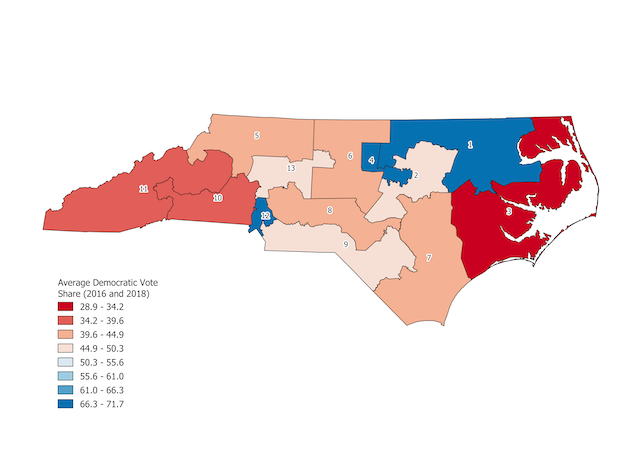 All of this has contin­ued to leave North Caro­lina Demo­crats with only 23 percent of the congres­sional deleg­a­tion even though they won roughly half of the state's votes in House races. Indeed, despite North Caro­lin­a's well-estab­lished purple-state status — with hotly contested elec­tions for statewide offices and a vibrant, diverse collec­tion of voices and interests — its congres­sional deleg­a­tion remains over­whelm­ingly Repub­lican. And that goes back to the basic design of the map.
The only way to put a stop to this is to remake North Caro­lin­a's map and the state's redis­trict­ing process. The Supreme Court can help do both this spring by strik­ing down the map as an uncon­sti­tu­tional partisan gerry­mander and putting some laws in place to limit the worst redis­trict­ing abuses. A strong ruling from the court would not only require the legis­lature to draw a new, fairer map for 2020 but also set the ground rules for the next round of redis­trict­ing in 2021. If the Supreme Court refuses to rule, the North Caro­lina Supreme Court might.
And while North Carolini­ans don't have access to the kind of ballot initi­at­ives that put inde­pend­ent redis­trict­ing commis­sions in place in Cali­for­nia and Michigan, there might be some hope for legis­lat­ive reforms ahead of 2021, if Repub­lic­ans become suffi­ciently scared that a blue tsunami in 2020 could sweep away their long-stand­ing major­ity in the state legis­lature and, with it, their control over the state's next redis­trict­ing process. The threat of a Demo­cratic gerry­mander in 2021 might be enough to put the state's Repub­lic­ans in a bargain­ing mood. Certainly in the long run, the demo­graph­ics of this fast-chan­ging state don't favor Repub­lic­ans.
However, until courts or civic-minded legis­lat­ors step in to fix a broken redis­trict­ing process, the gerry­mander is still very much threat­en­ing Amer­ican demo­cracy.
(Photo: Alex Wong/Getty; chart & map: Bren­nan Center)