One hundred years ago, Florence Ellin­wood Allen became the first woman to serve as a state supreme court justice. It was one of many firsts through­out her life: she was also the first woman in Amer­ica to serve as a prosec­utor, be elec­ted as a trial court judge, and be appoin­ted to a federal appeals court. Allen over­came numer­ous barri­ers based on her gender through­out her legal career, often with the support of grass­roots suffra­gists who rallied behind her. Her achieve­ment is under­scored by the fact that there wasn't another woman on a state supreme court for nearly 40 years.
Allen spent her first year of law school at the Univer­sity of Chicago, where she was the only woman. She later wrote in her memoir that it was "terri­fy­ing to have to enter a classroom first while a hundred men stood aside." Allen trans­ferred to New York Univer­sity, which had been accept­ing women to its law school since 1890. There, she described feel­ing "on equal terms with men" and became involved in the women's suffrage move­ment.
Allen gradu­ated law school second in her class in 1913 and returned home to Ohio, where she opened a private law prac­tice, volun­teered for the Legal Aid Soci­ety, and contin­ued campaign­ing for suffrage. While advoc­at­ing for a ballot initi­at­ive to grant Ohio women the right to vote, Allen gave speeches in 88 counties across the state. She later argued and won a case before the state supreme court that gran­ted women the right to vote in muni­cipal elec­tions, although the policy was soon over­turned by refer­en­dum. In 1919, Allen was appoin­ted as a prosec­utor in Cuyahoga County, a national first for a woman.
Just 10 weeks after the rati­fic­a­tion of the 19th Amend­ment in 1920, Allen was elec­ted to the Cuyahoga County Court of Common Pleas and became the first woman elec­ted to judi­cial office in the coun­try. Because she entered the race late, she had to collect signa­tures to be listed on the ballot. Her friends in the Woman Suffrage Party circu­lated peti­tions through­out the county and collec­ted enough signa­tures to complete the nomin­a­tion process. Upon Allen's elec­tion, her male colleagues on the court sugges­ted that she should only rule on marital disputes. Allen disagreed, respond­ing that since she had never married, "she lacked suffi­cient expert­ise in the domestic domain," unlike the men on the bench.
The women's move­ment remained deeply involved through­out Florence's tenure on the court. When Allen called atten­tion to disor­gan­iz­a­tion at the court due to the lack of a chief justice, women's groups contac­ted the press and organ­ized mass meet­ings to raise aware­ness of the prob­lem. Allen later wrote that this burst of civic engage­ment among women occurred "because for the first time they were serving on the jury and also because they saw a member of their sex sitting on the bench . . . in a way that made them feel a special owner­ship in the Court of Common Pleas."
In 1922, Allen ran for a seat on the Ohio Supreme Court. She was the under­dog against a decor­ated World War I veteran backed by the power­ful state Repub­lican party. However, Allen prevailed by a signi­fic­ant margin. Her campaign was driven by "Florence Allen clubs," which had been organ­ized by suffra­gists in almost every single Ohio county. Allen relied on this network of volun­teers to circu­late peti­tions, organ­ize door-to-door canvassing, sched­ule speak­ing engage­ments, and secure endorse­ments from local news­pa­pers.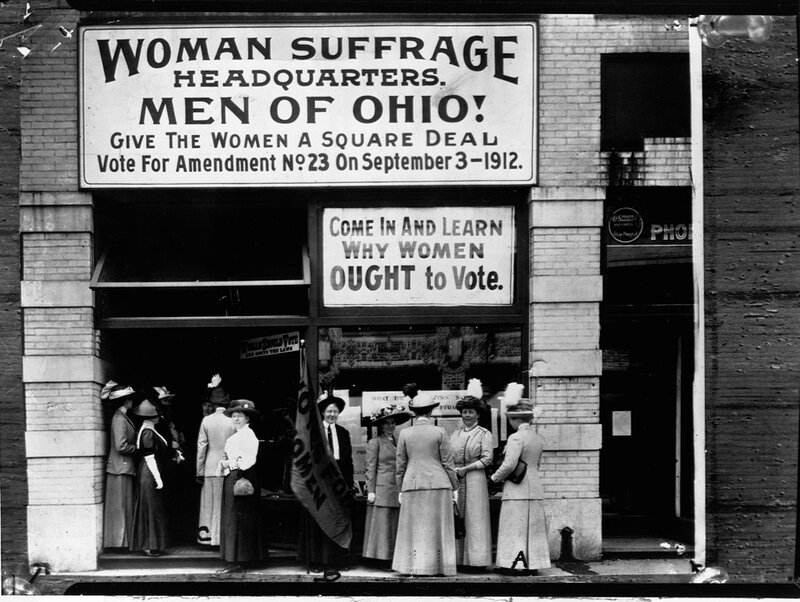 Allen wrote in her memoir that on her first day on the bench, she "was aware of a certain uneas­i­ness among the men" due to her gender. Allen over­came their uncer­tainty and asser­ted her judi­cial author­ity during her 11 years on Ohio's highest court, issu­ing decisions on ques­tions of educa­tion, labor, muni­cipal governance, taxes, and more.
In 1928, the Florence Allen clubs returned in force, and Allen was reelec­ted by a margin of some 350,000 votes.
After unsuc­cess­ful campaigns for the U.S. Senate and House, Allen was nomin­ated by Pres­id­ent Frank­lin D. Roosevelt to the U.S. Court of Appeals for the Sixth Circuit in 1934. She faced consid­er­able oppos­i­tion through­out the confirm­a­tion process but found support from unlikely allies. Ohio Supreme Court Justice Will Steph­en­son, who had staunchly opposed the idea of a woman justice when Allen was first nomin­ated to share the bench with him, traveled to Wash­ing­ton to testify that "there is no Court too big for Judge Allen." Allen was confirmed by the Senate, becom­ing the first woman to sit on a federal appeals court bench. She remained in this posi­tion for 25 years.
On the Sixth Circuit, Allen main­tained that her role as a judge should not be impacted by her gender. Upon noti­cing that the chief judge was not assign­ing her to hear any cases involving patents, Allen insisted that she no longer be excluded from this category. She later wrote several opin­ions on patent-related cases that were affirmed by the Supreme Court.
Allen received national atten­tion when she presided over a three-judge panel in the case of Tennessee Elec­tric Power Co. v. Tennessee Valley Author­ity, ruling that the federal govern­ment had the author­ity to build dams and reser­voirs and regu­late inter­state commerce on inter­state water­ways like the Tennessee River.
This case raised Allen's national profile, and she was considered for the Supreme Court by several pres­id­ents. Many allies called for Allen to be nomin­ated, includ­ing First Lady Eleanor Roosevelt, who wrote in her news­pa­per column in 1948, "if a Pres­id­ent of the United States should decide to nomin­ate a woman for the Supreme Court, it should be Judge Allen."
Florence Ellin­wood Allen was a trail­blazer who under­stood the import­ance of diversity in the courtroom. In her words, "When women of intel­li­gence recog­nize their share in and their respons­ib­il­ity for the courts, a power­ful moral back­ing is secured for the admin­is­tra­tion of justice."
A century after her elec­tion to the Ohio Supreme Court, Allen's story reminds us of the import­ance of a repres­ent­at­ive judi­ciary to affirm the legit­im­acy of a system that admin­is­ters justice for all. There is still much work to be done on that front: as of last year, only about one-third of active lower federal court judges were women, and 12 states had only one woman on the bench of their state supreme court.