The U.S. Elec­tion Assist­ance Commis­sion earlier this week announced how states plan to spend the $380 million in Help Amer­ica Vote Act (HAVA) funds that Congress provided to bolster state elec­tion secur­ity. The states' spend­ing plans offer some prom­ising signs, with nearly two-thirds of the federal dollars pegged for new voting equip­ment and enhanced cyber­se­cur­ity meas­ures. Yet the federal money is not nearly enough for states to make the invest­ments needed to secure our elec­tions, includ­ing replace­ment of anti­quated, insec­ure voting equip­ment suscept­ible to hack­ing. Congress should provide more funds, and state and local elec­tion offi­cials should be prepared to act alone if Congress won't.
The chart below shows the states' planned spend­ing: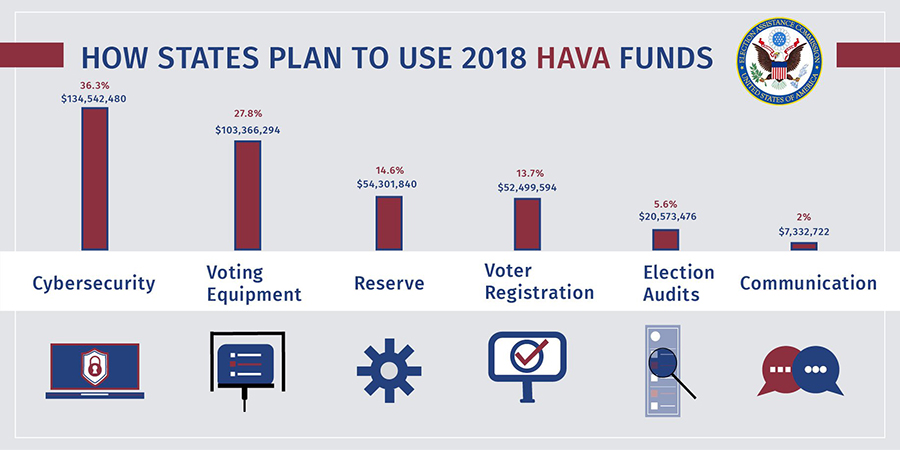 The largest category of spend­ing is for enhanced cyber­se­cur­ity, with more than a third of the funds (36.3 percent) slated for this vital mission, which includes cyber­se­cur­ity train­ing, hiring IT person­nel, cyber­se­cur­ity assess­ments, and soft­ware improve­ments. Some states — includ­ing Illinois (whose voter regis­tra­tion data­base was breached by Russian hack­ers) and New York — plan to alloc­ate all of their funds to cyber­se­cur­ity.
Not far behind in amount being spent is for the purchase of new voting equip­ment (27.8 percent of funds), toward which six states — Alaska, Arkan­sas, Delaware, Louisi­ana, North Dakota, and Pennsylvania — plan to devote the entirety of their allot­ted funds. With the excep­tion of North Dakota, these states use paper­less elec­tronic voting machines in some fash­ion. Experts have warned of the insec­ur­ity of these machines for years, and states ought to replace them imme­di­ately. Yet the federal funds provided won't be enough for Delaware, Louisi­ana, and Pennsylvania to replace all of the paper­less elec­tronic voting machines in use in these states. In Pennsylvania, for example, the Bren­nan Center and Veri­fied Voting estim­ate that $50.4 to $79.1 million is needed to replace these types of machines statewide — substan­tially more than the roughly $13.5 million provided by Congress.
And other states that should be repla­cing these machines don't plan to spend enough federal money to purchase new voting equip­ment. Take New Jersey, for example: The Garden State would need to spend between $40.4 and $63.5 million to replace its paper­less machines, yet its total federal grant was less than $10 million.
Even assum­ing states had the funds to replace these machines, doing so is no secur­ity panacea. More is needed to protect the vote from cyber­at­tack.
One such meas­ure of a broader cyber­se­cur­ity defense is a post-elec­tion audit. Twenty-four states plan to devote federal funds to this crit­ical meas­ure, account­ing for 5.6 percent of total spend­ing. Yet every state with paper records of votes (which should be every state) should conduct robust, post-elec­tion audits to confirm the vera­city of elec­tion results after every elec­tion. Risk-limit­ing audits, in partic­u­lar — which lever­age stat­ist­ical prin­ciples to determ­ine the number of ballots to count, thereby improv­ing effi­ciency — are an improve­ment upon tradi­tional audits and considered the "gold stand­ard" of post-elec­tion audits. Pilot risk-limit­ing audits have been conduc­ted or are planned in Cali­for­nia, Indi­ana, Michigan, and Virginia. Color­ado and Rhode Island have also embraced risk-limit­ing audits.
And, of course, states should also look to upgrade and secure voter regis­tra­tion data­bases and take steps to secure elec­tion websites.
Unfor­tu­nately, there simply is not enough federal money to go around to cover all of these needed invest­ments in elec­tion secur­ity. These federal grants were an excel­lent first step by Congress, but, they're exactly that — a first step. Now Congress must act again and provide more fund­ing to help states secure the vote. If that does­n't happen, state and local offi­cials should prepare to step in to fill the void left by Congress.
Click here to read more about elec­tion secur­ity and how you can protect the vote.
(Photo: Bill Pugli­ano/Getty; chart cour­tesy of the U.S. Elec­tion Assist­ance Commis­sion)