During his accept­ance speech in Clev­e­land, Donald Trump made the follow­ing state­ments on crime. See below for a fact-check on each:
"These are the facts. Decades of progress made in bring­ing down crime are now being reversed by this Admin­is­tra­tion's roll­back of crim­inal enforce­ment."
Fact: Over the past 25 years, crime in major cities has fallen 66 percent. In the coun­try as a whole, viol­ent crime is half of what it was in 1991, and has gone down 26 percent in the last decade. Prop­erty crime is down 43 percent in the past 25 years. No single-year change has reversed that trend. Instead, the murder rate for 2015 remains close to 2012 levels — just barely above recent, historic lows.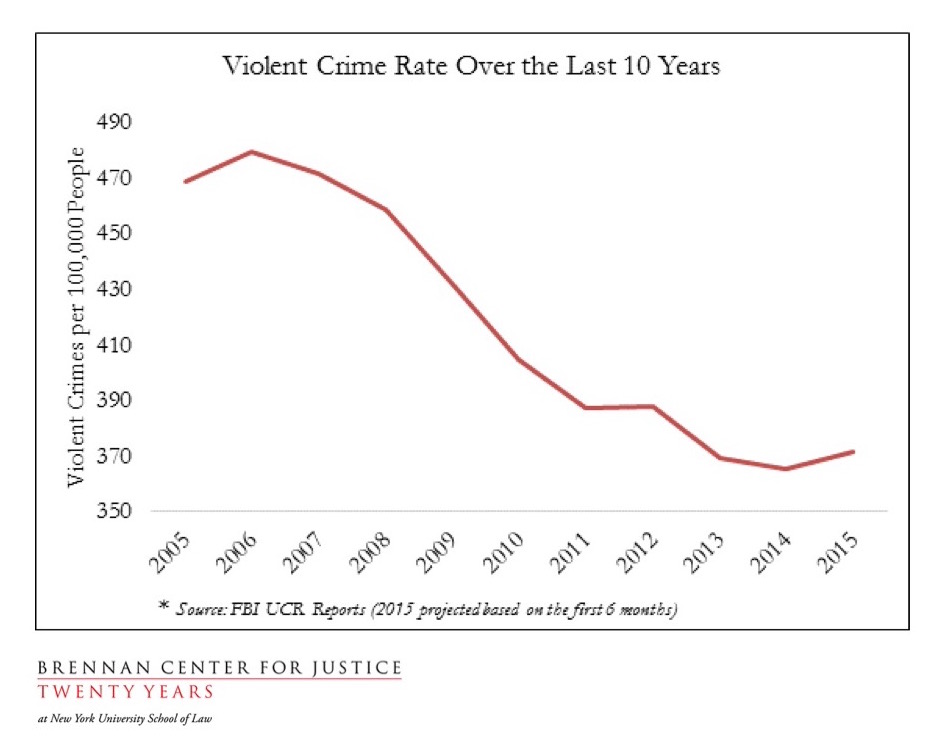 "Homicides last year increased by 17% in Amer­ica's fifty largest cities. That's the largest increase in 25 years. In our nation's capital, killings have risen by 50 percent. They are up nearly 60% in nearby Baltimore. In the Pres­id­ent's homet­own of Chicago, more than 2,000 have been the victims of shoot­ings this year alone. And more than 3,600 have been killed in the Chicago area since he took office."
Fact: There is no national murder wave. However select cities have seen increased murders. A recent Depart­ment of Justice study showed the murder rate in the nation's 56 largest cities rose by 16.8 percent in 2015. But two-thirds of that increase occurred in just 10 cities. A Bren­nan Center study of the 30 largest cities showed the murder rate rose by 13.2 percent in 2015. But half of that change occurred in just three cities — Baltimore, Chicago, and Wash­ing­ton, D.C. Murder nation­ally is still similar to what it was in 2012, at historic lows.
"Over­all, crime rates remain at historic lows. Fear-indu­cing sound­bites are coun­ter­pro­duct­ive, and distract from nuanced, data-driven, and solu­tion-oriented conver­sa­tions on how to build a smarter crim­inal justice system in Amer­ica," said Ames Grawert, a coun­sel in the Bren­nan Center's Justice Program. "It's true that some cities saw an increase in murder rates last year, and that can't be ignored, but it's too early to say if that's part of a national trend."
For more inform­a­tion, see our recent report, Crime in 2015: A Final Analysis.