Despite a change to the Senate fili­buster rule three months ago, the number of district court vacan­cies increased from 75 to 80 — reach­ing the highest vacancy level since March 2011, accord­ing to an updated analysis released by the Bren­nan Center for Justice at NYU School of Law. The Senate elim­in­ated the 60-vote cloture require­ment on exec­ut­ive and judi­cial nomin­ees (except for Supreme Court Justices) in Novem­ber 2013.
The current level of trial court vacan­cies is substan­tially higher than what exis­ted at the equi­val­ent point in Pres­id­ent Clin­ton's second term (60) or Pres­id­ent Bush's second term (35). Indeed, prior to Obama taking office, the last time trial courts exper­i­enced 80 or more vacan­cies was in 1994, which saw high numbers of vacan­cies due to the creation of 74 new trial court judge­ships in 1990.
Annual Aver­age District Court Vacan­cies 2003–2014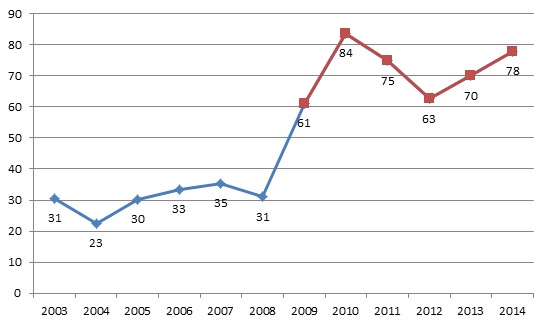 "With 80 current outstand­ing district court vacan­cies and 10 more expec­ted before the summer, the Senate needs to dramat­ic­ally increase the pace of confirm­a­tions in order to make a mean­ing­ful dent in the vacancy back­log," said Alicia Bannon, Coun­sel at the Bren­nan Center for Justice. "The Senate should quit stalling and confirm judi­cial nomin­ees now. The trial courts can no longer wait."
The Bren­nan Center docu­mented an unusu­ally high level of district court vacan­cies in a 2013 report, Federal Judi­cial Vacan­cies: The Trial Courts, find­ing the aver­age number of district court vacan­cies to be greater than 60 for five straight years, from 2009–2013. That trend contin­ues into 2014 with an aver­age vacancy level of 78 since Janu­ary.