Despite a change to the Senate filibuster rule three months ago, the number of district court vacancies increased from 75 to 80 — reaching the highest vacancy level since March 2011, according to an updated analysis released by the Brennan Center for Justice at NYU School of Law. The Senate eliminated the 60-vote cloture requirement on executive and judicial nominees (except for Supreme Court Justices) in November 2013.
The current level of trial court vacancies is substantially higher than what existed at the equivalent point in President Clinton's second term (60) or President Bush's second term (35). Indeed, prior to Obama taking office, the last time trial courts experienced 80 or more vacancies was in 1994, which saw high numbers of vacancies due to the creation of 74 new trial court judgeships in 1990.
Annual Average District Court Vacancies 2003–2014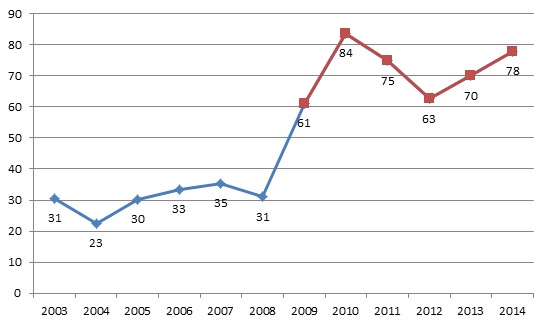 "With 80 current outstanding district court vacancies and 10 more expected before the summer, the Senate needs to dramatically increase the pace of confirmations in order to make a meaningful dent in the vacancy backlog," said Alicia Bannon, Counsel at the Brennan Center for Justice. "The Senate should quit stalling and confirm judicial nominees now. The trial courts can no longer wait."
The Brennan Center documented an unusually high level of district court vacancies in a 2013 report, Federal Judicial Vacancies: The Trial Courts, finding the average number of district court vacancies to be greater than 60 for five straight years, from 2009–2013. That trend continues into 2014 with an average vacancy level of 78 since January.