Cross-posted from Politico Magazine
Maybe, after all, it doesn't pay to be the world's biggest jailer. Decades of punitive crime policies have given the United States a quarter of the world's total prisoners, but that rising tide has slowed in recent years, with tighter budgets and bipartisan talk of justice reform. Now, new research, published by the Brennan Center for Justice at the New York University School of Law, shows that increasing incarceration has only a limited effect on crime. Examining changes in crime and state imprisonment rates from 2000 to 2013, our study found that many states, including some of the biggest, actually saw crime drop as their prison rates fell, too—as the graph below shows. Some state-level test cases are also noted below.
California
California's inmate population has dropped in large part by mandate: After a 2011 Supreme Court ruling required the state to reduce its unconstitutionally overcrowded prisons, low-level offenders were released or shifted from state prisons to local jails.
Texas
Long a prison-friendly state, Texas has shrunk its prison population in the past 15 years. To improve public safety and cut costs, lawmakers in 2007 appropriated more than $200 million to prison alternatives such as drug and mental health programs.
Virginia
Virginia has the country's third-lowest violent crime rate and the 13th highest incarceration rate. The latter has risen largely because in the 1990s, the state eliminated parole and passed "truth in sentencing" laws to make prisoners serve more of their full terms.
Florida
"Truth in sentencing" and "three strikes" laws have kept Florida's incarceration rates high, and reform has been slow. In 2012, the legislature passed a bill reducing mandatory minimum sentences for drug offenders, but it was vetoed by Governor Rick Scott.
Indiana
In 2011, Indiana—which has increased its imprisonment rate nearly 40 percent since 2000 despite a stable crime rate—failed to pass "justice reinvestment" legislation meant to reduce prison populations and redirect the savings to fight crime.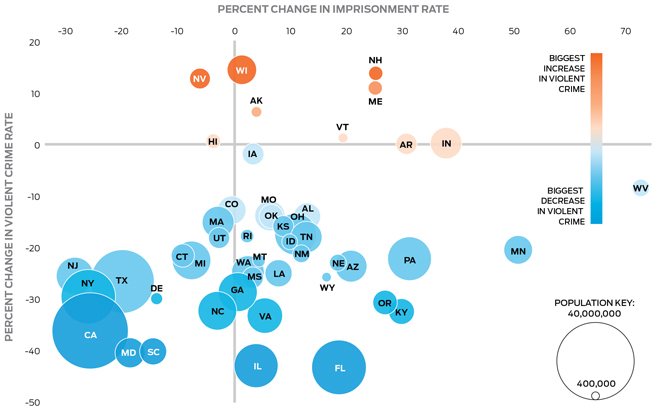 Note: North Dakota and South Dakota, both outliers, are not graphed. Sources: FBI; Department of Justice; U.S. Census. As reported in "What Caused the Crime Decline?" by Oliver Roeder, Lauren-Brooke Eisen and Julia Bowling.
Lead image and graphic by David Foster.