So far this redis­trict­ing cycle, the U.S. Supreme Court has not weighed in on the issue of partisan gerry­man­der­ing. But its ruling reviv­ing a Mary­land case contend­ing that the congres­sional map drawn by Demo­crats in 2012 was an uncon­sti­tu­tional polit­ical gerry­mander may have set the stage for the Court to consider the matter.
On Tues­day, the Court unan­im­ously decided that a federal trial judge was wrong to dismiss the chal­lenge. Ordin­ar­ily, the rules call for a three-judge panel to hear objec­tions to statewide redis­trict­ing plans. But District Court Judge James Bredar dismissed the case on his own, hold­ing that the partisan gerry­man­der­ing claim was "insub­stan­tial" and did not warrant full consid­er­a­tion. The Court of Appeals for the Fourth Circuit agreed.
In revers­ing both courts, the Supreme Court in Shapiro v. McManus, held that they had been too dismissive of the plaintiffs' partisan gerry­man­der­ing claim. It found that the stat­ute on three-judge panels was unam­bigu­ous and made appoint­ment of a panel mandat­ory except in the rare case where a claim was "essen­tially ficti­tious" or "obvi­ously frivol­ous." The Court said the partisan gerry­man­der­ing claims in the Mary­land case "easily cleared [that] low bar" because they were based on a theory of partisan gerry­man­der­ing first sugges­ted by Justice Anthony Kennedy in his concur­rence in Vieth v. Jube­lirer in 2004. The Court emphas­ized that it was not ruling on the merits of the case, merely that the chal­lenge should be heard by a three-judge panel.
Although it has survived legal chal­lenges complain­ing of racial gerry­man­der­ing, the state has been widely condemned for its lines. For instance, Maryland's 3rd Congres­sional District, currently held by Rep. John Sarbanes (D), was char­ac­ter­ized by a federal appeals judge as a "broken-winged ptero­dac­tyl, lying pros­trate across the center of the state." The 3rd snakes 225 miles through four differ­ent counties, and inspired a mara­thon event in which reform advoc­ates walked, biked, and kayaked across the district — a jour­ney that took three days.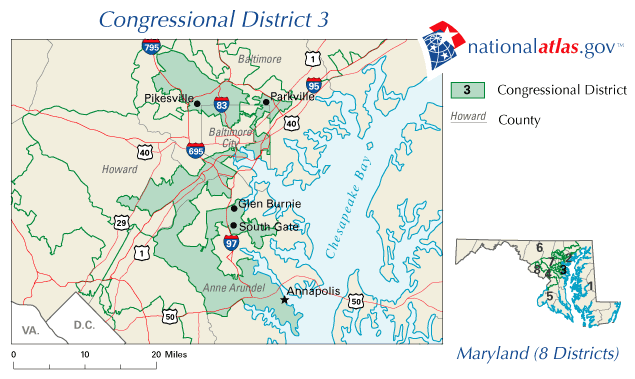 By insist­ing on a three-judge panel, the Supreme Court's ruling is import­ant for another reason. Rulings by three-judge panels bypass the usual route for appeals and go straight to the Supreme Court. While the Court still can decline to hear a appeal that come to the Court this way, in recent years it has been much less will­ing to do so, espe­cially in redis­trict­ing and voting rights cases.
The Mary­land case thus could give the Court its first oppor­tun­ity in nearly a decade to rule on whether partisan gerry­man­der­ing claims are legally viable — a ques­tion the Court has been badly split on in the past — and, if so, what the stand­ards are for prov­ing them.
The Mary­land case isn't the only partisan gerry­man­der­ing case headed the Supreme Court's way. Another case, from Wiscon­sin, also is in its early stages before a three-judge panel. Depend­ing on how the Mary­land and Wiscon­sin cases play out, the next few years could be big ones for reformers hoping that courts will at long last constrain partisan manip­u­la­tion of congres­sional district lines.
(Photo: Shut­ter­stock)