Responses to the "Voter Fraud" Commission's Voter File Data Request
Updated July 27, 2017 at 4:46 pm
On May 11, 2017, President Donald Trump signed an executive order creating the "Presidential Advisory Commission on Election Integrity." Vice President Mike Pence is the chair, and Kansas Secretary of State Kris Kobach is the vice chair. So far, eleven additional members of the Commission have been named (one of whom has resigned).
On July 28, Kobach sent letters to chief state election officials requesting they submit "publicly-available data from state voter rolls and feedback on how to improve election integrity" by July 14. Here are the identical letters that were sent to Connecticut and North Carolina. On July 10, the Commission instructed states to hold off submitting data pending a court ruling. Following the court's denial to halt the request, Kobach issued a new letter on July 26 again asking states to submit voter data.
Twenty-one states and the District of Columbia have declined to provide any data, and others have expressed concern about releasing voters' sensitive information.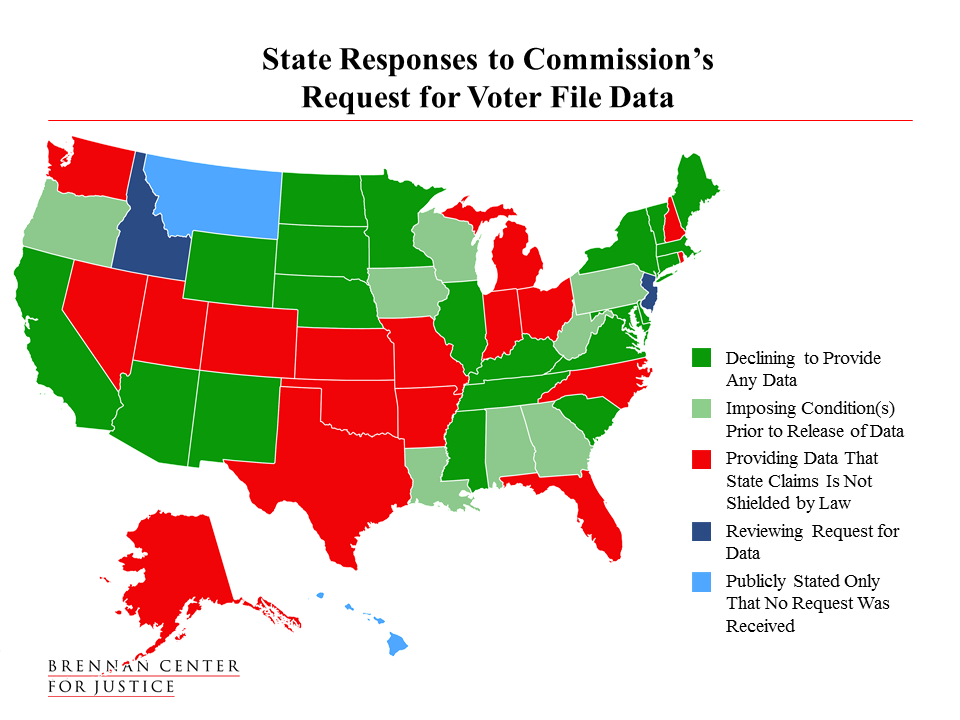 States Declining to Provide Any Data
States Imposing Condition(s) Prior to Release of Data
States Providing Data That They Claim Is Not Shielded Under State Law
States Currently Reviewing Kobach's Request for Data
Publicly Stated Only That No Request Was Received
Reactions from Civic Groups