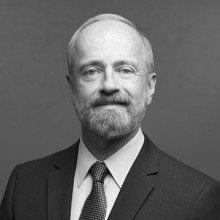 John F. Kowal
Vice President, Programs
John F. Kowal is the Brennan Center's vice president for programs, responsible for guiding the organization's Democracy, Justice, and Liberty & National Security Programs. He also manages the Brennan Center's Fellows Program.
Kowal's areas of expertise include constitutional reform and judicial independence. He authored the 2016 report Judicial Selection in the 21st Century and an essay entitled "The Improbable Victory of Marriage Equality," published in the Brennan Center volume, Legal Change: Lessons from America's Social Movements. He is also the co-author of the forthcoming book, The People's Constitution (The New Press, 2021).
Before joining the Brennan Center, Kowal developed and led grantmaking programs at the Open Society Foundations and Ford Foundation on issues related to democracy, justice, human rights, and the rule of law. He began his career as a litigation attorney in the New York City law firms of Cravath, Swaine & Moore and Schulte Roth & Zabel, where he handled a wide range of civil and regulatory litigation. He is a graduate of New York University and Harvard Law School.
Stay up to date
Informed citizens are our democracy's best defense