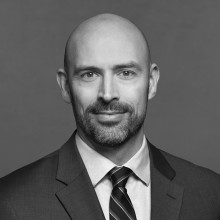 Andrew Boyle is counsel in the Liberty & National Security Program, where, among other matters, he focuses on emergency powers. He has held fellowships with the Truman National Security Project, the National Endowment for Democracy, and the Carnegie Council for Ethics in International Affairs. He is also co-chair of the American Society for International Law's International Criminal Law Interest Group.
Prior to joining the Brennan Center, Boyle prosecuted senior Khmer Rouge leaders on behalf of the United Nations for war crimes, crimes against humanity, and genocide. Before that, he served in the trial chambers of the UN International Criminal Tribunal for Rwanda, where he worked on cases resulting from the 1994 genocide. He previously completed a fellowship in the Brennan Center's Democracy Program and clerked for Judge Helene N. White of the U.S. Court of Appeals for the Sixth Circuit.
He has provided commentary in various American and international broadcast and print media outlets, including MSNBC, BBC World, Univision News, the Associated Press, Swiss Broadcasting, the
Washington Post
,
Los Angeles Times
,
Time
,
Mother Jones
, and the
Asahi Shimbun
. He also speaks frequently at American and foreign law schools on emergency powers, international criminal law, and other topics.
Boyle graduated from UCLA School of Law and its Epstein Program in Public Interest Law and Policy. He was an articles editor for the
Journal of International Law and Foreign Affairs
.
Stay up to date
Informed citizens are our democracy's best defense