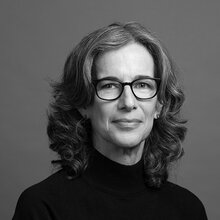 Laura Strausfeld
Associate Director, Institutional Relations ,
Development
Laura Strausfeld is the Associate Director of Institutional Relations, managing foundation, corporation and law firm fundraising at the Brennan Center.
Her law and policy non-profit, Period Law, which continues the work she began at Period Equity, fights for tax-free, toxin-free menstrual supplies that are freely-available to everyone who needs them.
Laura has a wide-ranging project-based background, including as a plaintiffs' attorney; development strategist for nonprofits and companies, such as the Economic Hardship Reporting Projectand Agenda Management + Production, among many others; writer, director, and producer of theater and film; and Anton Chekhov scholar at Columbia University's Harriman Institute. She has a BA in history from Yale and JD from Columbia.
Informed citizens are democracy's best defense