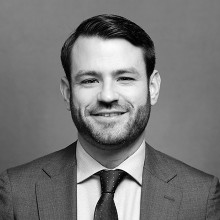 John Donahue is the Managing Director of the development department at the Brennan Center. He oversees fundraising strategy for the Brennan Legacy Awards Dinner, the Center's largest annual event. The Dinner celebrates leaders who advance Justice Brennan's vision of "common human dignity" and attracts broad support from the legal and business communities in New York and around the country.
Donahue manages a growing major gifts portfolio, working with organizational leadership to catalyze deepened partnerships with donors in support of the Center's ambitious fundraising and programmatic goals. He also contributes to cross-organizational and special initiatives, such as the Center's 20th anniversary campaign that raised nearly $10 million in endowment and reserve funds.
Prior to joining the Center, Donahue worked as an associate at Koszyn & Company where he helped nonprofits, primarily arts and educational organizations, bolster their fundraising capabilities. He is a passionate advocate for social justice, a long-time vegetarian, and a recently converted vegan. He holds a BA in French from New York University.
Informed citizens are democracy's best defense