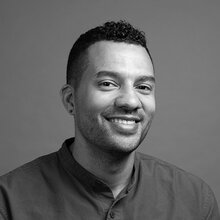 Alex Merchant is a diversity, equity, and inclusion (DEI) thought leader with a background in adult learning. His overall mission is to make sure staff feel well so they can perform at their best. He oversees all aspects of supporting the internal culture of the Brennan Center by tending to the holistic needs of employees, auditing organizational policies with an eye on equity and inclusion, and creating programming to foster a greater sense of belonging and access.

Whenever interpersonal staff or team dynamics are in need of repair, Alex serves as a coach and counselor adopting a restorative practice model for promoting individual agency and communication between staff to reconcile any tension. Alex supports the leadership and programming activities of the seven employee resource groups (ERGs), chairs the Brennan Center DEI Council. Managing all aspects of learning and development, Alex also works with outside vendors and consultants to design trainings, workshops, and other coaching pathways for the organization.
Prior to the Brennan Center, Alex served as an administrator within higher education, designing and facilitating DEI curricula within a social justice framework. He earned his bachelors from Truman State University in Missouri and his masters from the University of Tennessee, Knoxville. He also earned certificates in both Human Capital Management and Diversity, Equity, and Inclusion from New York University.
Informed citizens are democracy's best defense