The right to vote is a funda­mental Amer­ican value that must be protec­ted. For gener­a­tions, the Voting Rights Act has been instru­mental in protect­ing this right. On Febru­ary 27, 2013, the Supreme Court will consider a key provi­sion of this land­mark civil rights law in Shelby County v. Holder. This summary explains the history and import­ance of the Voting Rights Act for minor­ity voters, and why the Supreme Court must uphold the law.
***
The Voting Rights Act was passed in 1965 to ensure state and local govern­ments don't pass laws or policies that deny Amer­ican citizens the equal right to vote based on race. As the lead­ing demo­cracy of the world, the U.S. should work to keep voting free, fair, and access­ible. That's why the Voting Rights Act is so import­ant. It makes sure every citizen, regard­less of their race, has an equal oppor­tun­ity to have a say and parti­cip­ate in our great demo­cracy. The Voting Rights Act is the most effect­ive civil rights law ever enacted, and it's some­thing we should all be proud of.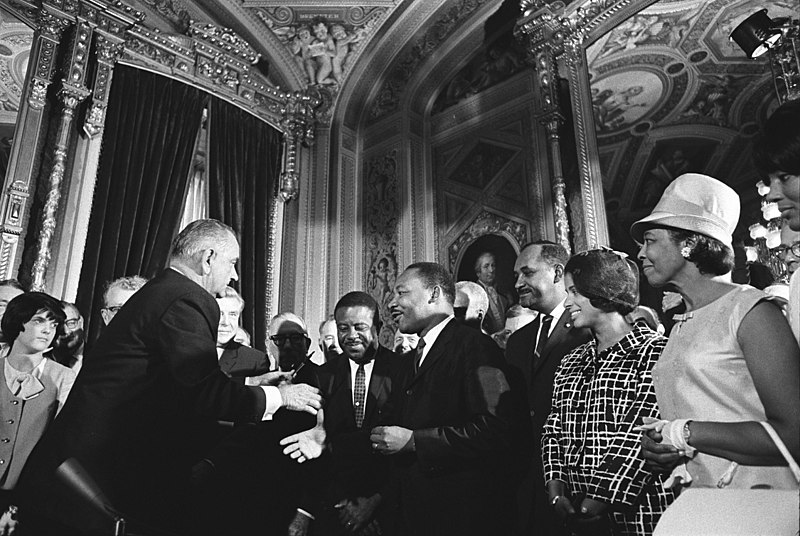 Section 5 is the heart of the Voting Rights Act. It requires covered juris­dic­tions to submit any proposed changes in voting proced­ures to the U.S. Depart­ment of Justice or a federal district court in D.C. — before it goes into effect — to ensure it does not harm minor­ity voters. This blocks discrim­in­a­tion before it occurs. This process is known as "preclear­ance." Section 5 applies to all or part of 16 states. See here for a complete list.
Section 5 is an essen­tial and proven tool. Although progress has been made since the Voting Rights Act passed in 1965, voting discrim­in­a­tion still persists. Between 1982 and 2006 (when Congress over­whelm­ingly renewed the law), the Voting Rights Act blocked more than 1,000 proposed discrim­in­at­ory voting changes. Without Section 5's protec­tion, these changes would have gone into effect and harmed minor­ity voters.
Section 5 is still needed to prevent and address real and continu­ing threats to Amer­ic­ans' right to vote. States continue to enact laws to restrict minor­ity voting access. Section 5 is a proven remedy to protect voters. In 2012, it blocked a highly-restrict­ive voter ID laws in Texas and a law in Flor­ida that elim­in­ated early voting days, which would have made it more diffi­cult for hundreds of thou­sands of minor­ity voters to cast a ballot.
Back­ground: Shelby County v. Holder
In 2010, Shelby County, Alabama, a largely white suburb of Birm­ing­ham, filed suit in federal court in Wash­ing­ton, D.C., seek­ing to have Section 5 of the Voting Rights Act declared uncon­sti­tu­tional. Shelby County claims that Congress did not have the required consti­tu­tional author­ity when it reau­thor­ized Section 5 in 2006. Shelby County's chal­lenge seeks to inval­id­ate the law not only in Alabama, but every­where Section 5 applies, includ­ing 9 full states, and 57 counties in 5 partially-covered states.
Shelby County's own record of voting discrim­in­a­tion provides a good example for why this core protec­tion is still neces­sary. In 2006, the City of Calera, which lies within Shelby County, enacted a discrim­in­at­ory redis­trict­ing plan without comply­ing with the Voting Rights Act, lead­ing to the loss of the city's sole black coun­cil­man, Ernest Mont­gomery. Under Section 5, however, Calera was required to draw a nondis­crim­in­at­ory redis­trict­ing plan, and to conduct another elec­tion. In this lawful elec­tion, black voters selec­ted their candid­ate of choice, and Mr. Mont­gomery regained his seat on the city coun­cil.
The Shelby County chal­lenge claims the Voting Rights Act is uncon­sti­tu­tional because it hurts states' rights. But this argu­ment was rejec­ted by the U.S. Supreme Court shortly after the Act was origin­ally enacted in 1965. In total, four separ­ate U.S. Supreme Court decisions have upheld the Voting Rights Act through the decades. In 2006, Congress also voted over­whelm­ingly to reau­thor­ize this essen­tial law (98–0 in the Senate, and 390–33 in the House), recog­niz­ing that seri­ous threats to our voting rights continue today.
***
The passage of the Voting Rights Act is a reflec­tion of the prom­ise of our Consti­tu­tion that all Amer­ic­ans would truly have the right to vote without facing discrim­in­a­tion, poll taxes, and other abuses. We can't go back to those days, and the Voting Rights Act is our nation's prom­ise that we never will.
The Voting Rights Act and Section 5 repres­ent the values of Amer­ica — free­dom and equal rights under the law. If Amer­ica wants to live up to this prom­ise of equal­ity, states should­n't be able to ignore the Voting Rights Act and make it harder for some eligible Amer­ic­ans to vote.
The Continu­ing Need for Section 5 of the Voting Rights Act
In 2001, the white mayor and all-white Board of Alder­man for the city of Kilmi­chael, Missis­sippi attemp­ted to cancel an elec­tion shortly after black citizens had become a major­ity of the registered voters. The Depart­ment of Justice denied preclear­ance under Section 5, find­ing that the cancela­tion was designed to worsen the voting strength of African-Amer­ican voters. The town refused to resched­ule the elec­tion until the Depart­ment of Justice forced it to hold one in 2003, at which time the citizens elec­ted the town's first African-Amer­ican mayor and three African-Amer­ican alder­men.
After the 2000 Census showed that Lati­nos had become a major­ity in five of eight districts, the city of Seguin, Texas proposed dismant­ling a Latino-major­ity district. The Depart­ment of Justice indic­ated that preclear­ance was unlikely, and the city with­drew its preclear­ance request but promptly closed the candid­ate filing period to prevent any Latino candid­ate from compet­ing in the district. A subsequent Section 5 enforce­ment action blocked this discrim­in­a­tion.
In 2004, an Asian Amer­ican candid­ate ran for city coun­cil for the first time in the history of Bayou La Batre, Alabama. The white incum­bent and his support­ers chal­lenged about 50 Asian-Amer­ican voters at the polls during the primary elec­tions, claim­ing that if they "could­n't speak good English, they possibly weren't Amer­ican citizens." The Depart­ment of Justice determ­ined these chal­lenges were race-based . The Depart­ment of Justice prohib­ited the chal­lenges in the 2004 general elec­tion because of Section 5. The Asian-Amer­ican candid­ate won the coun­cil posi­tion in that elec­tion.
One week before the New York City primary elec­tions in 2001 — which had been resched­uled after the 9/11 attacks on the World Trade Center — the Board of Elec­tions planned to close a busy poll site in Manhat­tan's Chin­atown without making any announce­ments in Chinese-language news­pa­pers and without inform­ing limited English profi­cient voters about this change. The Depart­ment of Justice informed the Board that the change could not take effect under Section 5. On primary day, hundreds of votes were cast at the original Chin­atown poll site. Without Section 5, many of these voters would have lost their right to vote.
In 2011, Texas lawmakers proposed redraw­ing polit­ical bound­ar­ies that would have created four new congres­sional districts. Despite the substan­tial growth in Texas's minor­ity popu­la­tion in the past decade, not one of the new districts created the abil­ity for the Latino or African-Amer­ican community to elect their candid­ate of choice. A federal district court found that the maps were enacted to inten­tion­ally discrim­in­ate against Latino and African-Amer­ican voters, and Texas's redis­trict­ing proposal was blocked under Section 5.
View this page as a PDF in English or Span­ish. Also see this infographic from NAACP LDF on why Section 5 is still needed