This post was updated on Decem­ber 17, 2018. Read our summary of the find­ings.
In the Trump era, courts frequently appear to be the last line of defense against partisan over­reach. But in many states, courts' vital role in our demo­cracy is under threat.
In our demo­cratic system, judges serve as an inde­pend­ent check on the polit­ical branches, not a tool of the legis­lature or the governor. Courts are required to decide cases regard­less of polit­ics or external pres­sures, and to ensure that the other branches do not over­step their author­ity or encroach on indi­vidual rights.
Yet this year, legis­lat­ors in at least 18 states considered at least 60 bills that would have dimin­ished the role or inde­pend­ence of the judi­cial branch, or simply made it harder for judges to do their job — weak­en­ing the checks and balances that under­lie our demo­cratic system. To identify bills, the Bren­nan Center reviewed legis­la­tion iden­ti­fied by CQ Stat­eT­rack, provided by Piper Fund, media reports, and the National Center for State Court's Gavel to Gavel website.
These bills threatened this balance of power in a vari­ety of ways. Many sought to give the legis­lature or governor more power over judi­cial selec­tion, often for partisan advant­age; others gave the legis­lature the power to over­ride court decisions and decide the consti­tu­tion­al­ity of laws they them­selves wrote; still others exer­ted polit­ical, finan­cial, or other pres­sures on courts to change the outcome of future cases.
In 2017, the Bren­nan Center docu­mented several trends with respect to legis­lat­ive assaults on the courts, includ­ing 45 bills intro­duced that year. In 2018, many of those trends contin­ued, while new ones emerged.
In 2018, lawmakers in at least 18 states considered legis­la­tion that would have dimin­ished the role or inde­pend­ence of the courts. This included brazen efforts to impeach justices in Pennsylvania and West Virginia, to give the legis­lature signi­fic­ant new author­ity over choos­ing judges in North Caro­lina, and to limit the state supreme court's juris­dic­tion in Kansas:
Twenty-seven bills in eight states would have injec­ted more polit­ics into how judges are selec­ted
Ten bills in seven states would have increased the like­li­hood of judges facing discip­line or retri­bu­tion for unpop­u­lar decisions, or would have politi­cized court rules or processes
Six bills in three states would have cut judi­cial resources or estab­lished more polit­ical control over courts in exchange for resources
Four bills in three states would have manip­u­lated judi­cial terms, either imme­di­ately remov­ing sitting judges or subject­ing judges to more frequent polit­ical pres­sures
Eleven bills in seven states would have restric­ted courts' power to find legis­lat­ive acts uncon­sti­tu­tional, or allowed the legis­lature to over­ride court decisions
Twelve bills advanced in signi­fic­ant ways in 2018, either passing favor­ably out of a commit­tee or subcom­mit­tee, receiv­ing a hear­ing, passing through one house of the legis­lature, or even going before voters as a consti­tu­tional amend­ment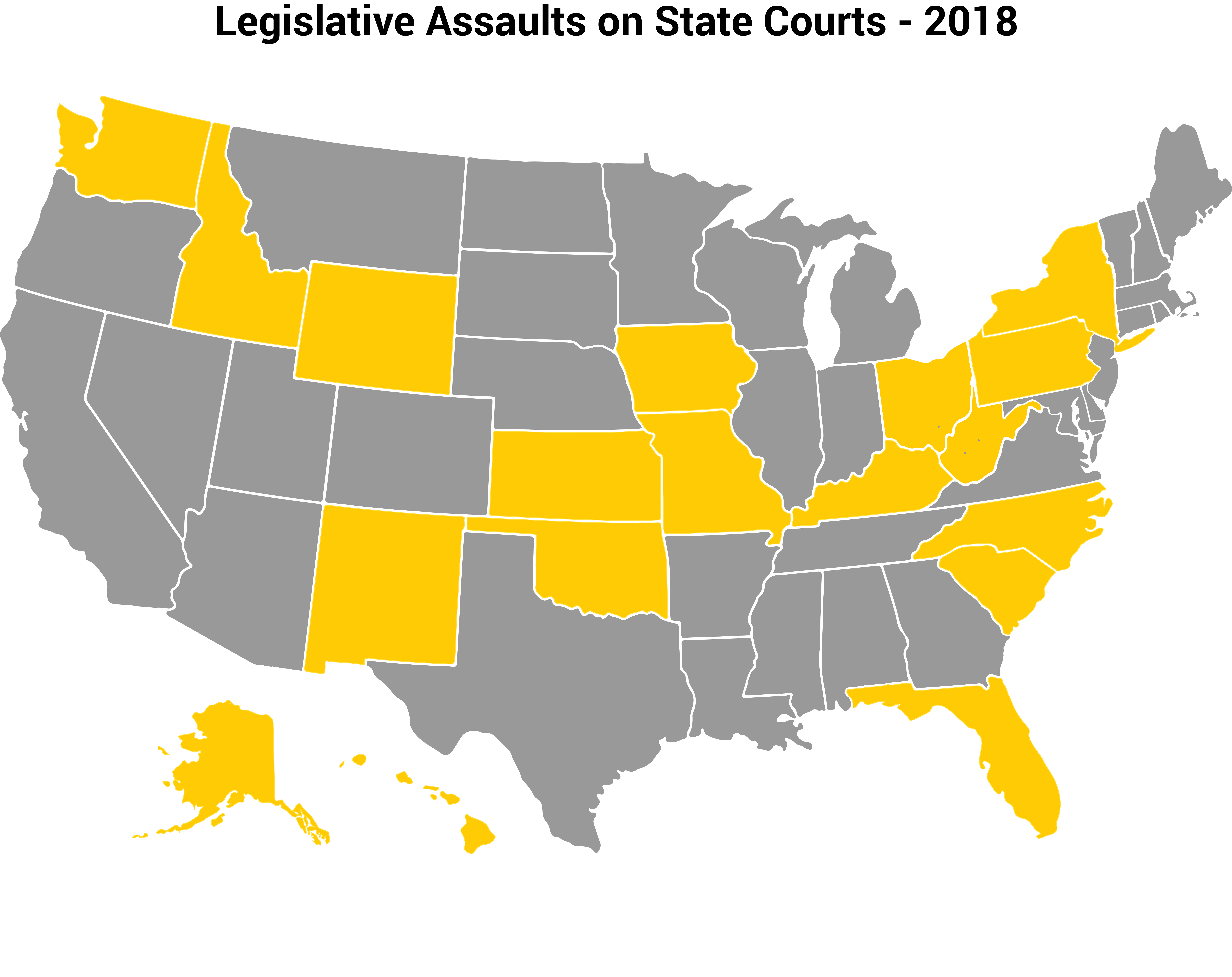 Many of these efforts were concen­trated in a hand­ful of states. In two states, North Caro­lina and Oklahoma, numer­ous legis­lat­ive propos­als reflect a concer­ted effort by legis­lat­ors to gain a partisan advant­age in the courts. In North Caro­lina, these propos­als followed Repub­lic­ans' loss of the governor­ship and a conser­vat­ive major­ity on the state supreme court in 2016, while retain­ing a veto-proof legis­lat­ive major­ity. In Oklahoma, bills followed high-profile rulings on the death penalty, abor­tion, and reli­gion that ran against the state's conser­vat­ive polit­ics. They continue a trend in the state which saw 15 bills to change how judges are selec­ted in 2016 alone.
In Pennsylvania and Kansas, impeach­ment and juris­dic­tion-strip­ping propos­als were intro­duced in direct response to indi­vidual court rulings inter­pret­ing the states' consti­tu­tions. In Pennsylvania, the Supreme Court ruled in Janu­ary that the state's congres­sional map was an uncon­sti­tu­tional partisan gerry­mander, prompt­ing an impeach­ment effort. In Kansas, propos­als to limit judi­cial juris­dic­tion over matters of public educa­tion fund­ing came as the legis­lature faced a court-imposed dead­line to fulfil its consti­tu­tional oblig­a­tion to suffi­ciently fund the public educa­tion system.
Finally, in Iowa, a dispute between the Legis­lature and judi­ciary over allow­ing guns in court­houses at least partially fueled a number of propos­als.
And, while these states may be the locus of anti-court legis­la­tion, legis­lat­ive threats to courts can be seen across the coun­try. These bills aim to:
Change Judi­cial Selec­tion Systems: In eight states, 27 bills would have changed how judges are selec­ted. In most cases, the result would have been to inject more polit­ics into the selec­tion process. States use a vari­ety of meth­ods to select judges, but the prac­tices that best preserve judi­cial inde­pend­ence and integ­rity are those that insu­late judges from the constant polit­ical and partisan pres­sures that other branches face. To this end, many states use nonpar­tisan judi­cial nomin­at­ing commis­sions to vet and recom­mend judges for appoint­ment. But a new legis­lat­ive trend this year would keep those commis­sions in name while signi­fic­antly shrink­ing their role.
Add polit­ics to the selec­tion process
Weaken or elim­in­ate nonpar­tisan judi­cial nomin­at­ing commis­sions
In Missouri (SJR 28), Oklahoma (SJR 43), and South Caro­lina (H 3204, H 3207, H 4043), proposed legis­la­tion would have left selec­tion commis­sions in place, but signi­fic­antly limited their role in the appoint­ment process. Currently the commis­sions in those states recom­mend three candid­ates to the Governor, or to the Legis­lature in the case of South Caro­lina, to choose from for appoint­ment. These bills would have required that commis­sions put forward every "qual­i­fied" applic­ant, substan­tially curtail­ing the commis­sion's role. Legis­lat­ors in North Caro­lina floated a similar proposal this year.
Create a partisan advant­age in judi­cial selec­tion
In North Caro­lina, the legis­lature placed a consti­tu­tional amend­ment before voters (H 3) to require the governor to select judges to fill interim vacan­cies from a list created by the legis­lature. Voters ulti­mately rejec­ted the proposal which included a nominal role for a nomin­at­ing commis­sion. Two other bills (H 240, H 241) would have simil­arly trans­ferred to the General Assembly (the state's legis­lature) the governor's current author­ity to appoint judges to fill interim district court vacan­cies and appoint special super­ior court judges. Another bill (H 335) would have required the governor, when filling a vacancy on the Supreme Court, Court of Appeals, or a super­ior court, to select from a list provided by the lead­ers of the polit­ical party of the vacat­ing judge. These bills were intro­duced by Repub­lic­ans in the General Assembly after a Demo­crat was elec­ted governor.
A bill in North Caro­lina (H 717) to redraw district court and super­ior court judi­cial districts would have dispro­por­tion­ately harmed voters of color and Demo­cratic voters, amount­ing to judi­cial gerry­man­der­ing, accord­ing to analyses by NC Policy Watch and the South­ern Coali­tion for Social Justice. Over-riding the governor's veto, the Legis­lature passed a version of H 717 that redis­tric­ted only portions of the state, along with another bill (S 757) which redis­tric­ted several popu­lous counties. Another bill (H 677) would have then added district court judges to the three-judge panels which, in North Caro­lina, hear high-stakes cases related to redis­trict­ing and chal­lenges to the consti­tu­tion­al­ity of legis­lat­ive acts.
Proposed consti­tu­tional amend­ments in Pennsylvania (HB 829, SJR 1144, SJR 22) would have had voters elect Supreme Court justices by seven districts of equal popu­la­tion, rather than statewide. While distric­ted elec­tions are not neces­sar­ily harm­ful, they can open the door to gerry­man­der­ing and other partisan games­man­ship. HB 829 was intro­duced by a Repub­lican legis­lator without explan­a­tion follow­ing an elec­tion in which Demo­crats gained a major­ity of seats on the state Supreme Court.
Politi­cize Judi­cial Rulings, Discip­line, or Court Rules: Seven states considered legis­la­tion that would have put undesir­able polit­ical pres­sure on judi­cial decision­mak­ing. Judges must be able to decide cases without fear of retri­bu­tion, but some of these bills would increase the like­li­hood of a judge losing their job for making an unpop­u­lar ruling. Other propos­als would empower politi­cians to alter court proced­ures for reas­ons other than fair and effi­cient decision­mak­ing.
Reduce or Control Court Resources: Three states would have signi­fic­antly reduced judi­cial branch resources, or deman­ded increased control over the judi­cial branch in exchange for resources. When legis­lat­ors threaten to cut judi­cial fund­ing unless judges adhere to the legis­lature's wishes, it viol­ates the separ­a­tion of powers prin­ciples that our demo­cracy relies on. And actual losses of fund­ing or resources have forced courts to close or led to case back­logs, making it harder to access justice.
A bill in North Caro­lina (S 617) would have largely elim­in­ated "emer­gency judges," which lower courts had previ­ously relied on to help alle­vi­ate back­logs. Last year, restric­tions on the use of these judges forced courts to cancel court sessions.
A series of bills in Iowa (SF 2044, SF 2052, SF 2104, HF 2036) respon­ded to Iowa Chief Justice Mark Cady's direct­ive that the judi­cial branch would continue to enforce a court­house weapons ban despite a new Iowa law allow­ing guns in court­houses. One proposal provided that, if an Iowa court enforces a weapons ban, the court must pay rent to the state and must pay for an armed secur­ity guard using funds from the chief judge's salary. Two other bills would have expressly allowed persons to carry weapons in court­houses, regard­less of any court prohib­i­tions. Another would have reduced Supreme Court justice's salar­ies to $25,000, an approx­im­ately 85 percent pay cut. The spon­sor of the judi­cial salary bill said, "If the Supreme Court wants to act like legis­lat­ors they need to start getting paid like legis­lat­ors." Iowa's part-time legis­lat­ors make $25,000 annu­ally.
A bill in New York (A 09505) would have, in exchange for giving the judi­cial branch an addi­tional 0.5 percent budget increase, required that judges file monthly certi­fic­a­tions that they worked for at least 8 hours on each work­day of the preced­ing month. The bill would have also required peri­odic audits of judi­cial salar­ies and oper­at­ing expenses by the state comp­troller.
Alter Judi­cial Term Lengths and Limits: Propos­als in three states would have altered judi­cial terms of office, exped­it­ing the removal of sitting judges and increas­ing the frequency of judi­cial elec­tions. The shorter a judge's term length, the greater the pres­sure that judge will feel to rule with elect­oral or polit­ical, rather than legal, consid­er­a­tions in mind. And, while term limits can be bene­fi­cial, judges must be allowed suffi­cient time to serve and should not be removed from the bench for partisan reas­ons.
Shield the Legis­lature from Court Rulings: Propos­als in seven states would have made it more diffi­cult, or impossible, for either state or federal courts to rule a legis­lat­ive act uncon­sti­tu­tional. These bills under­mine one of the core respons­ib­il­it­ies of state courts, which is to ensure that the two other branches are adher­ing to the states' consti­tu­tion. Two would have put legis­lat­ors' inter­pret­a­tion of the United States Consti­tu­tion above that of the United States Supreme Court.
Change Size of Courts: Court pack­ing and court shrink­ing, adding or remov­ing seats from a court is another way for legis­latures or governors to gain a partisan advant­age in their state's courts. In recent history, Geor­gia and Arizona added seats to their state supreme courts to do just that. But remov­ing sitting justices from the bench can have a similar impact.
In Oklahoma (HB 1699), a bill would have reduced the number of justices on the state Supreme Court from nine to five. The bill's formula for determ­in­ing which current justices retain their seats would most likely have resul­ted in changed ideo­lo­gical control of the court within two years.
Fire­arms in Courtrooms: Courts have also been pulled into broader debates about gun rights in public spaces. In addi­tion to the Iowa Legis­lature's response to the Chief Justice's efforts to limit guns in court­houses, at least one state considered a bill that would make it easier to bring guns into court­houses or courtrooms.
In Ohio(HB 622), a bill would have author­ized a judge or magis­trate who is a concealed hand­gun licensee to carry a weapon in the courtroom.
Image: Eric Thayer / Getty