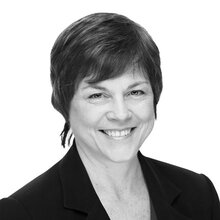 Melissa Estok is executive director of the Brennan Center for Justice at NYU School of Law, a nonpartisan law and policy institute focused on improving systems of democracy and justice in the United States. Estok works with the Brennan Center C-Suite to develop and drive strategy. She is responsible for management of the organization, including its NYC headquarters and growing presence in Washington, D.C., with a focus on growth and increasing impact.
Before joining the Brennan Center, Estok spent a decade as a partner and chief of operations at the Albright Stonebridge Group (ASG). She worked closely with former Secretary of State Madeleine Albright to grow the organization into a premier advisory firm providing corporate and nonprofit clients with risk assessments, strategic advice, and on-the-ground support in 40 countries. When ASG merged with Dentons Global Advisors, Estok became head of the sustainability/ESG practice.
Previously, Estok had a long career in democracy promotion around the world, primarily with the National Democratic Institute (NDI) but also consulting or collaborating with the U.S. Agency for International Development, The Carter Center, and IFES, among others. She was a troubleshooter for programs in political systems experiencing acute challenges. She led multiple assessment missions to map local needs, develop new partners, and identify funding.
While on the ground for NDI, Estok specialized in building advocacy organizations in countries with authoritarian or hybrid regimes and high degrees of political and social polarization. She worked in 30+ countries and established offices in Bangladesh, Nicaragua, Peru, and Yemen. She partnered with local activists to build nation-wide networks for civic education, GOTV, and election monitoring. Dedicated to ensuring the long-term sustainability of partner organizations, Estok helped them to form partnerships with international funders, Chambers of Commerce, universities, and human rights groups, among others.
Estok co-developed several technology-based election observation techniques, including quick counts (also known as PVTs) and voter registry audits. She co-founded a methodology for Democracy Audits, using national surveys and focus groups to understand barriers to the political participation of marginalized citizens in Guatemala, Honduras, Nicaragua, and Myanmar. Estok frequently advised donors (embassies and multilateral organizations) and U.S.-based corporate consultants on political dynamics, responsible development spending, and opportunities for investment. She appeared in local media and led training for journalists on democracy and evidence-based election monitoring.
Estok has an MBA from the Massachusetts Institute of Technology and a master's degree in counseling psychology and began her career serving in the Peace Corps. She proudly hails from Cleveland, Ohio.
Informed citizens are democracy's best defense