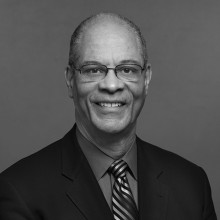 John Anthony (Tony) Butler is chief operating officer for the Brennan Center. He is responsible for the organization's financial and operational activities, including oversight of information technology, the corporate legal function and strategic planning process.
Butler has over 25 years of business and financial management experience in government, not-for-profit and for-profit organizations. Prior to joining the Brennan Center in 2011, Butler served as chief financial officer for Legal Services NYC (LS-NYC), the largest provider of free civil legal services to low-income people in the United States.
In 1998, he founded a management consultant business that served for-profit and not-for profit clientele in the areas of operational assessment and strategic planning. Prior to that, he served as vice president for finance and administration at the National Urban League. In the early 1990s, New York City Mayor David Dinkins appointed him as deputy city personnel director for administration and budget, after his service as deputy director of the NYC Redistricting Commission.
Butler began his career in management information systems at the investment bank of Morgan Stanley & Company. Immediately after business school, he spent a year in Caracas, Venezuela, as business representative for the Caribbean for Reuters, Inc. He served as treasurer on the Board of Directors for Brooklyn Plaza Medical Center, a 501c(3) federally funded community health center in Brooklyn, New York, and as treasurer on the Board of Directors for the Algebra Project, Inc., a national nonprofit dedicated to math literacy for underserved populations.
Butler was a Kellogg Foundation National Leadership Program Fellow (1997–2000) and a recipient of the Thomas K. Bradshaw Fellowship in the Humanities for Young Professionals at Claremont Graduate School. He earned an AB from Harvard College and an MBA from Stanford Graduate School of Business.
Informed citizens are democracy's best defense