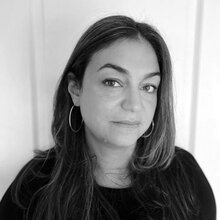 Bianca Gómez-Nachand is the Director of Events and Partnerships at the Brennan Center for Justice.
In that role, she conceives and produces virtual and hybrid events in English and Spanish, and develops programming partnerships with organizations including the New York Public Library, The Hispanic Federation, and The Public Theater. Brennan Center events, symposia, and seminars reach more than 50,000 people a year. Guests have included Susan Rice, Neal Katyal, Preet Bharara, Cecile Richards, Donna Brazile, Eleanor Holmes Norten, Clint Smith, Ben Rhodes, Michael Steele, Stephanie Cutter, Bakari Sellars, Alex Castellanos, Alyssa Mastromonaco, Abby Phillip, Valerie Jarrett, Andrea Mitchell, and Rep. Adam Schiff.
Prior to joining Brennan Center, Bianca created world-class physical, virtual, and hybrid events for global brands ESPN and Disney. She produced events in seven countries, and worked with prominent executives, celebrities, and athletes including Lebron James and Serena Williams. Bianca specialized in producing large-scale, high-profile experiences for the ESPYS, X Games and ESPN Films, among other notable programming.
Bianca previously worked in development at the Puerto Rican Legal Defense and Education Fund, now known as LatinoJustice PRLDEF.
Bianca received her B.A. in Latin American and Latino Studies from Fordham University in New York City.
Informed citizens are democracy's best defense