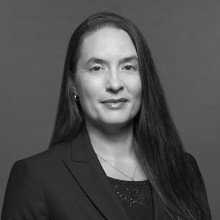 Taryn A. Merkl
Taryn A. Merkl is senior counsel in the Brennan Center's Justice Program and its Law Enforcement Leaders to Reduce Crime & Incarceration initiative. Her work focuses on building a smarter, stronger, and fairer criminal justice system while reducing unnecessary incarceration and promoting public safety.
Merkl previously served as an assistant U.S. attorney in the Eastern District of New York for more than 16 years. She served as deputy chief of the Criminal Division and as chief of the Civil Rights and Organized Crime and Gangs sections. In Civil Rights, she supervised all human trafficking and criminal civil rights cases in the district. She also served in the Business and Securities Fraud section. In addition, Merkl served as a founding co-chair of the Brooklyn Human Trafficking Task Force from 2013 to 2019. She has received various awards and honors from, among others, the U.S. Department of Justice, the Women in Federal Law Enforcement Foundation, and the
New York Law Journal
.
Merkl served as a law clerk to Chief Judge John M. Walker Jr. of the U.S. Court of Appeals for the Second Circuit and to Judge Jan E. DuBois of the U.S. District Court for the Eastern District of Pennsylvania. She has also served as a lecturer at Columbia Law School and as an adjunct professor, specializing in white-collar crime, at Cardozo School of Law.
Merkl holds a BA in political science and Russian with honors from the University of Michigan and a JD from Columbia Law School, where she was the editor in chief of the
Columbia Human Rights Law Review
and
A Jailhouse Lawyer's Manual
(fifth edition).
Stay up to date
Informed citizens are our democracy's best defense