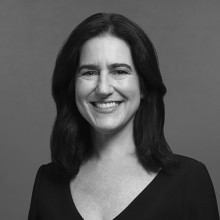 Wendy Weiser directs the Democracy Program at the Brennan Center for Justice at NYU School of Law, a nonpartisan think tank and public interest law center that works to revitalize, reform, and defend systems of democracy and justice. Her program focuses on voting rights and elections, money in politics and ethics, redistricting and representation, government dysfunction, rule of law, and fair courts. She founded and directed the program's Voting Rights and Elections Project, directing litigation, research, and advocacy efforts to enhance political participation and prevent voter disenfranchisement across the country.
She has authored a number of nationally recognized publications and articles on voting rights and election reform, litigated groundbreaking lawsuits on democracy issues, testified before both houses of Congress and in a variety of state legislatures, and provided legislative and policy drafting assistance to federal and state legislators and administrators across the country.
She is a frequent public speaker and media commentator on democracy issues. She has appeared on CBS News, CNN, Fox News, MSNBC, PBS, ABC News, and NPR, among others; her commentary has been published in the New York Times, the Washington Post, USA Today, and elsewhere; and she is frequently quoted by the New York Times, the Washington Post, National Journal, Politico, and other news outlets across the country. She has also served as an adjunct professor at NYU School of Law.
Prior to joining the Brennan Center, Weiser was a senior attorney at NOW Legal Defense and Education Fund, where she worked on issues of access to the courts and domestic violence; a litigation associate at Paul, Weiss, Rifkind, Wharton & Garrison; and a law clerk to Judge Eugene H. Nickerson in the United States District Court for the Eastern District of New York. She received her BA from Yale College and her JD from Yale Law School.
The Supreme Court's "Breathtakingly Radical" New Approach to Election Law, Politico, Nov. 22, 2020 (with Daniel Weiner)
The U.S. election is under attack — from Trump, The Washington Post, Oct. 14, 2020
6 Reasons Not to Panic About the Election, Politico, Oct. 5, 2020 (with Michael Waldman)
What It Will Take to Protect the 2020 Election, Politico, Mar. 26, 2020 (with Lawrence Norden)
Op-Ed: What effect will coronavirus have on Tuesday's primaries?, Los Angeles Times, March 14 2020 (with Michael Waldman)
US elections need a fundamental reboot, Boston Globe, Sept. 21, 2020
Let the Private Sector Help Save the Election. We Have No Choice, Newsweek, Sept. 2, 2020 (with Jennifer Weiss-Wolf)
To Protect Democracy, Expand Vote by Mail, Newsweek, June 18, 2020
Symposium: There is no valid justification for the citizenship question, SCOTUSblog, April 4, 2019
Automatic Voter Registration Boosts Political Participation, Stanford Social Innovation Review (January 2016)
Shaping the Voting Rights Narrative, in Legal Change: Lessons from America's Social Movements, Brennan Center for Justice, September 2015
Voter Suppression: How Bad? (Pretty Bad), American Prospect, October 2014
Modernizing Elections, in The Book of the States 2013, Council of State Governments, July 2013 (with Vishal Agraharkar)
The Battle Over the Vote in 2012, lecture at Pitzer College, May 2012, reprinted in the Nieman Watchdogat Harvard University
Regulating Judges' Political Activity After White, Albany Law Review68 (2005): 65
The Equal Pay Act, Employment Discrimination Law (BNA, 2004)
Workplace Protections for Domestic Violence Victims, Clearinghouse Review, May/June 2004
Voters are Hungry for Reform: Congress Must Deliver, The Hill, Nov. 9, 2018
Why the Supreme Court Must Strike Down Extreme Partisan Gerrymandering, New York Daily News, Oct. 4, 2017
Democracy in North Carolina Could Disappear. Is Your State Next?, Time, Aug. 23, 2017
The White House's Voter Fraud Commission Has Already Damaged our Democracy, Washington Post, Jul. 18, 2017
Jeff Sessions and the Rule of Law, Huffington Post, June 13, 2017
This GOP Bill Could Make It Easier for Russia to Hack U.S. Elections, Fortune, Feb. 14, 2017
The Actually True and Provable Facts About Non-Citizen Voting, Time, Feb. 13, 2017
The Faulty Logic of Chris Christie's Automatic Voter Registration Veto, Huffington Post, Aug. 19, 2016
The Revolution is Participation, The Nation, Mar. 15, 2017
Wrong on Voting Rights, U.S. News & World Report, July 15, 2015
New Voting Laws Show That the Struggle Continues, billmoyers.com, Mar. 6, 2015
How Much of a Difference Did New Voting Restrictions Make in Yesterday's Close Races?, billmoyers.com, Nov. 7, 2014
We Already Know Who Won the 2014 Election, Huffington Post Politics, Nov. 3, 2014 (with Lawrence Norden)
Finally, There's Reason for Optimism on Voting Laws, The Atlantic, Jan. 23, 2014
Bring voting into the digital age, CNN.com, June 19, 2013
The entire U.S. voting process is flawed, Denver Post, Apr. 11, 2013
Keep voting free of politics, McClatchy newspapers, Feb. 13, 2013
It's Time for States to Step Up and Educate Voters About Their Voting Rights, Huffington Post Politics, Nov. 5, 2012
Voter ID Laws Are Designed to Keep People from Voting, U.S. News & World Report, Sept. 13, 2012
Electronic registration a great leap forward, Albany Times Union, Aug. 21, 2012
Voter Fraud Claims Are Smoke Without Fire, U.S. News & World Report, Jun. 13, 2012
Put Voting War on Hold to Update Registration, Roll Call, May 30, 2012
Avoiding Intimidation at the Ballot Box, The Hill, Nov. 2, 2010
Can We Registers Voter Better? Yes, Huffington Post, July 1, 2009
Should photo identification be required for voting?, Costco Connection, Nov. 2008
Florida's Obstacle Course to Voter Registration, The Hill, Aug. 25, 2008
Remember to Vote, Hope It Counts, New York Times, Oct. 30, 2006
Additional Media Appearances
Wendy Weiser on Voting Rights, Political Breakdown, KQED (Northern California NPR affiliate), March 4, 2021
With Control Of Congress, Democrats Aim To Address Voting Rights, Weekend Edition Sunday With Miles Parks, NPR, Jan. 24, 2021
If we Raise Our Expectations We Could Have A Better System, Turnout with Katie Couric, Dec. 8, 2020 (podcast)
The Supreme Court's Radical View of Election Law and Rollback of Voting Rights, Background Briefing With Ian Masters, KPFK-FM Los Angeles, Nov. 25, 2020
What To Expect On Election Day And The Days After : Consider This from NPR, Consider This, NPR, Oct. 30, 2020
How And When Are Votes Officially Counted?, All Things Considered, NPR, Oct. 28, 2020
How To Avoid Potential Problems With Mail-in Ballots, Smerconish, CNN, Oct. 24, 2020
Why 'Record Levels of Enthusiasm' Are Causing Long Lines At The Polls, Interview With Katie Couric, Oct. 22, 2020
The U.S. Election is Under Attack- From Trump, Opinion, Washington Post, Oct. 22, 2020
Pennsylvania's Counting Chaos, Dan Lieberman, NBC, Oct 7. 2020
'Democracy Is A Group Sport', Turnout With Katie Couric, KCM, Oct. 1 2020
Pennsylvania Election on Hold, With Jim Sciutto, CNN, Sept. 14, 2020
Tossed Ballots Raise Concerns As Voters Mail In Their Ballots, NBC Nightly News, Sept. 12, 2020 
The Political Charge Behind Voting Rights, Interview With Arthur Blank Foundation, Aug. 20, 2020
The 2020 Voting Challenge: Ensuring Free, Fair, And Safe Elections on November 3rd, Midday Today, WYPR, Jul. 14, 2020
More States Are Moving To Mail-In Voting Amid The Coronavirus Crisis. How Secure Is It?, Nightly News, NBC, Jun. 10, 2020
Debate Over Mail-In Voting Continues In The Wake Of The Coronavirus, Eric Shawn, Fox News, May 28, 2020
Interview With Ali Velshi, Ali Velshi, MSNBC, April 26, 2020
"How Secure is Your Vote?," Velshi & Ruhle, Nov. 1, 2018
"The Battle Over Your Right to Vote," Life of the Law, Nov. 28, 2017
"Supreme Court Could Decide to Take on Gerrymandering Case," CBS News, June 12, 2017
"SCOTUS Strikes Down North Carolina Redistricting," The Brian Lehrer Show, WNYC, May 23, 2017
"New Year Changes to California Voter Laws Aim to Improve Elections," KPCC, Jan. 5, 2017
"Democracy Debrief: Voting Access," The Brian Lehrer Show, WNYC, Dec. 1, 2016
"How Are Controversial Voter ID Laws Affecting Voters?," PBS Newshour, Oct. 29, 2017
"Why Rigging an Election is Nearly Impossible," The Leonard Lopate Show, WNYC, Nov. 8, 2016
"Intimidation Nation," Amicus, Slate, Oct. 29, 2016
"How Real is Voter Fraud and Can the Election Actually Be Rigged?," CBS This Morning, CBS, Oct. 22, 2016
"The Fact and Fiction of Rigged Elections Claims," On Point, WBUR (NPR), Oct. 16, 2016
"Watching the Vote," Eric Shawn Reports, Fox News, Oct. 4. 2016
"Voting Rights in the Courts," We the People, National Constitution Center, Aug. 11, 2016
"N.C. Voters Heading to Polls Face Strict New Voter ID Law," CBS News, Mar. 15, 2016
"After Bush v. Gore," Retro Report, New York Times, Feb. 22, 2016
"Redistricting Rocks Racially-Diverse Counties in Alabama," Now with Alex Wagner, MSNBC, Nov. 12, 2014
"Assessing the First Post-Voting Rights Election," The Brian Lehrer Show, WNYC, Nov. 7, 2014
"Partisan Divide Over Voting Rights Has Intensified in the Obama Era," Morning Edition, NPR, Oct. 21, 2014
"The Voting Wars: Who's Winning? Who's Losing?," To The Point, NPR, Oct. 14, 2014
"On the Fall Docket: Who Gets to Vote—And Who Gets to Decide," Morning Edition, NPR, Aug. 25, 2014
"Update on New Voting Laws Across the Country," The Diane Rehm Show, NPR, Aug. 13, 2014
"New Report Highlights Voter Suppression," Politics Nation, MSNBC, June 17, 2014
"Proposal to Add Photos to Social Security Cards Meets Resistance," Fox News, Apr. 14, 2014
"Citizens United Critics Fight Money With Money," NPR, Feb. 13, 2014
"Wendy Weiser on Voting Changes Post-Shelby County," Now With Alex Wagner, MSNBC, July 10, 2013
"What Would a 2013 Voting Rights Act (Section 4) Look Like," Code Switch, NPR, June 26, 2013
"The Voting Rights Act and New York City," The Brian Lehrer Show, WNYC, June 25, 2013
"President Obama Takes on the Issue of Long Lines," Fox News, Feb. 13, 2013
"Rethinking Voting," On Point with Tom Ashbrook, NPR, Nov. 12, 2012
"Wendy Weiser on Voting Laws," ABC News, Sept. 16, 2012
"Pre-Election Legal Battles Target Voting Rules," Morning Edition, NPR, Aug. 24, 2012
"Self-Appointed Poll Watchers Raise Concerns About Intimidation," The Rachel Maddow Show, MSNBC, Aug. 23, 2012
"Waging a Battle Over Voter ID Laws," PBS NewsHour, Mar. 14, 2012
"Wendy Weiser on New State Laws Regulating Voting," Washington Journal, C-SPAN, Oct. 9, 2011
"New State Voting Laws," The Diane Rehm Show, NPR, June 21, 2011
"How Safe Is Your Ballot? Tracking Voter Suppression, Intimidation on Election Day," Democracy Now!, Nov. 2, 2010
"Efforts to Prevent Voter Fraud Draw Scrutiny," Morning Edition, NPR, Oct. 26, 2010
Supreme Court Amicus Briefs
Department of Commerce v. New York, Apr. 1, 2019 (on whether the Trump Administration's attempt to add a citizenship question on the census form was legally justifiable)
Rucho v. Common Cause, March 8, 2019 (on the constitutionality of partisan gerrymandering)
Minnesota Voters Alliance v. Mansky, Feb. 12, 2018 (on whether application of Minnesota law prohibiting political apparel in polling places to t-shirts saying "Please I.D. Me" violated First Amendment)
Husted v. A. Phillip Randolph Institute, Sept. 25, 2017 (on whether Ohio voter roll purges violate the National Voter Registration Act)
Gill v. Whitford, Sept. 5, 2017 (on whether Wisconsin's legislative map is an unconstitutional partisan gerrymander)
Northeastern Ohio Coalition for the Homeless v. Husted, Apr. 5, 2017 (on whether a provision of the federal Civil Rights Act can be enforced by private parties)
McCrory v. Harris, Oct. 19, 2016 (on whether North Carolina's congressional map is racially discriminatory)
Evenwel v. Abbott, Sept. 25, 2015 (on whether states must use voting-age citizen population as the basis for redistricting rather than total population)
Arizona State Legislature v. Arizona Independent Redistricting Commission, Jun. 29, 2015 (on whether Arizona's independent redistricting commission is incompatible with the U.S. Constitution)
Williams-Yulee v. The Florida Bar, Dec. 24, 2014 (on whether certain state regulations of judicial candidate fundraising violate the U.S. Constitution)
Alabama Legislative Black Caucus v. Alabama, Nov. 20, 2014 (on whether Alabama's legislative map is racially discriminatory)
Sebelius v. Hobby Lobby Stores, Inc., Jan. 28, 2014 (on whether a corporation owned by a religious shareholder is entitled to a religious exemption from certain provisions of the Affordable Care Act)
National Labor Relations Board v. Canning, Sept. 20, 2013 (on whether President Obama's recess appointments to the National Labor Relations Board are constitutional)
Shelby County v. Holder, Feb. 1, 2013 (on whether a core provision of the federal Voting Rights Act is unconstitutional)
Arizona v. Intertribal Council of Arizona, Jan. 22, 2013 (on whether the U.S. Election Assistance Commission can override state rules regarding the federal voter registration form)
Northwest Austin Municipal Utility District No. 1 v. Holder, Mar. 25, 2009 (on whether a core provision of the federal Voting Rights Act is unconstitutional)
Crawford v. Marion County Election Board, Nov. 13, 2007 (on whether Indiana's voter ID law violates the U.S. Constitution)
Sole v. Wyner, Apr. 3, 2007 (on whether attorneys' fees should be available to plaintiffs who win preliminary injunctions)
Lawrence v. Texas, Jan. 16, 2003 (on whether Texas's sodomy law violates the U.S. Constitution)
Nevada Department of Human Resources v. Hibbs, Oct. 25, 2002 (on whether Congress has the power to enact the Family and Medical Leave Act)
Testimony Before House Committee on Administration in Support of the For the People Act, Testimony before House Committee, Feb. 13, 2019
Working Together to Restore Protections of the Voting Rights Act, Testimony before the U.S. Senate Judiciary Committee, July 17, 2013
Testimony before the U.S. House Judiciary Committee, Subcommittee on the Constitution, April 18, 2012
Testimony before the U.S. House Committee on House Administration, Subcommittee on Elections, October 21, 2009 (with Nicole Austin-Hillary)
Testimony before the U.S. House Appropriations Committee, Subcommittee on Financial Services and General Government on the EAC, February 27, 2008
Testimony before the Senate Special Subcommittee on Aging, January 31, 2008
Informed citizens are democracy's best defense