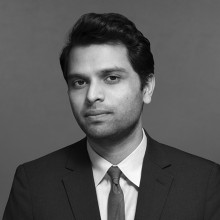 Harsha Panduranga
Harsha Panduranga was a counsel in the Brennan Center's Liberty & National Security Program. He advocated for public safety policies that serve those they are meant to protect and are rooted in proof, not prejudice.
Harsha has authored or coauthored four Brennan Center reports: Community Investment, Not Criminalization (2021); Government Access to Mobile Phone Data for Contact Tracing (2020); Extreme Vetting & the Muslim Ban (2017); and Trump-Russia Investigations: A Guide (2017). He has served as legal counsel in cases challenging the Muslim ban and the federal government's dragnet monitoring of social media. His work and commentary has been featured in media outlets including The Atlantic, Politico, Los Angeles Times, The Guardian, NPR, Slate, BuzzFeed, and The Daily Beast.
Prior to joining the Brennan Center, Harsha was a litigation associate at Simpson Thacher & Bartlett LLP. He received his BA and JD from the University of Michigan.
Informed citizens are democracy's best defense