As we barrel toward 2020 and a moment­ous pres­id­en­tial elec­tion, the need to replace anti­quated voting equip­ment has become increas­ingly urgent. This is true for at least two reas­ons. First, older systems are more likely to fail and are increas­ingly diffi­cult to main­tain. In the 2018 midterm elec­tion, old and malfunc­tion­ing voting machines across the coun­try led to long lines at the polls, leav­ing voters frus­trated – ­and, in some cases, caus­ing them to leave before cast­ing a ballot.[1]
Second, older systems are less likely to have the kind of secur­ity features we expect of voting machines today. Chris Krebs, head of cyber­se­cur­ity at the Depart­ment of Home­land Secur­ity has warned that the 2020 elec­tion is "the big game" for adversar­ies look­ing to attack Amer­ican demo­cracy. [2] Mean­while, the National Academy of Sciences (NAS) recently noted that machines that do not produce a prin­tout of a voter's selec­tions that can be veri­fied by the voter and used in audits – should be "removed from service as soon as possible," to ensure the secur­ity and integ­rity of Amer­ican elec­tions. [3]
This report is an update to earlier analyses conduc­ted by the Bren­nan Center in Septem­ber 2015 and March 2018, which examined the state of voting machines and elec­tion secur­ity in the United States.[4] Since our last update, Congress provided $380 million in Help Amer­ica Vote Act (HAVA) funds to help states to bolster their elec­tion secur­ity. For the most part, states have used this money for crit­ical secur­ity meas­ures. For instance, the Elec­tion Assist­ance Commis­sion (EAC) has repor­ted that states will use $136 million of this fund­ing to strengthen elec­tion cyber­se­cur­ity, $103 million to purchase new voting equip­ment, and $21 million to improve post-elec­tion audits.[5] But this only scratches the surface of invest­ments that are needed in the coming years. As we noted when the grants were issued, the way the money was distrib­uted means it was insuf­fi­cient to replace the vast major­ity of the most vulner­able machines before the 2020 elec­tion.[6]
Below we detail data – culled from a recent Bren­nan Center survey of elec­tion offi­cials, plus the Bren­nan Center's own research and monit­or­ing of the current state of elec­tion tech­no­logy and secur­ity prac­tices – to provide a snap­shot of the current state of voting tech­no­logy in the United States, as well as to detail crit­ical steps that should be taken to increase the secur­ity and reli­ab­il­ity of Amer­ican elec­tions ahead of 2020.
Voting Machines Aging Out of Use
This winter Bren­nan Center surveyed elec­tion offi­cials around the coun­try on their need to replace their voting machines. Local elec­tion offi­cials in 254 juris­dic­tions across 37 states told us they plan to purchase new voting equip­ment in the near future.[7] For some, the need to make these replace­ments was extremely urgent: 121 offi­cials in 31 states told us they must replace their equip­ment before the 2020 elec­tion.[8] Two-thirds of these offi­cials repor­ted that they do not have the adequate funds to do so, even after the distri­bu­tion of addi­tional HAVA funds from Congress.
The need to replace this equip­ment is largely related to the fact that voting machines across the coun­try are "aging out," as more than one elec­tion offi­cial told us.[9] For instance, 45 states are currently using voting equip­ment that is no longer manu­fac­tured (in the case of New York and Rhode Island, this only applies to access­ible ballot mark­ing devices that are not used to count votes).[10] Juris­dic­tions that use machines that are no longer produced face chal­lenges when trying to main­tain them, includ­ing diffi­culty find­ing replace­ment parts. In an inter­view with the Bren­nan Center, Rokey Sule­man, former elec­tions director for Rich­land County, South Caro­lina, expressed feel­ing "lucky to be able get spare parts" for the machines in his county, which had been discon­tin­ued, but noted that it's "not going to keep being that way in the near future." [11]
And even when elec­tion offi­cials can get spare parts, for those with paper­less equip­ment, it might not make sense to keep pour­ing money into an anti­quated system. "For years, my voters have been asking for a system that provides a paper trail. I don't want to spend money on some­thing that isn't in line with where we want go as a county," said Dana Debeau­voir, county clerk for Travis County, Texas. [12]
Many of these machines are reach­ing the end of their lifespan. Elec­tion offi­cials in 40 states told us they are using machines that are at least a decade old this year.[13] The lifespan of elec­tronic voting machines can vary, but experts agree that systems over a decade old are more likely to need to be replaced for secur­ity and reli­ab­il­ity reas­ons. Sule­man compared main­tain­ing old voting equip­ment to main­tain­ing an old car. "When a car starts aging, you need to change the radi­ator fluid, the battery, the fan belt. We are driv­ing the same car in 2019 that we were driv­ing in 2004, and the main­ten­ance costs are mount­ing up."[14] He also noted that South Caro­lin­a's systems run on soft­ware that was developed decades ago, includ­ing Windows XP. Too often, vendors no longer write secur­ity patches for such soft­ware, leav­ing machines more vulner­able to cyber­at­tacks. [15]
Finally, a dispro­por­tion­ate number of these old systems have no voter veri­fied paper backup, some­thing that NAS, the intel­li­gence commit­tees in both the U.S. Senate and House of Repres­ent­at­ives, as well as secur­ity experts around the coun­try, have argued is an unne­ces­sary secur­ity risk.[16] In 2019, 12 states still use paper­less elec­tronic machines as the primary polling place equip­ment in at least some counties and towns (Delaware, Geor­gia, Indi­ana, Kansas, Kentucky, Louisi­ana, Missis­sippi, New Jersey, Pennsylvania, South Caro­lina, Tennessee and Texas). Four (Delaware, Geor­gia, Louisi­ana, and South Caro­lina) continue to use such systems statewide.[17]
Prior­it­iz­ing Paper Ballots (With Some Excep­tions)
Almost every elec­tion offi­cial who respon­ded that they planned on repla­cing voting equip­ment soon stated that their hope was to find new machines that produce voter-veri­fied paper backups that could be used in a recount or audit (this includes juris­dic­tions in 9 of the 12 states using paper­less voting equip­ment; elec­tion offi­cials in the three remain­ing states, Indi­ana, Louisi­ana and New Jersey, did not respond to our survey). Of these 254 local juris­dic­tions, roughly half (139 juris­dic­tions) plan on purchas­ing optical scan machines with access­ible ballot-mark­ing devices, 13 percent (33 juris­dic­tions) plan on purchas­ing DREs (direct-record­ing elec­tronic voting machines) with a paper trail, and 6 percent (15 juris­dic­tions) plan on purchas­ing ballot-mark­ing devices only. The rest did not specify what equip­ment they are plan­ning on purchas­ing or are currently unde­cided.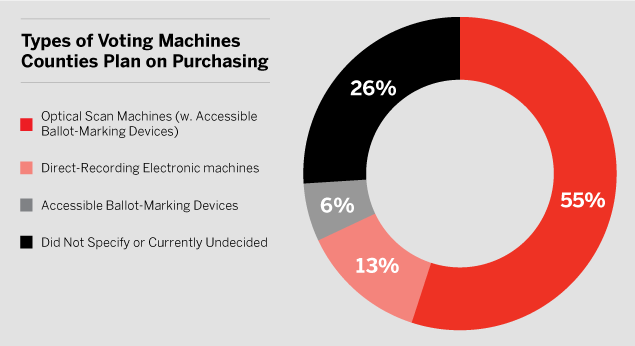 While only one local elec­tion offi­cial (from Texas) respon­ded that he hoped to replace his current paper­less system with another paper­less system, it is clear he is not entirely alone. Despite the recent atten­tion to elec­tion secur­ity, and repeated warn­ings by secur­ity experts that voting machines should have a voter-veri­fied paper backup, several counties in Texas have purchased machines without a paper trail since 2016.[18]
Sule­man expressed dismay at the idea of continu­ing to purchase paper­less equip­ment. "Why? Why? Espe­cially with heightened sense of para­noia about outside influ­ence into our elec­tion systems. We need to have a way to inde­pend­ently valid­ate voters' intent away from tabu­la­tion equip­ment. I don't under­stand how any elec­tion offi­cial could really consider a totally paper­less system in this day and age."[19] Shantiel Soeder, elec­tion and compli­ance admin­is­trator at Ohio's Cuyahoga County Board of Elec­tions, shared Sule­man's senti­ment. "At the end of the day, we have that ballot that we can always go back to. We still find it import­ant to print out receipts for other trans­ac­tions in our lives. To have abso­lutely no paper, it's almost irre­spons­ible. These are people's votes!"[20]
Six of the 12 states (Delaware, Geor­gia, Louisi­ana, New Jersey, South Caro­lina, and Pennsylvania) that still use paper­less elec­tronic machines as the primary polling place equip­ment in at least some juris­dic­tions have either passed laws or taken other actions to replace those systems with machines that produce a paper backup. Of those, Delaware appears to have secured enough funds to replace its systems this year.[21] New Jersey and Pennsylvania have yet to secure suffi­cient fund­ing for such purchases.[22] In Geor­gia and South Caro­lina, state elec­tion offi­cials have reques­ted funds to do so, and those requests are currently being considered by the state legis­latures.[23] Louisi­ana appears to have secured suffi­cient funds to replace equip­ment, but its purchase of new machines is stalled due to a contro­versy over how the state conduc­ted its bidding process.[24]
Of the remain­ing six states (Indi­ana, Kansas, Kentucky, Missis­sippi, Tennessee, and Texas), Kentucky Secret­ary of State Alison Lunder­gan Grimes and the state board of elec­tions have called for replace­ment of all paper­less systems, but do not yet have suffi­cient funds to do so.[25] Kansas recently prohib­ited counties from purchas­ing new DREs that do not produce a paper record and imple­men­ted a post-elec­tion manual audit require­ment this year, but has not yet forced counties continu­ing to use paper­less machines to replace them.[26] Indi­ana, Missis­sippi, Tennessee, and Texas do not appear to be taking steps to replace their paper­less equip­ment before 2020, with Indi­ana's Secret­ary of State Connie Lawson stat­ing that the federal money provided last year was insuf­fi­cient to replace the state's machines.[27]
Progress on Post-Elec­tion Audits
Cyber­se­cur­ity experts agree that routine and robust post-elec­tion audits of voter-veri­fied paper records are neces­sary to ensure that the paper records provide real value. Currently, 22 states and the District of Columbia conduct post-elec­tion audits before certi­fy­ing their elec­tion results.[28] The Bren­nan Center, along with many other elec­tion integ­rity groups and secur­ity experts, has urged the more wide­spread adop­tion of risk-limit­ing audits (RLAs), considered the "gold stand­ard" of post-elec­tion audits.
RLAs employ stat­ist­ical models to provide a high level of confid­ence that a soft­ware hack or bug did not produce the wrong outcome. Effect­ive RLAs can go a long way toward identi­fy­ing any poten­tial inac­cur­acy in elec­tion results, whether acci­dental or purpose­ful.[29]
As of Febru­ary 2019, only two states require RLAs: Color­ado and Rhode Island. Two addi­tional ones, Ohio and Wash­ing­ton, allow elec­tion offi­cials to select them from a list of audit types that meet the state's post-elec­tion audit require­ment.[30] A bill to require RLAs is pending in New York, while Geor­gia, Indi­ana, South Caro­lina, and New Jersey are all consid­er­ing bills that would expressly author­ize either pilots or imme­di­ate imple­ment­a­tion of RLAs.[31] Several more juris­dic­tions have recently piloted these post-elec­tion audits, and even more intend do so in 2019. This includes elec­tion juris­dic­tions in Michigan, Rhode Island, Virginia, Indi­ana, and Cali­for­nia.[32] Both Rhode Island and New Jersey used the 2018 Congres­sional HAVA grants to pilot RLAs in the last few months.[33]
Addi­tional Elec­tion Secur­ity Prior­it­ies
In addi­tion to repla­cing voting machines, elec­tion offi­cials expressed the need for addi­tional fund­ing for other secur­ity related meas­ures. A top fund­ing prior­ity for elec­tion offi­cials was the hiring of more IT support staff, partic­u­larly at the local level. County elec­tion offi­cials are liter­ally on the front-lines defend­ing our elec­tion equip­ment, yet they are frequently the least well-resourced offices. Richards Rydecki, assist­ant admin­is­trator for the Wiscon­sin Elec­tions Commis­sion, told us that one of chal­lenges Wiscon­sin faces with being so decent­ral­ized is the vary­ing levels of county and muni­cipal resources. "Some of our counties might have only one county clerk and one more person work­ing on elec­tions. And most have very limited IT support. We would like to explore a program to provide contrac­ted IT support on a regional basis."[34]
Dana Debeau­voir was one of several offi­cials who noted that addi­tional funds should be used by juris­dic­tions around the coun­try to purchase Albert sensors, a network monitor that alerts elec­tion offi­cials when unusual activ­ity is going on that may be putting their data at risk.[35] As Debeau­voir puts it, it's a matter of learn­ing how to prac­tice "good computer hygiene."
Other items that elec­tion offi­cials mentioned include provid­ing more train­ing for their staff (cyber­se­cur­ity, procure­ment, etc.), strength­en­ing the phys­ical secur­ity of their stor­age loca­tions and polling places (secur­ity cameras, better invent­ory manage­ment, etc.) and putting in place robust post-elec­tion audits.[36]
The authors thank the U.S. Vote Found­a­tion for provid­ing crit­ical support for our survey of elec­tion offi­cials, as well as the elec­tion offi­cials who respon­ded to the survey and agreed to be inter­viewed for this analysis, and our Bren­nan Center colleagues, Jeanne Park and Lorraine Cade­martori, for their care­ful review and edits. Any errors should be attrib­uted to the authors.