Proteja las Elecciones del 2020
El coronavirus está planteando desafíos sin precedentes a un sistema electoral que ya acalla las voces de los más marginados de nuestro país. Pero con una votación generalizada por correo, lugares de votación seguros e higiénicos y un público informado, podemos proteger las elecciones. Nuestra democracia está en juego, pero el Brennan Center tiene soluciones.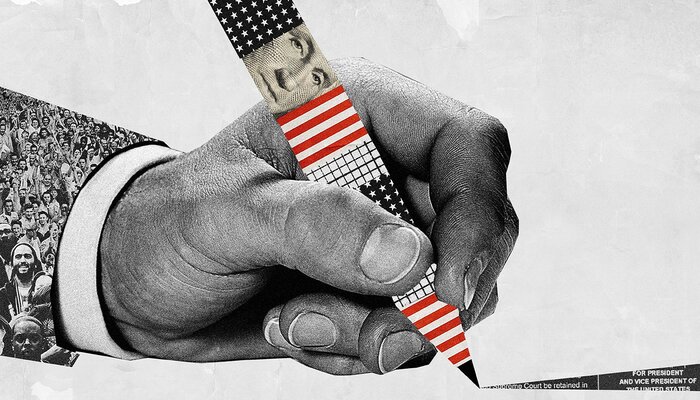 En el 2020 los latinos harán historia. Por primera vez, serán el grupo étnico no blanco más grande de la nación entre los votantes con el 13 por ciento, o hasta 32 millones de votantes elegibles. El voto latino podría ser decisivo en las contiendas reñidas de los estados de Arizona, Florida y Texas, al igual que  en California y Nueva York.
Desafortunadamente, la comunidad latina también ha sido uno de los grupos más afectados por la crisis de Covid-19 y sus repercusiones económicas. Pero ningún votante tiene que elegir entre su seguridad y su derecho fundamental al voto en noviembre. Y con una correcta planeación y buenas prácticas, no tendrán por qué hacerlo.
Las elecciones serán muy divisorias. En esta página, el Brennan Center ofrece datos sobre qué esperar la noche de las elecciones, ya que va a haber muchos votos emitidos por correo y puede llevarles a las autoridades días o semanas dar resultados completos. Es más importante que cuenten los votos bien a que lo hagan rápido.
También tocamos el tema de la intimidación, los malentendidos y los argumentos falsos con los que, creemos, los votantes tendrán que enfrentarse de cara a las elecciones de 2020, y qué es cierto o falso. Y recalcamos las precauciones a tomar para votar durante la pandemia para ejercer nuestro derecho fundamental al voto.
Las autoridades que elegiremos tomarán decisiones vitales que afectarán nuestra salud, seguridad y bienestar. Nuestros procesos democráticos son este año más importantes que nunca.
CONTACTO:

Mireya Navarro
Asuntos de Prensa
mireya.navarro@nyu.edu
646-925-8760
Nuestros Expertos
Raúl Macías
Abogado, Democracia
Raúl Macías se desempeña como abogado en el Programa sobre Democracia del Brennan Center for Justice, donde se especializa en derechos electorales y elecciones. Antes de formar parte del Brennan Center, Macías trabajó como abogado especializado en derechos electorales en la Unión Americana de Libertades Civiles (ACLU) de California. Y previamente ocupó puestos en California Advocates for Nursing Home Reform, una organización que lucha por la reforma de los hogares para la tercera edad, en Legal Services of Northern California, una organización de asistencia legal, y en California Budget and Policy Center, un centro de análisis de políticas públicas. Macías se graduó como abogado de la Facultad de Derecho de la Universidad de San Diego y tiene un título universitario en ciencias políticas de la Universidad de California, Los Ángeles.
Stay up to date
Informed citizens are our democracy's best defense