Polls show next week's special election for a Georgia House seat is locked in a dead heat. The contest, seen by many as a referendum on President Trump and a bellwether for the 2018 midterms, is the most expensive House race in history, with more than $25 million spent by the two major-party nominees. By way of comparison, the average winning House candidate spends less than $2 million.
Commentators have noted the importance of small donors in the race — indeed, the candidates have together reported raising almost $17 million in contributions of less than $200. This comes on the heels of major small-donor fundraising in the recent special election for Montana's House seat, as well as impressive hauls from small contributions in last year's presidential race by Trump and Sen. Bernie Sanders.
Are we seeing a resurgence of small donors? Are average Americans, newly engaged in politics, joining together to take ownership of elections back from the megadonors and super PACs?
We won't know the answer until the dust settles on the 2018 cycle, but the early signs seem to urge caution. For one thing, big money and secret spending have been active in this year's elections as well. In both Georgia and Montana, national parties and allied outside groups spent millions. The biggest outside spender, a super PAC called Congressional Leadership Fund with ties to House Speaker Paul Ryan, pumped $6 million into the Georgia race and $2.3 million into Montana. The group is funded by five- and six-figure donations from wealthy individuals, corporations, and "dark money" organizations that don't reveal their donors.
Furthermore, the historical trend is clear: the portion of campaign spending in midterms coming from small contributions has been steadily decreasing for decades, while the share given by big donors has more than doubled in the last 20 years.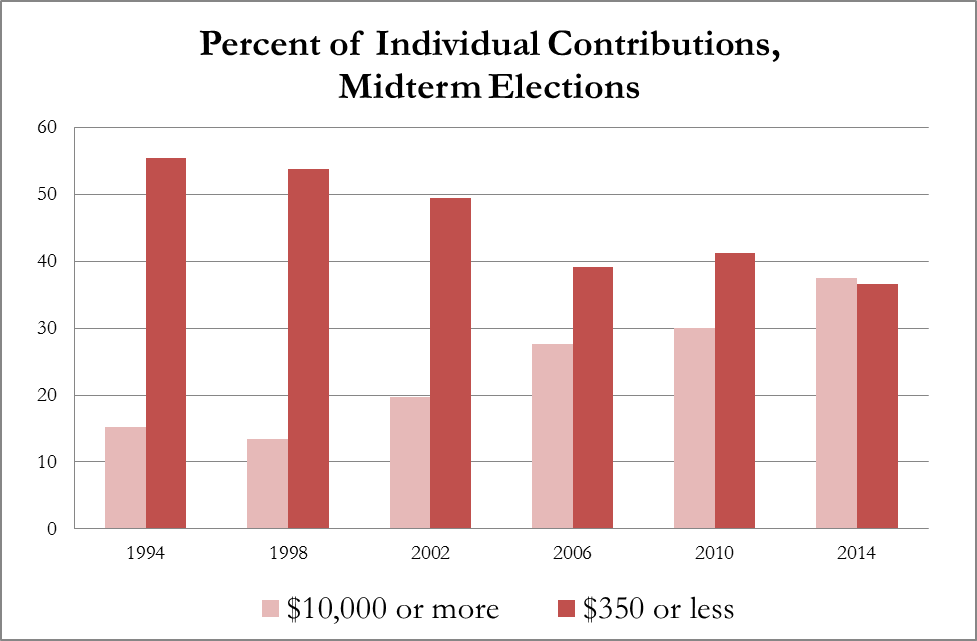 In 1994, donors of $350 or less gave three-and-a-half times more than $10,000-plus donors. By 2014, big donors had overtaken the small ones. These long-term trends are driven by many factors, but the way we regulate campaign finance is clearly a significant cause. Over the years, legal changes, including court decisions like Citizens United, have made it easier to make large donations, and wealthy interests have taken advantage of the rules.
It remains to be seen whether the 2018 midterms buck the trend of big money dominating politics. Even if they do, there's the question of whether small donors will remain engaged enough in future elections to create a new normal in which regular people pool their resources to compete with super PACs and megadonors. But we shouldn't just wait and see what happens. We can work today for reforms that empower regular people to sustain the meaningful influence they deserve in a democracy that works for everyone.
(Photo: Thinkstock.)