While the fight isn't over quite yet, Pennsylvania voters' efforts to get a fairer congressional map took a big step forward on Monday with a decision by the U.S. Supreme Court not to block the redrawing of the map ordered by state courts.
The decision means that Pennsylvania's highly biased 2011 congressional map, which locks in a durable 13–5 advantage for Republicans, should now be on track to be redrawn in time for the 2018 election.
Here's what you need to know about the landmark Pennsylvania ruling.
How bad was the Pennsylvania map?
Pennsylvania's 2011 congressional map easily ranks as one three worst maps of the decade in terms of the degree to which it favored one party over the other, giving Republicans on average between 3–4 extra seats in Congress. Only North Carolina comes close to Pennsylvania in terms of the levels of bias in its congressional maps.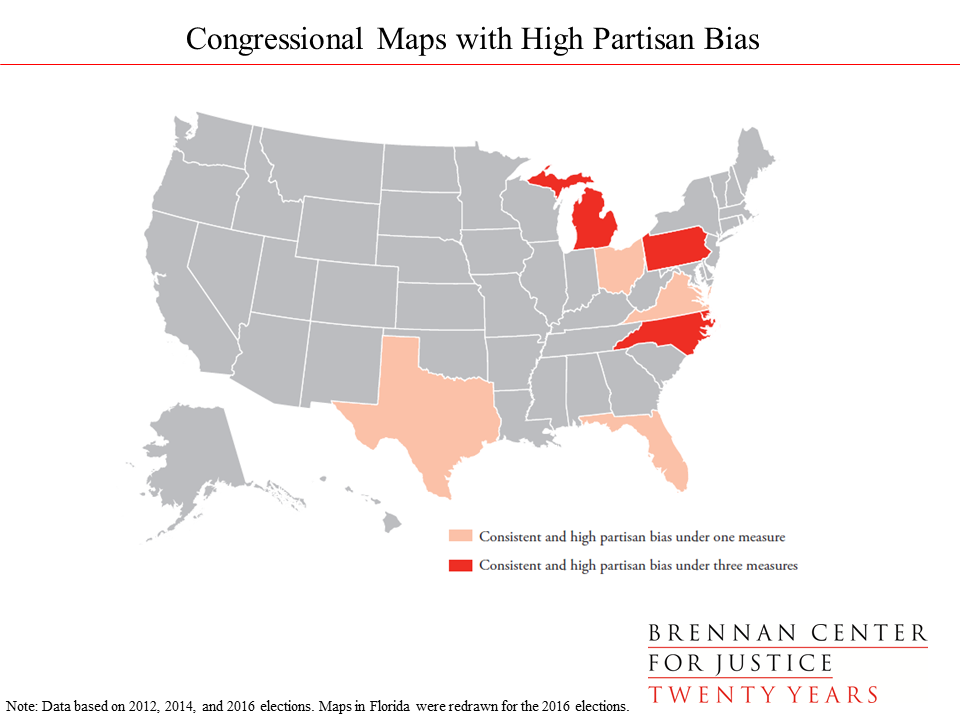 Worse, the map's bias is highly immune to electoral swings. Even in very strongly Democratic cycles like 2012, Republicans have safely won 13 out of 18 Pennsylvania congressional seats. In fact, not a single congressional seat in Pennsylvania has changed hands between parties all decade. A tsunami wave election 2018 might allow Democrats to eke out an extra seat or two. Anything short of that kind of extraordinary wave, however, would be too little to affect what is one of the most durable gerrymanders in recent history.
This lack of electoral responsiveness in the 2011 map stands in sharp contrast to last decade's map which saw significant swings between parties throughout the course of the decade.
What happens now?
When the Pennsylvania Supreme Court ruled that the map was unconstitutional under the state constitution, it gave lawmakers until February 9 to adopt and submit a new plan to Governor Tom Wolf, a Democrat.
If the legislature and governor are unable to agree on a plan by February 15, the court has said that it will draw its own map and has appointed Stanford Law Professor Nate Persily as an advisor to help it in the task.
The fight may not be over, however.
Shortly after the U.S. Supreme Court denied a stay, Republican legislative leaders said in a written statement that they yet might pursue additional legal action in federal court, although they did not specify what that action might be. Meanwhile, in state court, GOP legislative leaders are simultaneously trying to disqualify two of the justices who heard the case. And one Pennsylvania lawmaker has announced that he is seeking support for an effort to impeach the Pennsylvania Supreme Court justices who voted to strike down the law.
But some hope the Pennsylvania decision also could open the door for reforms to change how redistricting in Pennsylvania is done in the future. A bill to give redistricting power to an independent commission starting in 2021 already has 104 co-sponsors, including 34 Republicans. So far, legislative leaders have prevented the bill from even getting a hearing. But that could yet change depending on how current redistricting fights play out.
What impact will the Pennsylvania decision have elsewhere in the country?
While the Pennsylvania case was decided under state law, the ruling could nonetheless have a big impact elsewhere in the country by providing a model for how other state constitutions could be used to successfully combat partisan gerrymandering.
It could, in fact, be a harbinger of a second front in the fight against partisan gerrymandering that isn't dependent on what the U.S. Supreme Court does in two, closely watched cases this term. While most challenges to partisan gerrymandering have been brought thus far in federal court, the Pennsylvania decision could change that.
(Photo: AP)