The Republican primary in Idaho's 2nd District has been identified in the press as one of the key races showcasing the divide between establishment Republicans and Tea Party conservatives. It has also seen high levels of early independent spending for a House primary. And it is a notable example of the increasing problem of inadequate transparency, which leaves voters in the dark about who is funding a campaign, and what those donors hope to get if their chosen candidate wins.
The incumbent is eight-term Representative Mike Simpson, a member of the powerful Appropriations Committee and a close friend of House Speaker John Boehner. The challenger, attorney Bryan Smith, was recruited by the anti-tax group Club for Growth and has campaigned on his opposition to tax increases, government spending, and the national debt.
The contest has seen high levels of early independent spending for a House primary, as the Brennan Center's recent analysis noted. Total outside spending hit $2.35 million by May 2. More than half of that was spent since the beginning of April, as the race heats up ahead of the May 20 primary. This kind of heavy outside spending raises important questions about attempts to buy access, particularly when that money supports a high-ranking incumbent like Simpson with the heft in Congress to drive policy. Here the challenger is also strongly supported by outside groups.
In both cases, the money's source is important information for voters seeking to evaluate whether to trust the ads they see. Unfortunately, a low level of disclosure makes that difficult: 60 percent of the outside money in ID-02 so far came from groups that either do not disclose or only partially disclose their donors, according to the Center for Responsive Politics. More than one-quarter came from dark money groups that use nonprofit status to disguise all donors, and another 34 percent from super PACs that disguise at least some of the sources of their money by accepting donations from dark money groups.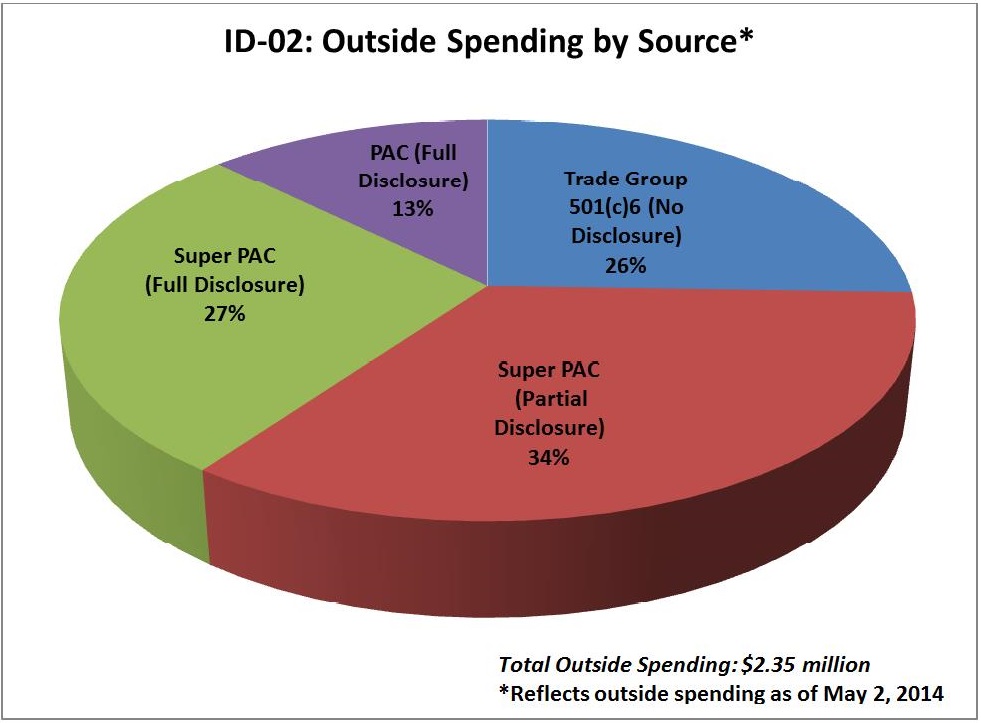 Bryan Smith has benefited from spending by conservative groups known for attacking incumbents. In addition to Club for Growth, FreedomWorks for America and the Senate Conservatives Fund have supported his campaign. FreedomWorks for America only partially discloses its donors, since it receives the greater part of its funds from its affiliated dark money nonprofit. Club for Growth has also accepted money from its dark money affiliate in the past, although it is a relatively small portion of the super PAC's revenue.
Mike Simpson has attracted independent spending from PACs or super PACs associated with the American Hospital Association, the National Association of Realtors, and the National Rifle Association. A former dentist, Simpson has seen strong support from the American Dental Association. The ADA's super PAC spent more than $178,000 on outside expenditures in his favor, and individuals associated with the ADA are Simpson's largest source of contributions, according to the Sunlight Foundation.
The U.S. Chamber of Commerce, a 501(c)(6) trade group, has also spent $600,000 in support of Simpson or in opposition to Smith. The Chamber does not disclose its donors, although some are revealed by tax records or voluntary disclosure by member firms.
The flurry of business group spending has given Simpson an almost three-to-one advantage in outside spending. As in other contests this year, independent expenditures have been key — they made up approximately half of total spending for both sides in the first quarter.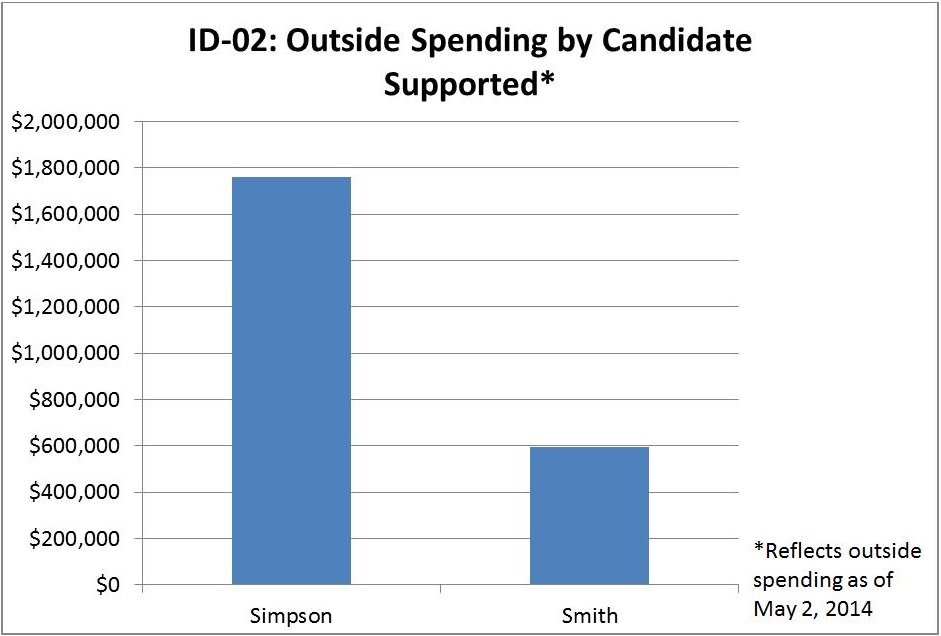 The primary also attracted attention from another dark money group, the American Chemistry Council (ACC), a nonprofit trade organization whose spending was not required to be reported to the FEC and so does not appear in the spending totals reported here. The ACC does not report its donors. It ran a campaign-style ad praising Simpson last August, a few weeks after the Club for Growth announced its support for Smith. Because the ad does not explicitly call on viewers to vote for Simpson, but merely to call him and tell him to "keep fighting for jobs, freedom, and Idaho's future," it was not reported as an election expenditure. The ACC's affiliated PAC has also contributed to Simpson's campaign.
The ID-02 contest illustrates a number of the ways donors can secretly spend large amounts to influence an election. As the amount of dark money in our elections continues to increase, we must continue to question what the effects are on voters' ability to evaluate the messages they see and make informed decisions on Election Day — not to mention on their confidence that the campaign finance system serves the entire public rather than the few who spend the most.
(Photo: Jimmy Emerson, DVM)