The fight over the redrawing of Pennsylvania's gerrymandered congressional map – one of the worst of the decade – has already seen some wild twists and turns, including a "Hail Mary" emergency appeal, asking the U.S. Supreme Court to block the ruling of the Pennsylvania Supreme Court striking the map down.
But the stakes in gerrymandering are high, and a surprise filing Monday afternoon shows just how far partisan interests can be willing to go to avoid having to give up ill-gotten gains.
After the Pennsylvania Supreme Court struck down the state's congressional map, Pennsylvania election officials said in court filings that implementing a new congressional map for the 2018 election would not be a problem as long as the new map were in place more or less on the schedule adopted by the Pennsylvania Supreme Court. In a normal world, that would be the end of the inquiry. The unconstitutional map used in three out of the five elections of the decade should be thrown out and expeditiously replaced with a fair one.
But Republican secretaries of state from Alabama, Arizona, Arkansas, Kansas, Missouri, and South Carolina told the U.S. Supreme Court, however, that Pennsylvania election officials were wrong. Not only was a new Pennsylvania congressional map not needed for 2018 – it wasn't needed for 2020 either. In fact, it would be fine to wait for the next round of redistricting and have new maps in place in time for the 2022 elections. (Yes, 2022.)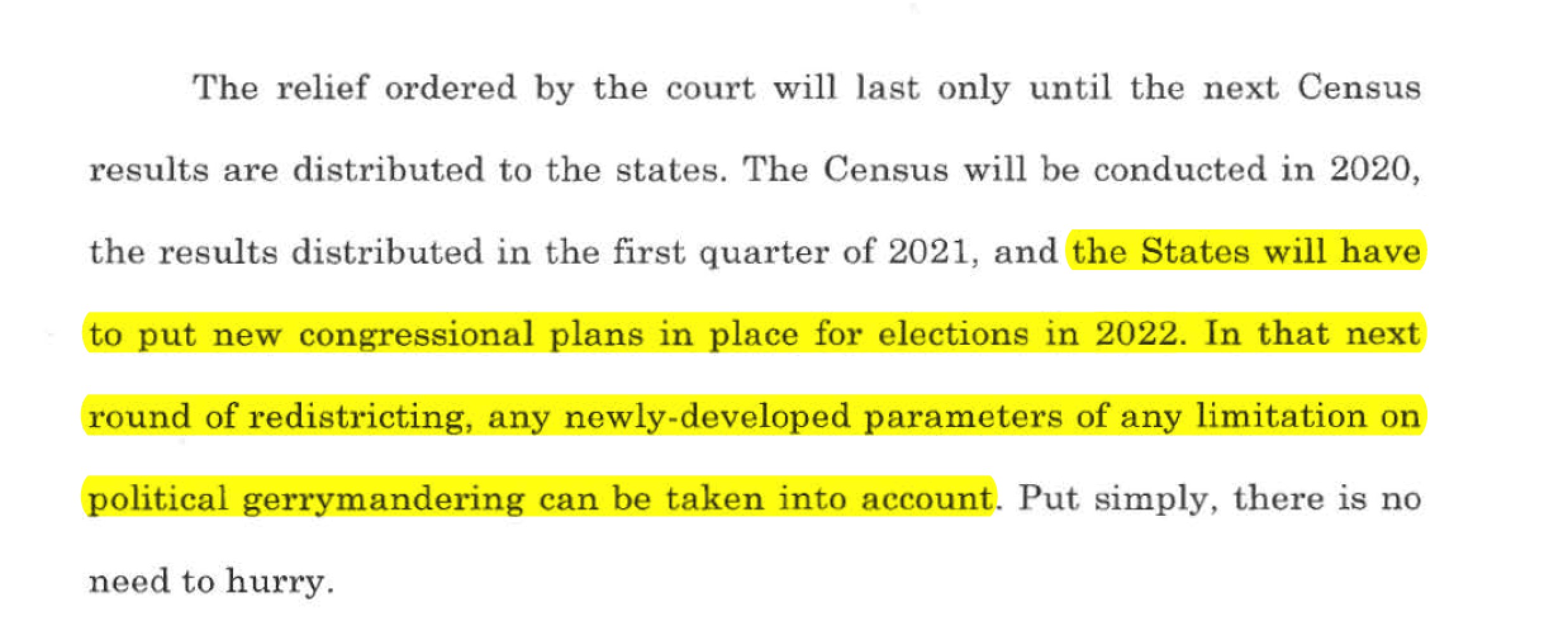 Now, it is unusual enough for secretaries of state from other states – none of which have pending redistricting litigation – to intervene in the electoral affairs of another state. But the filing Republican secretaries of state had yet another surprise buried in a footnote that shows the brief was partially paid for by the National Republican Redistricting Trust, a dark-money vehicle created in 2017 to coordinate Republican redistricting efforts.

But, of course, secretaries of state who administer American elections aren't supposed to function as political operatives who do the wholesale bidding of political bosses.* And they aren't supposed to have their work funded by political parties. Secretaries of state are supposed to work for the people of their states and to oversee elections in a fair and even-handed way.
Alas, when it comes to gerrymandering wars, all bets are off.
*The South Carolina Secretary of State doesn't even administer elections. That's the job of the South Carolina Election Commission. The South Carolina Secretary of State's job involves dealing with business filings, trademarks, public charities, notaries, and cable franchise permits.