15 States Have New Restrictions in Place for the First Time in a Federal Election in 2014
Contact: Erik Opsal, erik.opsal@nyu.edu, 646–292–8356
New voting restrictions developed since 2010 are slated to be in place in 22 states this November. In 15 of these states, 2014 will be the first federal election with new restrictions in effect, according to a report released today by the Brennan Center for Justice at NYU School of Law.
Unless the laws are blocked by the courts — and there are court challenges to measures in six of those states — eligible voters in nearly half the country could find it harder to cast a ballot in the 2014 midterm elections. The new laws range from photo ID requirements to early voting cutbacks to voter registration restrictions — all of which could have an impact on voter turnout and contribute to confusion at the polls in November.
States With New Voting Restrictions Since 2010 Election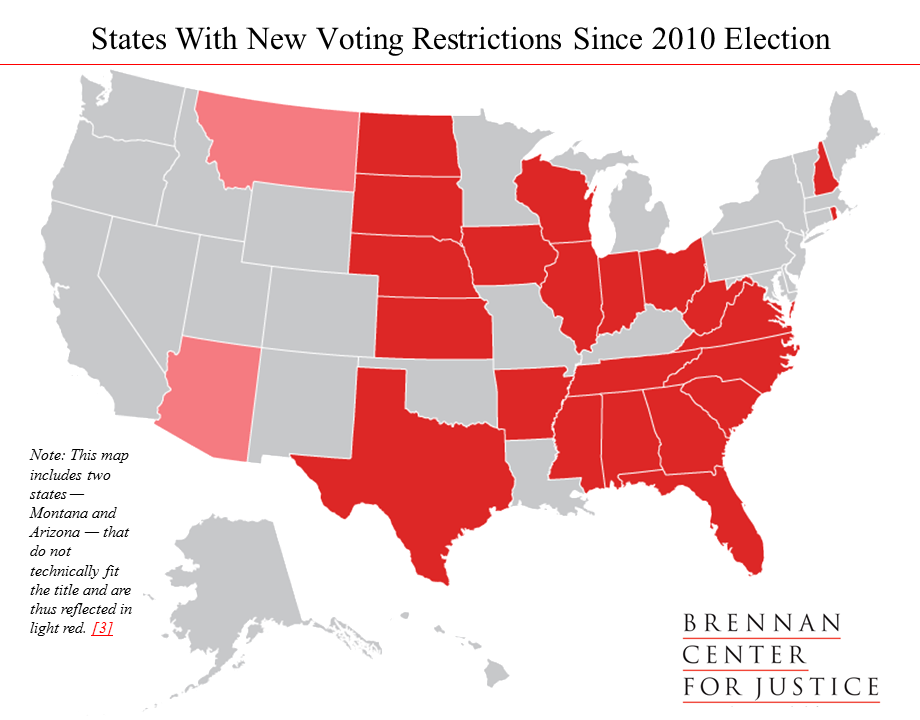 "We are still in the midst of a high-pitched and often highly partisan battle over voting rights in America," said Wendy Weiser, report co-author and Director of the Brennan Center for Justice's Democracy Program. "Many Americans face an ever-shifting voting landscape before heading to the polls this November."
"Our nation was founded on the principle that we are all created equal, yet we are about to face a situation where voters in nearly half the country may be worse off at the polls this November than they were four years ago," said Myrna Pérez, Democracy Program Deputy Director. "We should be building on the positive momentum in states that are expanding voting, not rolling back the rights of eligible voters."
The report identifies new state voting laws that could significantly impact the 2014 elections, how these measures affect voters, and ongoing developments in the courts that could create last-minute changes before this year's elections.
The report also details:
The seven states facing ongoing suits challenging election laws that could continue to change the voting landscape, including in Arizona, Arkansas, Kansas, North Carolina, Ohio, Texas, and Wisconsin.
How restrictive voting laws disproportionately affect voters of color. Measures that impose voter ID requirements, cut early voting, and restrict voter registration have an outsized effect on minorities, making it more difficult for eligible voters of color to cast a ballot.
How partisanship was a key factor in pushing restrictive voting laws in the states. Of the 22 states with new restrictions, 18 passed through GOP-controlled legislatures.
Laws to expand voting, which passed in 16 states, 11 of which will have the new policies in place for November.
See all of the Brennan Center's research on the State of Voting in 2014, including:
For more information or to speak with the report's authors, please contact Erik Opsal at 646–292–8356 or erik.opsal@nyu.edu.