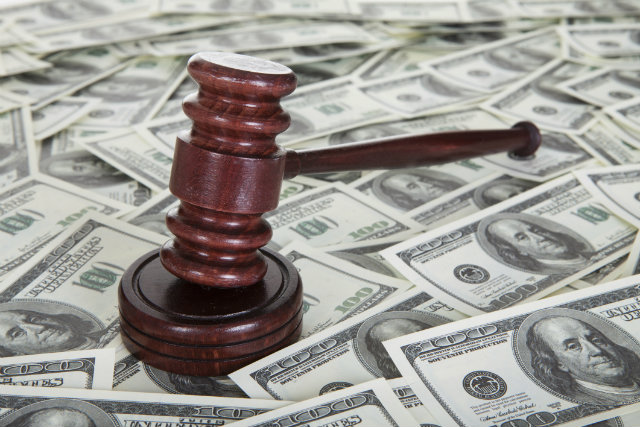 When I spoke about judicial elections earlier this month with Wallace Jefferson, the newly-retired Chief Justice of the Supreme Court of Texas, he exuded an almost wistful air. He wishes things were different, he told me, but they are what they are: In the name of holding judges "accountable" to the public, Texas sustains a system of judicial selection that fosters blatant perceptions of partiality and partisanship. Judges aren't "accountable" to the people—who have neither the time nor the inclination to study a particular judicial candidate's record—so much as they are beholden to big campaign donors and political parties. It is no way to run a justice system.
We didn't speak precisely about the role that the infamous Citizens United case has had on judicial elections in Texas but we really didn't need to. When the conservative justices of the United States Supreme Court opened the floodgates in 2010 for corporate and union money to flow into campaigns they did not exclude from the surge judicial elections. And so judicial elections today, in Texas and many other states, are far more politicized than they were even a few years ago. A bad problem is getting worse—and if you don't believe me, ask one of Jefferson's former colleagues, Don Willett, who remains a justice on that High Court in Texas. He's wistful, too.
Today, the Brennan Center for Justice and Justice for Stake release the results of a timely that helps crystallize the enormity of the problem. Here are some of its findings:
35 percent of all funds spent on state high court races, or $19.6 million, came from just 10 deep-pocketed special interest groups and political parties, compared to $12.3 million, or 21 percent, coming from the top 10 "super spenders" in 2007–08.
Business and conservative groups accounted for 7 of the top 10 spenders in 2011–12.
$33.7 million was spent on state Supreme Court campaign TV ads, far exceeding the previous record of $26.6 million in 2007–08. Negative TV ads aired in at least 10 states.
National politics invaded judicial races in 2011–12. In Iowa, TV ads referenced marriage equality; in Florida, the federal Affordable Care Act; and in Wisconsin, collective bargaining rights.
Who in the wake of Citizens United is spending more to influence the results of judicial elections? The study tells us: "Major spenders included the Republican State Leadership Committee in North Carolina, Michigan Democrat State Central Committee, the National Rifle Association-linked Law Enforcement Alliance of America in Mississippi, the progressive advocacy group America Votes in Florida, and the conservative group Americans for Prosperity, financially supported by billionaire brothers Charles and David Koch, in Florida and North Carolina." These people and groups, in other words, are not content to try to influence the texts of our laws before their passage but the interpretation of them by judges following their enactment. It's a terrifying thought.
One of the other disappointing trends, the study revealed, is that political money is starting to flow into judicial races even in those enlightened states that have gone to the process of merit selection for judges. Merit selection is a reasonable process by which state judges are chosen. Judicial candidates are initially selected by nonpartisan groups of lawyers (and judges), appointed by the governor, and then have to stand for retention elections. Although the process is inherently political—the governor does select these judges—it is designed to reduce the partisanship at the point of elections to shield judges from having to campaign like politicians.
It's a shaky proposition. From the study: "While retention races have historically been less politicized than contested elections, in 2012 two merit selection states, Florida and Iowa, saw prominent and politically charged challenges to sitting justices. These justices were ultimately retained, but only after costly battles. Several states also saw ballot measures in 2012 that would have injected new politicization into merit selection systems. These proposals were likewise rejected by voters." If judicial selection in these states is becoming tainted what chance do elections in other states have to remain free from the taint of partisanship?
I asked Bert Brandenburg from Justice at Stake, one of the organizations behind the study, to describe the impact all this money is having upon these races. His response:
Here's what we can measure: the impression that justice is for sale. Our polling has shown that more than 80 percent of voters believe campaign cash has an impact on judicial decision making. And the effects of that perception are pervasive. They may be subtle, but the harm is there. It might be felt in who decides to pursue or abandon legal redress at all, whether a voter decides to participate in a judicial election at all, whether sincere public servants decide to seek elevation to the bench or turn away from it, or whether businesses choose to bring jobs and industry to a community or go elsewhere.
State court justices like Willett and Jefferson, longtime candidates in partisan elections who have taken advantage of rules they disdain, are in the best position of all of us to understand the damage judicial campaigns have wrought upon the integrity of our justice systems. "I think fundraising undermines the confidence in a fair and impartial judicial system," Jefferson told me. Of course it does. And things aren't likely to get better before they get worse. The challenge today, as the study suggests, is to find ways to reduce the scope of the damage to our nation's justice systems before the politics and the campaigning undermines them so severely that the rule of law we cherish is broken for good.
(Photo: Thinkstock)