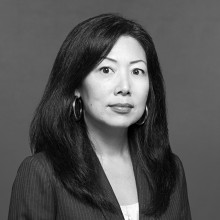 Chisun Lee
Director, Elections and Government,
Democracy
Chisun Lee is director of the Brennan Center's Elections and Government Program, where she works to advance money-in-politics reform and improve election administration. She leads strategy and research for policy initiatives, legislative campaigns, publications, litigation, and public advocacy.
Lee has authored or co-authored nationally recognized reports and legal scholarship, and is a popular book contributor. She writes and comments for outlets such as the New York Times, the Washington Post, and NPR. She has provided testimony, briefings, and policy advice to federal, state, and local lawmakers across the country and taught as an adjunct professor at NYU School of Law.
Before her current work at the Brennan Center, Lee represented indigent criminal defendants in federal court. Previously she served as a law clerk to the Honorable Gerard E. Lynch in the U.S. District Court for the Southern District of New York.
Lee also worked in journalism and government. She covered legal issues and won numerous honors as a staff reporter for ProPublica and previously the Village Voice. Prior to becoming a journalist, Lee was press secretary to a citywide elected official in New York City. She received her JD from Harvard Law School and graduated magna cum laude from Brown University with a degree in history.
Informed citizens are democracy's best defense