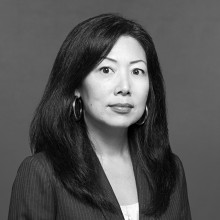 Chisun Lee
Deputy Director, Election Reform Program,
Democracy
Chisun Lee serves as Deputy Director in the Brennan Center's Election Reform Program, where she works to advance money-in-politics reform and voting rights.  She leads and produces legislative campaigns, research reports, and public advocacy initiatives and is an adjunct professor at NYU School of Law.
Lee has authored or coauthored several nationally recognized reports, along with op-eds in outlets such as the
New York Times
and the
Atlantic
. She has provided policy advice to lawmakers across the country and delivered testimony and briefings before federal and state legislators.
Lee returned to the Brennan Center in 2013, after having served as counsel five years earlier. In the interim, she represented indigent criminal defendants in New York City's federal courts and covered legal issues as a staff reporter for
ProPublica
, the Pulitzer Prize–winning investigative news organization. At
ProPublica
she scrutinized voter fraud claims, the Guantánamo detentions, scientific evidence standards, and wrongful convictions, winning numerous awards. Her
ProPublica
projects were copublished by the  
New York Times
,
Washington Post
,
NPR
, the
National Law Journal
, and PBS
Frontline
, among other outlets. 
Prior to joining the Brennan Center in 2007, Lee served as a law clerk to the Honorable Gerard E. Lynch in the U.S. District Court for the Southern District of New York. She received her JD in 2006 from Harvard Law School. 
For many years before and during law school, Lee worked as a journalist, principally as a staff writer at the
Village Voice
. Her reporting on civil liberties, government, and politics earned many honors, including the Knight Foundation fellowship at Yale Law School. Prior to becoming a journalist, Lee was press secretary to New York City's first public advocate. She graduated magna cum laude from Brown University with a degree in history.
Stay up to date
Informed citizens are our democracy's best defense