This post was updated on Janu­ary 24, 2020
Our demo­cracy depends on fair and inde­pend­ent courts to protect against abuses of power, provide checks and balances, and admin­is­ter justice without regard to outside pres­sures. State courts, where 95 percent of all cases are filed, play a crucial role – yet they are often far more vulner­able to polit­ical pres­sure and inter­fer­ence than the federal courts.
A Bren­nan Center review of bills intro­duced in state legis­latures in 2019 shows that across the coun­try, legis­lat­ors considered changes to state courts that would have dimin­ished the role or inde­pend­ence of the judi­ciary, or made it harder for judges to do their job.* In 2019, bills intro­duced in at least 25 state legis­latures risked weak­en­ing the courts by giving polit­ical actors more control over judi­cial selec­tion, judi­cial decision-making, or judi­cial admin­is­tra­tion.
Efforts to manip­u­late courts are not new. Over the course of 2018, the Bren­nan Center docu­mented 60 bills in 18 states that would have politi­cized or under­mined the inde­pend­ence of state courts. Bills passed out of the legis­lature in West Virginia, where legis­lat­ors impeached every sitting justice on its supreme court, and in North Caro­lina, where lawmakers passed and put before voters a proposal to give the legis­lature new powers to pick judges – voters ulti­mately rejec­ted the proposal.
Now, with a newly solid­i­fied conser­vat­ive major­ity on the U.S. Supreme Court, state courts are likely to become increas­ingly import­ant venues for fights over certain funda­mental rights – invit­ing more polit­ical atten­tion. Pres­id­ent Trump's contin­ued attacks on courts for rulings he disagrees with, mean­while, provide polit­ical cover to state legis­lat­ors to do the same.
*These bills were iden­ti­fied by the Bren­nan Center through CQ Stat­eT­rack, provided by the Piper Fund, as well as media reports and the National Center for State Courts' Gavel to Gavel data­base.
In 2019, legis­lat­ors in at least 25 states considered at least 48 bills to dimin­ish the role or inde­pend­ence of state courts.
Eight­een bills in four­teen states would have injec­ted more polit­ics into how judges are selec­ted.
Ten bills in nine states would have preven­ted courts from decid­ing certain cases or take away courts' author­ity to manage their own rules or resources.
Eleven bills in seven states would have led to more guns in court­houses, even if courts them­selves wanted to prohibit weapons.
Nine bills in seven states would have stripped courts' juris­dic­tion, shrunk courts for partisan gain, or subjec­ted judges to more frequent elec­tions and polit­ical pres­sure.
Twenty bills advanced in signi­fic­ant ways in 2019, either passing favor­ably out of a commit­tee or subcom­mit­tee, receiv­ing a hear­ing, passing through one house of the legis­lature, or even getting enacted into law.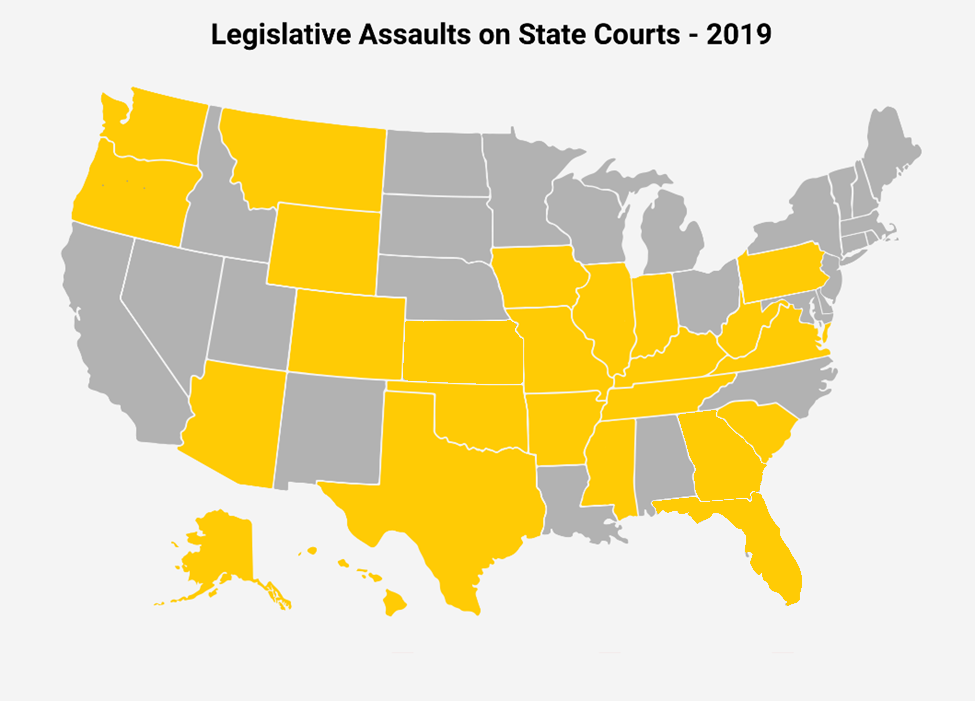 One pattern that emerged in 2019 was partisan elec­ted offi­cials seek­ing more power to decide which judges hear cases chal­len­ging their actions. In Kentucky and Flor­ida, bills to change which judges hear high-profile cases against the govern­ment advanced, one of which passed in Kentucky. Several of this year's bills are also examples of legis­lat­ive retali­ation against courts for specific rulings – rulings related to marriage equal­ity and repro­duct­ive rights in Iowa, rulings related to repro­duct­ive rights in Alaska and Kansas, and a high-profile ruling strik­ing down a pension-reform plan prior­it­ized by the governor and the legis­lature in Kentucky. In Iowa, while bills have been intro­duced in previ­ous years to change the system for pick­ing judges, lawmakers success­fully gave the governor more control over that state's nomin­at­ing commis­sion.
While not an act of the legis­lature, Alaska's governor carried out one of the most direct attacks on the judi­ciary that we observed in 2019. The governor used his line item veto author­ity to strike $335,000 from the judi­ciary's budget in retali­ation for a state supreme court decision related to state fund­ing of abor­tion services. The governor's veto state­ment said, "[t]he legis­lat­ive and exec­ut­ive branch are opposed to state-funded elect­ive abor­tions; the only branch of govern­ment that insists on state-funded elect­ive abor­tions is the Supreme Court. The annual cost of elect­ive abor­tions is reflec­ted by this reduc­tion."
And in Texas, the legis­lature passed a bill (HB 3040/SB 1728) estab­lish­ing a commis­sion to study how the state selects its judges. Currently, Texas holds partisan elec­tions for most judge­ships, and supreme court elec­tions there have long been expens­ive and attrac­ted contro­versy. While not included in this list of legis­lat­ive attacks on state courts, the timing of this bill – shortly after the elec­tion of nine­teen Black women to local judge­ships in Hous­ton the previ­ous year – raises concerns about the motives behind the study.
To be sure, many states' meth­ods of select­ing judges are in need of reform, but changes must be care­fully designed to protect judi­cial inde­pend­ence and avoid polit­ical and special interest pres­sure on the judi­ciary. The Bren­nan Center recently put forth a proposal for judi­cial selec­tion that addresses contem­por­ary threats to judi­cial inde­pend­ence.
The follow­ing is an over­view of the bills intro­duced on the state level in 2019, broken down by how they might weaken the inde­pend­ence or power of the judi­ciary.
Comprom­ising Judi­cial Selec­tion
In 14 states, 18 bills would have changed how judges are selec­ted, making the process more partisan or polit­ical. States use several differ­ent meth­ods to select judges, includ­ing contested elec­tions and "merit selec­tion" systems, where candid­ates are vetted by an inde­pend­ent nomin­at­ing commis­sion. New bills would have weakened exist­ing safe­guards that insu­late judges from outside pres­sure, includ­ing subject­ing judges to new elec­tions, weak­en­ing the role of inde­pend­ent nomin­at­ing commis­sions, and giving partisan legis­lat­ors an outsized role in choos­ing judges.
Laws that create a partisan advant­age in judi­cial selec­tion:
Laws that would make judi­cial selec­tion more polit­ical:
Laws that would weaken or elim­in­ate inde­pend­ent judi­cial nomin­at­ing commis­sions:
In Missouri, a proposed consti­tu­tional amend­ment (HJR 2) would have elim­in­ated the state's judi­cial selec­tion commis­sions, the inde­pend­ent bodies that vet judi­cial applic­ants and put forth a short­l­ist from which the governor must choose. This amend­ment would have given the governor the power to directly appoint supreme court, court of appeals, and some circuit judges, subject only to confirm­a­tion by two-thirds of the state senate. Repub­lic­ans currently hold a two-thirds super­ma­jor­ity in the legis­lature and have accused the state supreme court of going "rogue" in recent decisions, includ­ing one uphold­ing a local minimum wage provi­sion, and decried the nomin­at­ing commis­sion itself for being too liberal.
A proposed consti­tu­tional amend­ment in Missouri (SJR 3) and bills in South Caro­lina (H 3953, S 170) would have kept nomin­at­ing commis­sions in name but signi­fic­antly limited their role. Currently those states' commis­sions submit their three preferred candid­ates to the appoint­ing author­ity (the governor in Missouri and the legis­lature in South Caro­lina). The proposed legis­la­tion would have limited the commis­sions' role to determ­in­ing only whether each applic­ant is "qual­i­fied," and required them to submit all qual­i­fied nomin­ees to the appoint­ing author­ity, giving the polit­ical branches more choices and influ­ence over the selec­tion of judges. SJR 3 passed out of the Missouri Senate's Govern­ment Reform Commit­tee.
A proposed consti­tu­tional amend­ment in Kansas (SCR 1610) would have elim­in­ated the state's judi­cial selec­tion commis­sion, giving the governor or chief justice the power to make appoint­ments to the state supreme court, subject to the state senate's confirm­a­tion. Under current law, the commis­sion recom­mends three candid­ates for the governor to choose from for appoint­ment. In recent years, litig­a­tion related to fund­ing for the state's public educa­tion system have resul­ted in several attempts by the legis­lature to constrain the Kansas Supreme Court's juris­dic­tion.
Inter­fer­ing with Judi­cial Decision-Making
Nine states considered legis­la­tion that would have put undesir­able pres­sure or restric­tions on judi­cial decision-making. Judges must be able to decide cases without fear of retri­bu­tion, yet some of these propos­als would have increased the like­li­hood of a judge facing back­lash for unpop­u­lar rulings. Others would have empowered politi­cians to alter court proced­ures for reas­ons other than fair and effi­cient decision-making.
Shield the Legis­lature from Court Rulings
Propos­als in three states would have made it more diffi­cult, or impossible, for courts to carry out one of their core respons­ib­il­it­ies, inter­pret­ing whether state or federal laws satisfy the United States Consti­tu­tion.
A proposed consti­tu­tional amend­ment in Missouri (HJR 34/HJR 35) would have allowed the legis­lature or Missouri voters to vote on whether federal laws are consti­tu­tional. If voters or state legis­lat­ors decided a federal law was uncon­sti­tu­tional, Missouri courts would have been prohib­ited from enfor­cing that law, and stripped of juris­dic­tion over any cases involving that law or any similar state law. Similar propos­als were intro­duced in 2018 and 2017.
A bill in Texas (HB 1347) would have allowed the legis­lature to declare a decision of any federal court, includ­ing the United States Supreme Court, uncon­sti­tu­tional. If the legis­lature declared a federal court decision uncon­sti­tu­tional, includ­ing a decision strik­ing down a Texas law, no Texas offi­cial could enforce that federal court ruling. Lawmakers in Idaho intro­duced similar bills in 2018 and 2017. HB 1347 received a hear­ing in the Texas House State Affairs Commit­tee.
In Alaska, a bill (HB 179) would have added "exer­cising legis­lat­ive power" as a basis for impeach­ing a judge and would have exemp­ted such a find­ing by the legis­lature from judi­cial review. Similar propos­als were intro­duced in Alaska in 2018 and in Kansas in 2016 but failed to advance through the legis­lature.
Judge-Shop­ping for Partisan Advant­age
In addi­tion to pick­ing who reaches the bench in the first instance, legis­lat­ors can gain an advant­age in the courts by hand­pick­ing the judges who will or will not hear certain cases in their respect­ive juris­dic­tions. They can do this by redraw­ing judi­cial districts, chan­ging court juris­dic­tion, or by alter­ing meth­ods for assign­ing cases.
A bill in Kentucky (SB 2) would have changed which courts hear consti­tu­tional chal­lenges to state stat­utes or regu­la­tions. The bill would have allowed the govern­ment defend­ants to request that such a chal­lenge be heard by a special judge selec­ted, at random, by the chief justice of the state supreme court from anywhere in the state rather than the Circuit Court of Frank­lin County, home to the state capital. This is likely because the Frank­lin County Court includes a judge whom former Gov. Matt Bevin called an "incom­pet­ent hack" and tried to remove from the case that struck down the governor's pension reform law. SB 2 passed the Kentucky Senate with an amend­ment over the objec­tions of Kentuck­y's Chief Justice who said the bill would have "a ruin­ous effect on the court of justice." As amended, the bill would have required the clerk of the circuit court in the county in which the chal­lenge was origin­ally filed to select "by random lottery draw" another county in Kentucky to hear the case. A similar bill in Flor­ida (SB 1630) would have required the Clerk of the Flor­ida Supreme Court to use a "blind, random selec­tion process" to assign consti­tu­tional chal­lenges to circuit courts across the state. Currently, such chal­lenges are filed in the state capital, Leon County, and a number of state laws have been over­turned as uncon­sti­tu­tional by Leon County circuit judges, most recently a law making it harder for local juris­dic­tions to enact gun control. SB 1630 was approved by the Flor­ida Senate Judi­ciary Commit­tee.
Another bill in Kentucky (SB 214) changed the juris­dic­tion and venue for cases involving chal­lenges to legis­lat­ive districts from the Circuit Court of Frank­lin County to a panel of three circuit court judges. SB 214 was signed into law.
Alter­ing Judi­cial Term Lengths and Limits
The shorter a judge's term length, the greater the pres­sure that judge may feel to rule with elect­oral or polit­ical consid­er­a­tions in mind. Term limits can be desir­able in many instances, but judges must be allowed suffi­cient time to serve and should not be removed from the bench for partisan reas­ons.
In West Virginia, a proposed consti­tu­tional amend­ment (SJR 6) would have reduced the terms of supreme court justices from 12 years to eight, subject­ing those judges to more frequent elec­tions and thus accom­pa­ny­ing polit­ical pres­sure.
Chan­ging the Size of Courts
Adding or remov­ing seats from a court allows legis­latures or governors to gain advant­age in courts without need­ing to change the rules for how judges are selec­ted. They can add seats for them­selves to fill, or remove seats held by judges they disagree with.
In Wash­ing­ton, a proposed consti­tu­tional amend­ment (HJR 4201) and a bill (HB 1081) would have reduced the number of justices on the state supreme court from nine to five. Voters would elect all five justices in the 2020 general elec­tion. Wash­ing­ton's supreme court has faced numer­ous legis­lat­ive attempts to alter its makeup and constrain its author­ity as a result of a prolonged battle over a 2012 decision find­ing that the legis­lature was inad­equately fund­ing the state's educa­tion system.
Allow­ing Fire­arms in Court
Courts continue to be pulled into broader efforts to empower gun owners to carry weapons in public spaces.
Bills in Geor­gia (SB 224), Illinois (HB 248, HB 911), Indi­ana (HB 1235), Missis­sippi (HB 524), South Caro­lina (HB 3073, HB 3472), Texas (HB 1085, HB 2051, HB 3136), and Virginia (SB 338) would have required courts to allow judges, retired judges, court employ­ees not tasked with secur­ity, attor­neys general and assist­ant attor­neys general, or others to carry a fire­arm into a court­house even if that court had a rule prohib­it­ing weapons. HB 1235 passed the Indi­ana House, H 3472 passed the South Caro­lina House, HB 2051 was repor­ted out of the Texas Home­land Secur­ity & Public Safety Commit­tee, and HB 3136 was repor­ted out of the Texas House Judi­ciary & Civil Juris­pru­dence Commit­tee.
Image: Eric Thayer / Getty