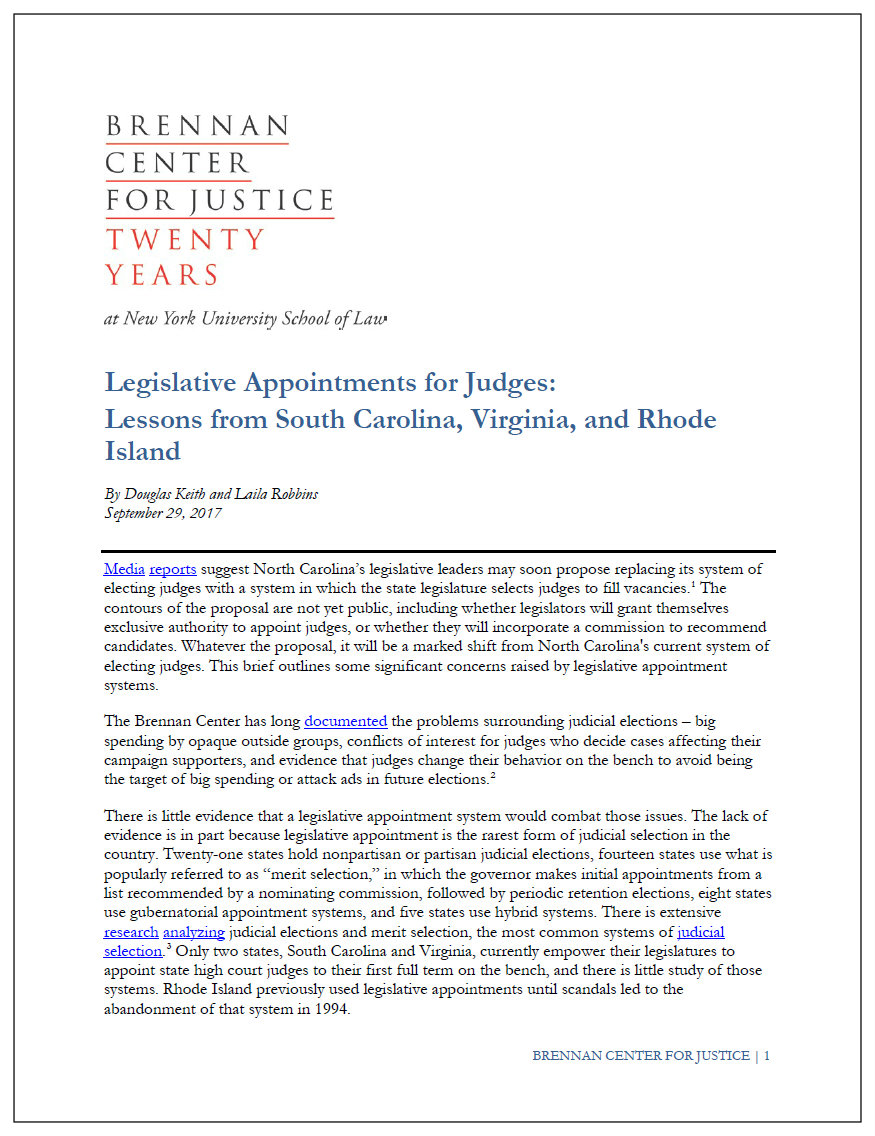 Media reports suggest North Caro­lin­a's legis­lat­ive lead­ers may soon propose repla­cing its system of elect­ing judges with a system in which the state legis­lature selects judges to fill vacan­cies.[i] The contours of the proposal are not yet public, includ­ing whether legis­lat­ors will grant them­selves exclus­ive author­ity to appoint judges, or whether they will incor­por­ate a commis­sion to recom­mend candid­ates. Whatever the proposal, it will be a marked shift from North Caro­lin­a's current system of elect­ing judges. This brief outlines some signi­fic­ant concerns raised by legis­lat­ive appoint­ment systems.
The Bren­nan Center has long docu­mented the prob­lems surround­ing judi­cial elec­tions – big spend­ing by opaque outside groups, conflicts of interest for judges who decide cases affect­ing their campaign support­ers, and evid­ence that judges change their beha­vior on the bench to avoid being the target of big spend­ing or attack ads in future elec­tions.[ii]
There is little evid­ence that a legis­lat­ive appoint­ment system would combat those issues. The lack of evid­ence is in part because legis­lat­ive appoint­ment is the rarest form of judi­cial selec­tion in the coun­try. Twenty-one states hold nonpar­tisan or partisan judi­cial elec­tions, four­teen states use what is popularly referred to as "merit selec­tion," in which the governor makes initial appoint­ments from a list recom­men­ded by a nomin­at­ing commis­sion, followed by peri­odic reten­tion elec­tions, eight states use gubernat­orial appoint­ment systems, and five states use hybrid systems. There is extens­ive research analyz­ing judi­cial elec­tions and merit selec­tion, the most common systems of judi­cial selec­tion.[iii] Only two states, South Caro­lina and Virginia, currently empower their legis­latures to appoint state high court judges to their first full term on the bench, and there is little study of those systems. Rhode Island previ­ously used legis­lat­ive appoint­ments until scan­dals led to the aban­don­ment of that system in 1994.
However, the evid­ence that does exist from South Caro­lina, Virginia, and Rhode Island suggests that legis­lat­ive appoint­ments are unlikely to alle­vi­ate the prob­lems asso­ci­ated with judi­cial elec­tions, and may further under­mine judi­cial inde­pend­ence and integ­rity in crit­ical ways. While there are good reas­ons to be concerned about how judi­cial elec­tions are oper­at­ing in North Caro­lina, legis­lat­ive appoint­ment systems present unique and under­stud­ied prob­lems. Further, the specific details of how a legis­lat­ive appoint­ment plan is imple­men­ted, along with other factors such as a state's polit­ical culture, are crucial to under­stand­ing the likely impact of a move to legis­lat­ive appoint­ments. These factors should be seri­ously considered before adopt­ing a legis­lat­ive appoint­ment system in North Caro­lina.
Below we outline several common prob­lems that have arisen in legis­lat­ive appoint­ment systems, based primar­ily on news accounts and some schol­arly research.
1. Legis­lat­ors have regu­larly appoin­ted their former colleagues to the bench.
As recently as 2000, every justice on the South Caro­lina Supreme Court was a former General Assembly member. A state consti­tu­tional amend­ment around that time insti­tuted some reforms, includ­ing a Judi­cial Merit Selec­tion Commis­sion (JMSC) to recom­mend candid­ates to the General Assembly, but the JMSC is itself comprised exclus­ively of legis­lat­ors and citizens appoin­ted by legis­lat­ors, and legis­lat­ors have even appoin­ted their own relat­ives to the JMSC, rais­ing seri­ous ques­tions as to its inde­pend­ence from the legis­lature.[iv] Today, one of South Caro­lin­a's five justices is a former member of the General Assembly, where he was a member of the Judi­ciary Commit­tee.[v]
In Rhode Island, the revolving door from the legis­lature to the courts bred outright corrup­tion. In 1976, the General Assembly appoin­ted former House Speaker Joseph Bevilac­qua to be Chief Justice of the Rhode Island Supreme Court at the same time ques­tions arose about his connec­tions to organ­ized crime.[vi] Bevilac­qua resigned in 1986 after impeach­ment proceed­ings began because of those connec­tions. State House Speaker Matthew Smith then engin­eered the appoint­ment of Thomas Fay, a former General Assembly member, to replace Bevilac­qua as Chief Justice.[vii] Two years later, Fay appoin­ted Smith to a power­ful and lucrat­ive posi­tion as court admin­is­trator. Both Fay and Smith ulti­mately resigned their posts follow­ing alleg­a­tions of misap­pro­pri­ation of funds and the commence­ment of impeach­ment proceed­ings against Fay for using his posi­tion to direct more than $45,000 in arbit­ra­tion work to his law part­ner.[viii]
2. Legis­lat­ive appoint­ments gener­ate alleg­a­tions of nepot­ism and favor­it­ism.
In South Caro­lina and Virginia, legis­lat­ors have appoin­ted their relat­ives to judge­ships, and at times familial rela­tion­ships appeared to take preced­ence over candid­ate qual­i­fic­a­tions. In South Caro­lina, for instance, one legis­lat­or's spouse ousted a 16 year incum­bent for a seat on the bench, and then-Gov. Nikki Haley took to Face­book to decry the outcome and admon­ish indi­vidual legis­lat­ors.[ix] Simil­arly, when a Virginia legis­lator held up a judi­cial appoint­ment for over four years, colleagues accused him of trying to save the posi­tion for his sister, who the legis­lature had declined to appoint to an earlier vacancy.
Both state legis­latures' anti-nepot­ism safe­guards have proven inef­fect­ive at curb­ing the prac­tice. In one high-profile incid­ent in Virginia, State Senator Philip Puck­ett resigned his seat in the heat of a legis­lat­ive battle over Medi­caid expan­sion in order to allow the Senate to appoint his daugh­ter to a juven­ile court judge­ship.[x] Before his resig­na­tion, state and national offi­cials had tried to convince Puck­ett to keep his seat, with U.S. Sen. Mark Warner (D-VA) ulti­mately facing ethics complaints for help­ing Puck­ett "brain­storm" altern­at­ive jobs for his daugh­ter­—in­clud­ing, allegedly, a federal judge­ship. In South Caro­lina, while legis­lat­ors cannot vote on a family member's nomin­a­tion, they need not resign their seats and they may lobby their colleagues on their kin's behalf.[xi]
And favor­it­ism in legis­lat­ive appoint­ments has exten­ded beyond family members. Follow­ing a recent set of appoint­ments, South Caro­lina House Major­ity Leader Bruce Bannis­ter told his caucus that, if asked why they suppor­ted a candid­ate, members should give "seri­ous, thought­ful answers," and not simply say, "Well, I knew them in kinder­garten."[xii]
3. Legis­lat­ive appoint­ments may push judi­cial selec­tion decisions behind closed doors.
In South Caro­lina, the selec­tion process is partic­u­larly opaque. One Repres­ent­at­ive detailed a process which begins with prospect­ive judges call­ing legis­lat­ors indi­vidu­ally to intro­duce them­selves and express their interest in the appoint­ment, without asking for support.[xiii] Candid­ates are then eval­u­ated and recom­men­ded by the legis­lator-controlled JMSC. Once eval­u­ated, candid­ates again privately contact legis­lat­ors before they vote to ask for their formal support. At that time, candid­ates wait on the capitol steps or in the park­ing garage to shake hands with arriv­ing legis­lat­ors. Legis­lat­ors them­selves insist that they "get to know" judi­cial nomin­ees before they vote for them.[xiv] Gener­ally, viable candid­ates secure their "commit­ments" long before legis­lat­ors cast their votes, and candid­ates without enough commit­ments drop out before the vote takes place, shield­ing from public view any deal making among legis­lat­ors. Simil­arly, in Virginia, the major­ity party selects judges in closed-door caucus meet­ings, histor­ic­ally the legis­lature has not main­tained records of these proceed­ings, and the ulti­mate public floor vote is usually a form­al­ity.[xv]
4. Legis­lat­ive appoint­ments risk subject­ing courts to legis­lat­ive dysfunc­tion.
Virginia has seen legis­lat­ive stan­doffs lead­ing to unfilled judge­ships and tempor­ary appoint­ments. (While similar dynam­ics may occur in states that require legis­lat­ive confirm­a­tion of gubernat­orial appoint­ments, most states with gubernat­orial appoint­ments do not provide for legis­lat­ive confirm­a­tion.) A 2011 dead­lock between the Repub­lican-controlled Virginia Senate and Demo­cratic-controlled House of Deleg­ates left two seats on the Virginia Supreme Court vacant for months, and the under­staffed court respon­ded by taking fewer cases, taking longer than usual to resolve the cases on its docket, and fail­ing at times to put together the three-judge panels required to determ­ine which cases the court would hear.[xvi] Stan­doffs such as this are most likely when there is split party control of the legis­lature, like in 2008 when Gov. Tim Kaine made several tempor­ary appoint­ments after Virgini­a's legis­lature failed to fill four judge­ships.[xvii] Simil­arly, in 1996, the Virginia Senate, divided evenly between the parties, left thirty percent of vacant judge­ships unfilled when the General Assembly adjourned.[xviii] Some vacan­cies have lasted for years even during times of unified party control, due to intra-party politick­ing.
5. Legis­lat­ive appoint­ment systems may under­mine judi­cial inde­pend­ence.
Partic­u­larly if legis­lat­ors have the power to appoint judges to multiple terms, legis­lat­ive appoint­ment systems may lead judges to feel beholden to legis­lat­ive interests and indi­vidual legis­lat­ors who hold that power, rais­ing concerns about judi­cial inde­pend­ence. For example, one polit­ical science study found that judges facing legis­lat­ive reappoint­ment were more likely to rule in favor of the legis­lature in legal chal­lenges, indic­at­ing that judges facing reappoint­ment may alter their decisions to fit legis­lat­ive pref­er­ences.[xix] Judges may reas­on­ably worry that if their decisions offend the legis­lature, they will lose their job.
Another poten­tial source of conflicts of interest can come from legis­lat­ors who are also lawyers, who, in many part-time legis­latures, often appear as attor­neys in front of the judges they appoin­ted. Judges there­fore face an uncom­fort­able choice: ruling against the lawyer-legis­lator who appoin­ted them may endanger their job.[xx] Stronger recusal rules may help solve this prob­lem, but, in rural counties, where there are fewer lawyers and judges, this may be impossible to prevent.[xxi] One study by the Daily Press in Virginia found that legis­lat­ors only performed margin­ally better before judges they appoin­ted than other attor­neys did, but some legis­lat­ors also repor­ted anec­dot­ally that, in front of legis­lat­ors, judges would be "on their best beha­vior" or provide addi­tional explan­a­tion for rulings against their clients.[xxii]
Even when decisions do not directly affect legis­lat­ors, it is likely that they will impose polit­ical ideo­logy during the reappoint­ment process. In Virginia, legis­lat­ors have expli­citly chal­lenged judges' reappoint­ments on ideo­lo­gical grounds. In one instance, ques­tion­ing during a judge's reappoint­ment hear­ing focused on whether the judge's dissent in a child custody case reflec­ted support for same-sex couples.[xxiii] In another, legis­lat­ors focused intently on a judge's gun rights decision even though it had been upheld by a higher court.
6. Money may still play a role in legis­lat­ive appoint­ments.
Even without the need to run statewide campaign ads, special interest groups can spend money to secure favor­able judi­cial appoint­ments by legis­latures. In South Caro­lina in 2007, Conser­vat­ives in Action and South Carolini­ans for Respons­ible Govern­ment opposed Judge Don Beatty's appoint­ment to the South Caro­lina Supreme Court. The two groups spent extens­ively on mail­ings and ads asking view­ers to call on their elec­ted offi­cials to oppose Beatty's appoint­ment. On the federal level, too, inde­pend­ent groups are now spend­ing to support both Supreme Court and lower court nomin­ees.[xxiv]
Legis­lat­ive appoint­ment systems may also enable special interest organ­iz­a­tions to directly lobby key legis­lat­ors. These organ­iz­a­tions spend money to support partic­u­lar candid­ates indir­ectly, by lobby­ing legis­lat­ors, and the process occurs behind closed doors, rais­ing addi­tional trans­par­ency concerns.[xxv] An apt paral­lel exists at the federal level: groups regu­larly lobby members of Congress regard­ing federal judi­cial nomin­ees, although members of Congress have less control over judi­cial appoint­ments than do legis­lat­ors in a legis­lat­ive appoint­ment system.[xxvi]
Conclu­sion
North Caro­lin­a's legis­lat­ors may hope to shield judges from undue outside influ­ence and conflicts of interest, but the limited evid­ence that exists suggests that a legis­lat­ive appoint­ment system is unlikely to alle­vi­ate these prob­lems. In fact, legis­lat­ive appoint­ments can intro­duce signi­fic­ant new complic­a­tions: they can enable favor­it­ism towards legis­lat­ors and those close to them, breed corrup­tion, produce and suffer from govern­mental dysfunc­tion, and under­mine judi­cial inde­pend­ence – all while continu­ing to provide a path for special interests to unduly influ­ence nomin­a­tions.
---