Pennsylvania has long been one of the nation's most gerrymandered states, but that could change if a bipartisan group of lawmakers has its way. Their proposed constitutional amendment would transfer the responsibility for drawing maps to an 11-member independent redistricting commission and enact new tightened rules, including prohibiting mapdrawers from creating districts to advantage a particular political party.
Reform will not be easy, however. Constitutional amendments must pass both houses of the legislature in two consecutive sessions before making it to the ballot, meaning the clock is ticking if the commission is going to be in place before the next round of redistricting in 2021. Nevertheless, Pennsylvania is the latest state to join a growing national movement for reform.
The commission would transform a widely criticized redistricting system notorious for producing awkward districts. Pennsylvania's 7th Congressional District—which earned the nickname "Goofy kicking Donald Duck"—is a particularly egregious example from the most recent round of redistricting, stretching west from the Philadelphia suburbs through five counties.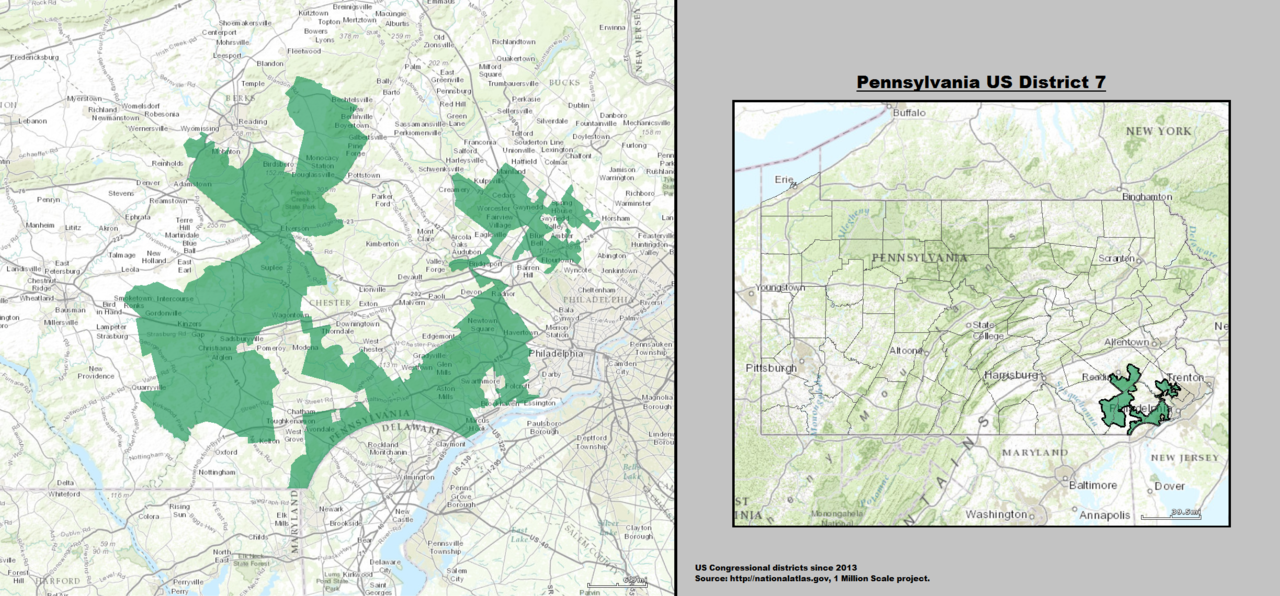 via U.S. Department of the Interior
The previous round of mapdrawing after the 2000 census also produced controversial districts, touching off a legal battle, Vieth v. Jubelirer, that rose to the U.S. Supreme Court and unfortunately produced a deadlock on the question of whether partisan gerrymanders can be challenged in court.
But more than being bizarrely shaped, Pennsylvania's redistricting plans are wildly unrepresentative by many measures. Under the current districts maps, Pennsylvania's Republicans have enjoyed consistent success in congressional and state legislative elections, despite frequently not winning the majority of the statewide vote. President Obama carried the state in 2008 and 2012, and voters also chose Democrats for governor, lieutenant governor, attorney general, and state auditor in the last few election cycles. In fact, no Republican currently holds an executive office that is elected statewide.
Yet the state's delegation in the U.S. House of Representatives currently includes 13 Republicans compared with just five Democrats. Similarly, Republicans hold 60 percent of the state Senate seats and 58 percent of the state House.
State Sen. Lisa Boscola (D-Lehigh County) says Pennsylvania's gerrymandering problem has "crippled everything from the fairness of our elections to the level of cooperation and compromise between lawmakers." She argues that elections are increasingly being won in the primaries due to uncompetitive districts, which has dramatically reduced legislators' willingness to compromise and negotiate because "they are afraid of being 'primaried'" out of their districts. The end result is gridlock and dysfunction, as evidenced by the eight month and counting budget standoff in which the state is currently mired.
To address this problem, Sen. Boscola introduced a bill (SB 484) that would create an independent redistricting commission to draw congressional and legislative districts. The proposal has support from a bipartisan group of 11 other cosponsors as well as Fair Districts PA, a statewide coalition of 14 good government and community groups.
Commission Structure
The commission would consist of 11 members—four Democrats, four Republicans, and three members not registered with either major—who would be selected at random from a pool of applicants compiled and vetted by the secretary of the commonwealth. The bill also includes eligibility restrictions which attempt to eliminate conflicts of interest. Any person who has been an elected official, spouse of an elected official, party official, paid staff member, political consultant, or registered lobbyist during the five years preceding redistricting would be ineligible to serve on the commission.
Map Approval
At least seven of the commissioners would have to vote to adopt a final redistricting plan, including at least one Democrat, one Republican, and one independent. By requiring support from each partisan group, this approval mechanism is designed to force collaboration and compromise.
Rules for Drawing Districts
The bill also would impose new rules to police how districts are drawn. Chief among them is an explicit ban on drawing districts with the intent to favor a political party or an incumbent legislator. Mapdrawers also would be required to minimize the splitting of political subdivisions and preserve communities of interest.
A companion bill recently introduced in the state House by Rep. David Parker (D-Monroe) also has bipartisan support, including seven Republican cosponsors and six Democrats.