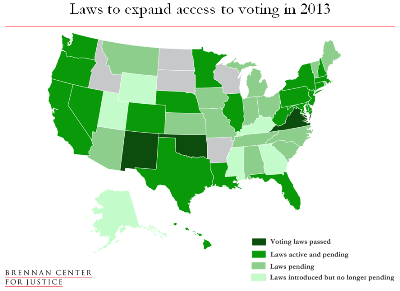 After long lines marred the 2012 election, Republicans and Democrats are supporting bills in the states to increase registration opportunities, expand early voting, and modernize election systems, a new Brennan Center analysis found.
Nearly 200 bills to expand voting access were introduced in 45 states in 2013 (click map for larger view). Of those, 41 bills in 21 states are currently active, meaning there has been some form of activity, such as a hearing or vote. Three states, New Mexico, Oklahoma, and Virginia, have already passed expansive laws.
Many of these new bills are drawing bipartisan support. The GOP introduced an online registration bill in Pennsylvania and passed it in Virginia. New Mexico's new law streamlining registration at state DMVs received broad bipartisan support and was signed by a Republican governor. And in Colorado, Democrats in the legislature worked with the mostly-Republican Colorado County Clerks Association to draft a modernization bill, which passed the House Friday.
The Brennan Center is also tracking restrictive voting measures across the country. At least 80 restrictions have been introduced in 31 states. Of those, 25 bills are active in 12 states, and three are already signed into law. Virginia passed two restrictions — one curbing registration drives and another requiring photo ID to cast a ballot — and Arkansas passed a strict photo ID measure. North Carolina legislators are considering a series of bills to cut early voting, require a photo ID, and eliminate same-day registration.
"Although states continue to push restrictions, others have gotten the message from the 2012 election," said Wendy Weiser, Democracy Program Director at the Center. "Americans deserve better and want a higher functioning, more modern voting system. Both Republicans and Democrats, in states from Colorado to Pennsylvania to Nevada, are working to give them one. It's time to end the partisan voting game and ensure every eligible citizen can make their voice heard on Election Day."
Read more on voter registration modernization from Wendy Weiser in The Denver Post and former McCain campaign lawyer Trevor Potter in The Atlantic.
Highlights: Expansive Voting Laws in the States
Colorado: The state House Friday passed the Voter Access and Modernized Elections Act, which would allow Election Day registration, create portable registration, and establish a modernized elections commission. The bill has the backing of both Republican and Democratic county clerks. The Senate will consider it this week.
New Mexico: A bill to digitize registration at state DMVs was signed into law. This gives citizens the choice to be electronically registered to vote at the same time they do business with the DMV.
Nevada: A legislative committee passed SB 375, which would digitize voter registration at state agencies, expand online registration, and permit pre-registration by 16 and 17-year-olds.
Florida: The state House voted 118–1 to reinstate the early voting days that had been eliminated before the 2012 election. The bill is currently under consideration in the Senate.
Oklahoma: The governor signed a bill to make the state's existing photo ID requirement less restrictive, particularly for members of the military.