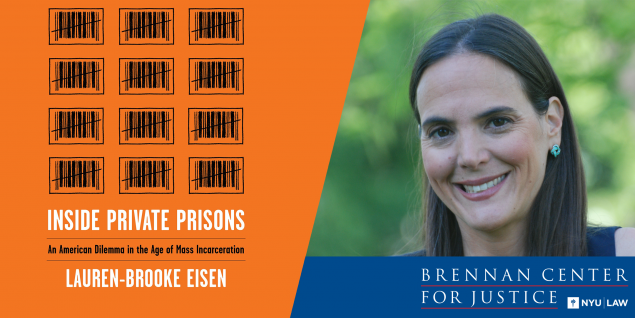 When the tough-on-crime politics of the 1980s overcrowded state prisons, private companies saw potential profit in building and operating correctional facilities. Today more than a hundred thousand of the 1.5 million incarcerated Americans are held in private prisons in twenty-nine states and federal corrections. Private prisons are criticized for making money off mass incarceration — to the tune of $5 billion in annual revenue. Based on Lauren-Brooke Eisen's work as a prosecutor, journalist, and senior counsel at the Brennan Center's Justice program, Inside Private Prisons blends investigative reportage and quantitative and historical research to analyze privatized corrections in America.
From divestment campaigns to boardrooms to private immigration-detention centers across the Southwest, Eisen examines private prisons through the eyes of inmates, their families, correctional staff, policymakers, activists, Immigration and Customs Enforcement employees, undocumented immigrants, and the executives of America's largest private prison corporations. Private prisons have become ground zero in the anti-mass-incarceration movement. Universities have divested from these companies, political candidates hesitate to accept their campaign donations, and the Department of Justice tried to phase out its contracts with them. On the other side, impoverished rural towns often try to lure the for-profit prison industry to build facilities and create new jobs. Neither an endorsement or a demonization, Inside Private Prisons details the complicated and perverse incentives rooted in the industry, from mandatory bed occupancy to vested interests in mass incarceration. Given the political reality that private prisons will not soon disappear, Eisen offers a series of reforms to dramatically improve these prisons and the lives of those impacted by them. This book is a blueprint for policymakers to reform practices and for concerned citizens to understand our changing carceral landscape.
Purchase the book here from Columbia University Press.
Media