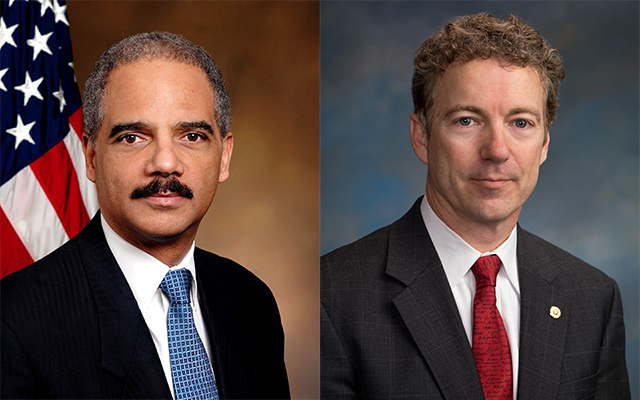 Crossposted at the Huffington Post.
It's not every day that the nation's chief law enforcement officer and a Republican senator from Kentucky agree on something. But that's exactly what's happening this month, with Attorney General Eric Holder calling on states to repeal felony disenfranchisement laws and Sen. Rand Paul pushing reform in his state of one of the country's harshest. In recent years, states have made meaningful progress in rolling back these antiquated laws, which bar 5.85 million Americans from voting because of a criminal conviction in their past. Now there is an opportunity for states to implement powerful reform. They should take it.

Felony disenfranchisement laws have a long, shameful history. Criminal disenfranchisement laws were part of the effort to maintain white control over access to the polls after Reconstruction. Over the next 100 years, Jim Crow laws continued to prevent many people from casting a ballot. The Voting Rights Act, signed in 1965, helped reverse the tide, but many felony disenfranchisement laws remain on the books, a relic of the past.
Much of this has changed over the past two decades. More than 20 states have improved these laws, either repealing permanent voting bans or easing the restoration process. Just last year, Delaware passed a constitutional amendment that undid much of its felony disenfranchisement law, and Virginia's governor issued an executive order that made it possible for more people to get their voting rights back. In 2014, states are introducing bills that expand opportunities for people with criminal convictions to restore their voting rights. We are very close to a tipping point.

The most promising example is in Kentucky, which is one of three states (Florida and Iowa are the others) where a felony conviction permanently prevents a person from voting. That's even the case if they are out of incarceration, living and working in their communities, and even if decades have passed since that conviction.

Last month, the Kentucky House passed a bill that could reach many of the more than 180,000 citizens there who cannot currently vote, a figure that would make up the state's third-largest city. Last week, the State Senate passed a weaker version of the bill that reaches many fewer people. Still, the Senate's action is an encouraging sign. For seven years, a majority of Kentucky's state legislators have supported rights restoration. This was the first time since then the Senate has passed a bill. Political leaders cannot deny the momentum behind progress in implementing felony disenfranchisement reform.

We have seen this progress because Americans understand this issue is not about political points. It is about fairness, which is why leaders from the full range of sectors and ideologies support felony disenfranchisement reform. They include law enforcement professionals, faith leaders and elected officials. George W. Bush signed legislation to amend Texas's law about 17 years ago. Rick Santorum supported reform of these laws during his presidential run. And in last week's Kentucky Senate hearing, Sen. Paul spoke about why his home state should join the nation in moving forward to restore voting rights, which could help address a "cycle… of crime and poverty and drugs" and repair lives set back by incarceration. They and others like them simply recognize that there are millions of people who are part of this country's workforce and family units but not also a part of its electorate.

Frequently, when people talk about voting rights, they talk about the past. That is important. When it comes to felony disenfranchisement, the recent past is marked by progress—right up to today. But many would agree this issue is about the future—about having the most basic say in where our communities and country go from here. States like Kentucky and others considering reform should seize this moment and make laws based not on individual past acts but on that shared future.
This piece is co-authored with Rev. Patrick Delahanty, Executive Director of the Catholic Conference of Kentucky.