President Donald Trump made statements about crime in his Inaugural address and the White House immediately posted additional statements on the topic on its website. Below is a fact check.
1. A new White House website page, "Standing Up For Our Law Enforcement Community," published Friday states: "In 2015, homicides increased by 17% in America's fifty largest cities. That's the largest increase in 25 years. In our nation's capital, killings have risen by 50 percent. There were thousands of shootings in Chicago last year alone."
Fact: These statistics are taken from Trump's acceptance speech at the Republican National Convention in July 2016, fact checked by the Brennan Center here. They are misleading.
A June 2016 Department of Justice study showed the murder rate in the nation's 56 largest cities rose by 16.8 percent in 2015. But two-thirds of that increase occurred in just 10 cities. A Brennan Center study of the 30 largest cities showed the murder rate rose by 13 percent in 2015, and 14 percent in 2016. However, these national averages are skewed by a handful of cities. More than half the rise in 2015 was caused by Baltimore, Chicago, and Washington, D.C. Nearly half of the rise in 2016 was caused by Chicago.
The murder increases in these select cities are serious problems that must be addressed. But these cities are outliers. The data do not show any sort of national murder wave or national crime wave. Murder rates nationally remain near historic lows.
2. In his Inaugural address, Trump stated: "Crime and gangs and drugs . . . have stolen too many lives and robbed our country of so much unrealized potential." He continued: "This American carnage stops right here and stops right now."
Fact: Crime rates remain at historic lows. Over the past 25 years, crime in major cities fell 65 percent. According to the FBI Uniform Crime Report Program, the overall crime rate was down again in 2015, dropping for the 14th year in a row. Violent crime is half of what it was in 1991, and has fallen 23 percent in the last decade. Property crime is down 43 percent in the past 25 years. No single-year change has reversed this trend. The murder rates for 2015 and 2016 remain close to recent historic lows (see above).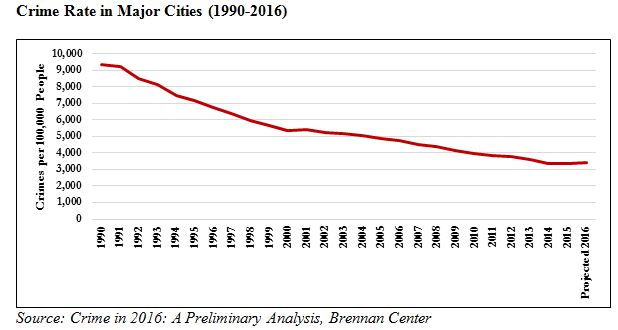 Read the Brennan Center's analyses of crime in 2015 here and 2016 here.