Brennan Center Survey Shows 33 States Need to Replace Voting Machines by 2020

New York, N.Y. – Election officials across the country say they are heading into the 2018 midterms with outdated voting machines and computer systems, and many of them do not have the resources to replace them. In response to a nationwide survey distributed by the Brennan Center for Justice at NYU Law, 229 officials in 33 states reported they need to replace their voting machines by 2020. Most of these officials do not currently have enough funds for those replacements. The Brennan Center says these old machines are more vulnerable to breakdown, malfunction, and hacking.

"Too much of the nation's election infrastructure is crumbling," said Larry Norden, deputy director of the democracy program at the Brennan Center. "More than two-thirds of officials who told us they need to replace their machines before 2020 also said they have inadequate funds to do so. Continuing to use this equipment not only makes our elections more vulnerable to breakdown and malfunction, but to hacking as well. Election officials across the country are ringing the alarm. And so far, lawmakers have failed to listen."
Election experts warn that by the end of the decade, most of the nation's vote-tabulation machines will reach the end of their natural lives. More than 500 election officials in 41 states surveyed told the Brennan Center they will use machines and computers in this year's midterms that are more than a decade old. This comes as the secretary of state and the head of the CIA have both said U.S. election systems are vulnerable to outside intrusion this year.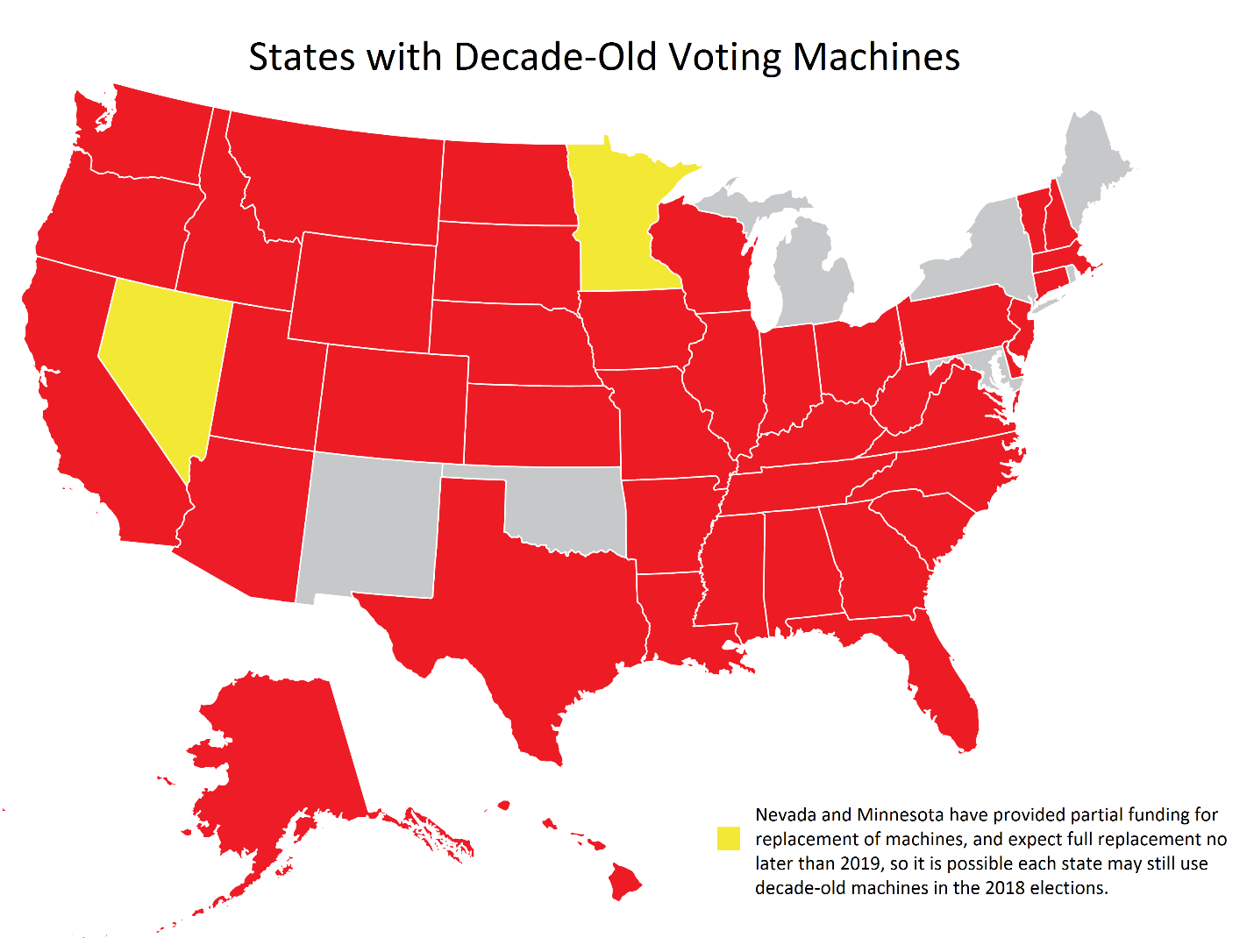 "The sky really is falling," Neal Kelley, registrar of voters for Orange County, California, told the Brennan Center, explaining the urgent need to replace equipment. He supports 11,000 outmoded voting machines and said he frequently buys older machines to cannibalize for spare parts. "We're taking systems out of service because we can't repair them anymore," he said.
In 2017, Michigan, Minnesota, and Nevada allocated money to replace old voting machines. Iowa and Rhode Island passed new laws requiring officials to check paper ballots against machine counts. And numerous states have appealed to the federal government to conduct security scans to fix vital flaws in their computer networks and registration databases.

"Unfortunately, for every step forward, there are far too many steps back," said the Brennan Center's Norden. "There are three bipartisan bills languishing in the Congress right now that would provide the necessary funds to start fixing our election systems. And as of now, there's not a single hearing or vote scheduled."

The lack of resources for staffing and infrastructure has left many normally reticent election officials speaking out in frustration. "At some point, we simply will not be able to pull it off," Kimberly McKiernan, director of elections in Rappahannock County, Virginia, told the Brennan Center. "We have been saying this to our legislators for years now. It's only a matter of time before there is a catastrophic failure in our election process…Is that what our legislators want?"

As the Brennan Center previously reported, Election officials have resorted to buying spare parts on eBay. Some older machines run on Windows 2000, an operating system that no longer receives regular security patches, making those systems more vulnerable to attack.

To schedule an interview or connect with a Brennan Center expert, contact Stephen Fee at 646–925–8720 or stephen.fee@nyu.edu.

###

Additional Resources

Bipartisan Election Security Bills in Congress

The Secure Elections Act (Senate)
Would authorize $386 million in grants from the Department of Homeland Security to increase election system security and upgrade election infrastructure, including replacement of antiquated paperless touchscreen machines.

The PAPER Act (House)
Would aid states that comply with security recommendations issued by the Election Assistance Commission (see below), including replacement of older voting equipment with systems that use a voter-verified paper record that will be audited to check electronic totals.

The SAVE Act (Senate)
Would permanently designate state-run election systems as critical infrastructure and create a federal grant program to help states upgrade the physical, electronic, and administrative components of their voting systems.

Federal and State Actions to Secure Elections
Organizations like the Election Assistance Commission and the Belfer Center at Harvard University have offered cybersecurity trainings to hundreds of state and local election officials, while the Department of Homeland Security, the EAC, and state and local officials have established a coordinating council to allow them to share threat information and pool security resources.
In 2017, Virginia decertified the last of the paperless touchscreen machines being used in the state, deeming them too insecure for continued use. Michigan, Minnesota, and Nevada allocated money to replace old voting machines. Iowa and Rhode Island were among states that passed new post-election audit laws that require officials to check paper ballots against machine counts.
In the last year, Arkansas and North Dakota rejected proposals to fund new voting equipment. And in Wisconsin, the governor cut five new positions for the state's election commission in the 2017–2019 budget. The commission has responded by telling the legislature it needs three new positions to counter rising cybersecurity risks. It is unclear how the legislature and Governor will respond.