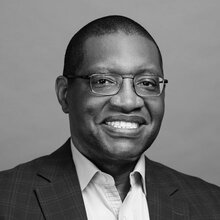 Kareem Crayton
Senior Director, Voting Rights and Representation,
Democracy
Kareem Crayton is the Brennan Center's senior director for voting and representation, where he manages the organization's efforts to implement pro-voter reforms, combat suppression and intimidation, and push back against redistricting abuses.
An expert on the intersection of law, politics, and race, Crayton has served on law and political science faculties across the country and written more than two dozen publications that explore the connections between race and politics in representative institutions. The substantive architect of a first-generation video game about redistricting, Crayton is also a digital content creator whose work integrates the scholarly and practical aspects of voting and other civic participation to engage the broader public.
Crayton has served as a consultant to many advocacy groups and public officials, including by representing the Congressional Black, Hispanic, and Asian Pacific Islander Caucuses before the U.S. Supreme Court as amicus counsel. During the 2020 redistricting cycle, he advised nearly a dozen local jurisdictions, commissions, and legislative caucuses. He has also informed public and private institutions regarding election law issues and served as special counsel and chief of staff to the Democratic house leader in the Alabama legislature in its special session on redistricting. He served as executive director of the Southern Coalition for Social Justice, where he hired and trained a litigation team to argue in two key gerrymandering cases before the U.S. Supreme Court.
A native of Montgomery, Alabama, Crayton is a magna cum laude graduate of Harvard College and holds a doctorate in political science and a law degree from Stanford University. He served as a law clerk on the U.S. Court of Appeals for the D.C. Circuit (Judge Harry Edwards) and as a foreign law clerk on the Constitutional Court for the Republic of South Africa (Justice Sandile Ngcobo).
Informed citizens are democracy's best defense